Escaping to the Israeli Desert with Style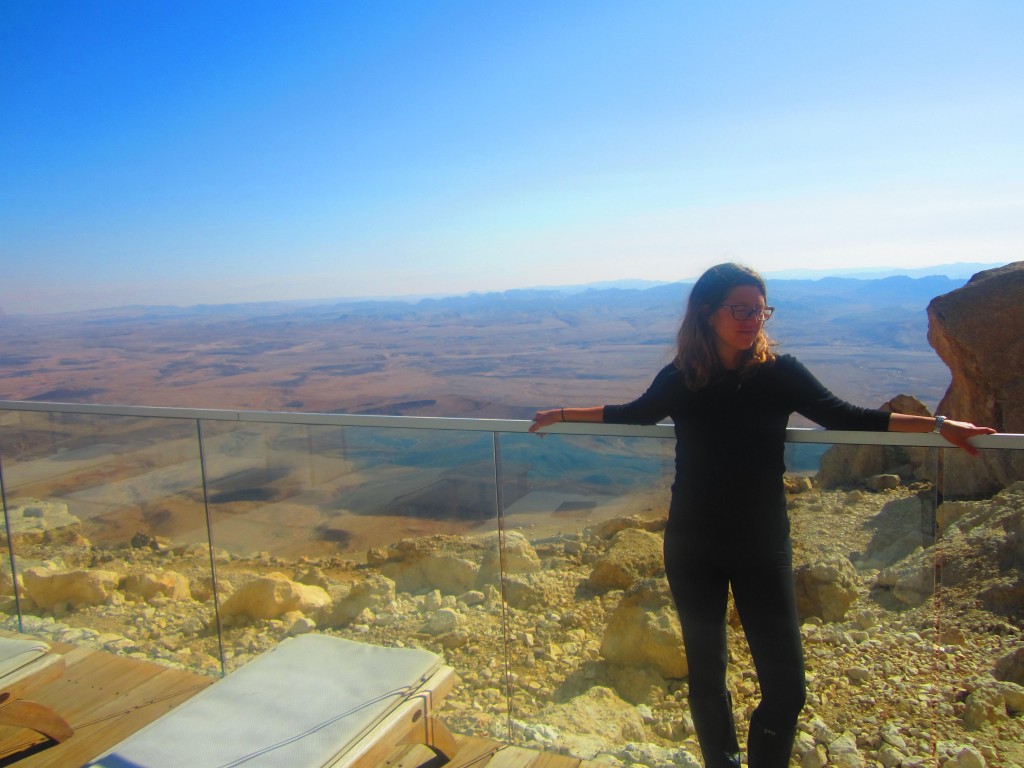 One of the best things about living in a tiny country like Israel is how easy it is to escape from one part of it to a drastically different part of it. And by this, I don't mean leaving the city for the suburbs (as was often what I did in New York), but leaving Tel Aviv for the desert.
My husband is a journalist and was asked to review Beresheet, a new hotel in Mitzpe Ramon, an area in the desert that overlooks a crater. So, this Thursday evening, the beginning of the weekend in Israel, Ben and I set out from our busy street in Tel Aviv and two hours later, we pulled up at the hotel.
Though it was freezing and dark, we still had a chance to take in the hotel's glory. The main building and all of the little guest cottages looked like they were carved out of desert rock. We quickly dropped our bags off at our cottage, taking in the huge bedroom and living room with double doors that opened to reveal a private pool (too cold for the weather, but beautiful nonetheless) and our own view of the rocky terrain. Our bathroom had stone floors and boasted a stand-alone tub. Waiting for us on a small table were a bottle of wine, fruit, and "Organic Desert Delight," a dried-fruit granola bar.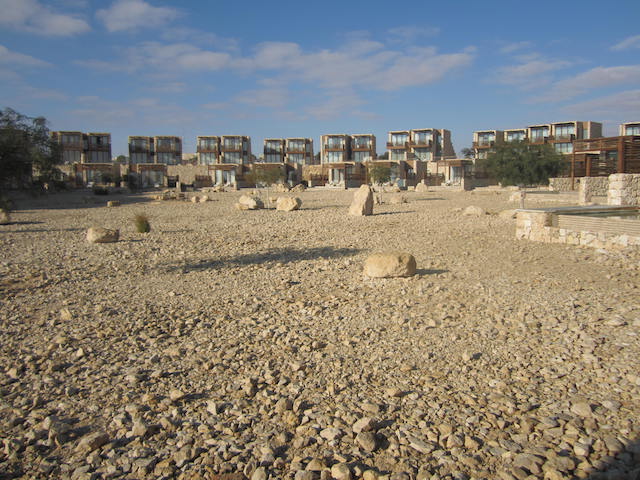 It was 9:15 pm and already late by desert standards so only the lounge was opened for dinner. We had to order fast–a semi-sour mojito, Jerusalem artichoke soup, which came with bread wrapped around its steaming top, goat cheese ravioli, and a white mousse dessert. Decadent and delicious. The room gave the impression that we were outside–branches covered the ceiling and moon-shaped globes served as light fixtures—but we felt completely cozy, listening to a bassist and guitarist play sweet songs in Hebrew and Italian. Israeli couples lounged along couches in comfy sweatshirts and jeans, while toasting their toes against the fire of a cast-iron stove.
After dinner, we headed downstairs to the theater, where Take this Waltz was playing but a staff member came and told us it was time to close. Oh well. We headed to our cottage for tea.
In the morning, we could see much more of our stunning surroundings and enjoy them in the day's desert warmth. We checked out the indoor pool, which faces the enormous crater. We wandered along the outdoor pool, marveling at the blue against the golden sand.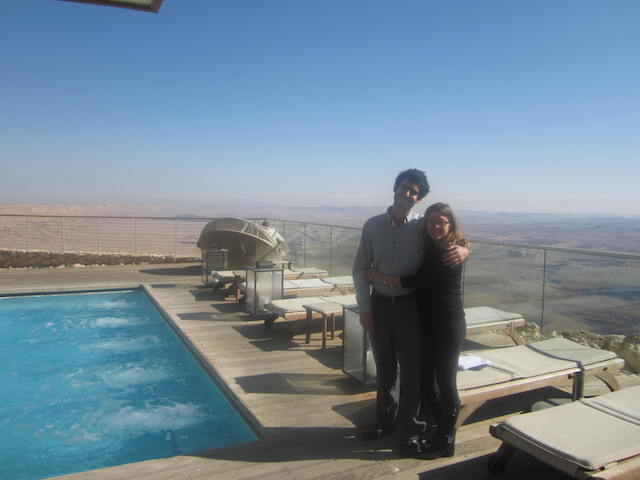 Breakfast would've been perfect–various cheeses and fruits and fish–if only we hadn't had to spend an hour on the phone with Eldan, the car rental company, trying to extend our rental.
We left and one hour later, we were in Beer Sheva, Israel's largest desert city, congested, unstylish, and hectic. We found Eldan, where we were finally able to extend our rental. We left in high spirits, but truth be told, our oasis had passed.