My Unfortunate Encounter with Ecuadorian Food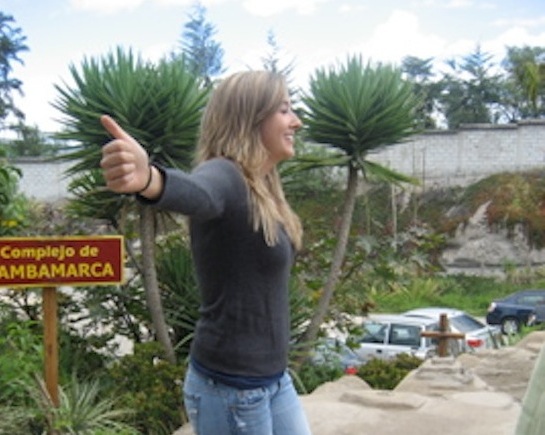 I traveled to Ecuador with my two best friends one summer. I had never left the country before and when I was invited to go, I couldn't conjure up a reason to decline. I had no idea what to expect. I didn't speak Spanish nor did I know anything about travel but my friends did so I put my faith in their hands. I will just start by saying that the overall trip was great. I have been bit with the travel bug and so grateful for that. That is one bug I want to stick around. The bug I had in Ecuador for 4 days…not so much.
My friends and I took a local bus in Ecuador to La Mitad del Mundo. Every few stops street vendors were allowed on the bus to try and sell you candy, fruit or ice cream and then jump off at the next stop. I don't know why, but I thought it was a perfectly good idea to buy a pre-scooped ice cream from one of them for a quarter. It tasted a little strange, but inside the bus was hot, the ice cream was refreshing and I ate the entire thing, cone included.
I started to feel uneasy and have tightness in my stomach. By the end of the day I could barely move and it hurt to breathe. The ride back to Ecuador's capital, Quito was one of the worst times of my life. Every little bump in the road or turn was horrifically painful. I was also burping violently and had terrible lower back pain. These were strange and scary side effects to this sudden sickness.
My Unfortunate Encounter with Ecuadorian Food.
My friends and I arrived back in Quito and they took me straight to the pharmacy. Apparently you do not need a prescription for a lot of the drugs in Ecuador; you just have to speak to the pharmacist. I was so grateful my friends both spoke fluent Spanish so they could explain all of my symptoms to the woman behind the counter. The woman told them I had some sort of parasite and handed me a packet of pills with a label I couldn't recognize nor understand. I was scared to be this sick in a foreign country with strange symptoms, so I took the pills.
We were suppose to go to La Rhonda Street in Old Town Quito that night but I had to stay back at our hotel while the girls went, which was fine with me. All I wanted to do was be left alone to deal with this bug. Once the girls left I realized I hadn't eaten in a while. I decided to run across the street to McDonalds. I never eat fast food but for some reason, this provided a sense of comfort and a feeling of being back home . That burger not only satisfied my hunger but also my homesickness. The next morning I felt back to my normal self and ready to travel the rest of the beautiful country of Ecuador.
Photo by Lauren Schwartz.