An Unforgettable Journey to Ecuador and Peru: A Conversation with Jessica Olenik
This month, we're interviewing women from all over the world and asking them about their experiences traveling through South America. We had the privilege of speaking with Jessica Olenik about her experience traveling through Ecuador and Peru. Here's a glimpse into our conversation.
Tell us about yourself! What do you do when you're not traveling the world? Where do you live? What made you decide to go to your most recent destination?
I'm a 25-year-old publicist, currently living and working in historic old city of Philadelphia. After spending some time in NYC interning for Teen Vogue and Bon Appetit magazines and then working as a publicist for a couple of boutique PR agencies, I'm finally back in Philly picking up where I left off. It's a place that will always have my heart.
I'm a storyteller with a passion for exploring and constantly staying on the move. I have a weakness for a local IPA and a shameless habit of taking the longest to order a meal (because honestly, how can anyone just settle for chicken parm when there's Cajun shrimp tacos and truffle carpaccio to choose from?!). When I'm not running around for work, I love to cook, read and go antiquing around the city. I also spend time curating posts for my Philly-focused food/art/culture Instagram @fallinlovephl that I'm using to document my stories.
I had the most unforgettable experience of my life visiting South America when I traveled to Ecuador and Peru with my last PR agency on a "Trend Trip" to study EcoTourism. Opting in to hop on a plane while being paid to study travel was the easiest decision I've ever had to make—and I would gladly make the same choice over and over again if I ever have the chance!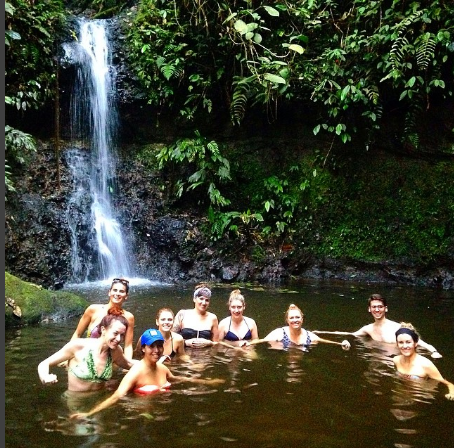 How long did you go for? How did you spend your time?
Each year, everyone at the agency was given the opportunity to travel to a surprise destination and on the annual "Trend Trip" (all expenses paid by the president) which was revealed in the summer prior to Thanksgiving weekend (one year they went to study "glamping" in St. John, another they went to Oslo to study architecture trends and experience the nightlife, etc). In November 2014 for three full days, I was fortunate to travel to Ecuador to study "Ecotourism" where we stayed at the San Jorge de Milpe Eco-Lodge Orchid & Bird Resort.
The trip served as a team bonding experience that lasted for three days and some of our activities included hiking, swimming in a waterfall, bird watching, zip lining, white water rafting, tasting authentic Ecuadorian cuisine and experiencing the local culture. I learned so much about myself, my working style and how to collaborate creatively in ways that I never thought possible. I swear, breathing in the crisp air of the "Cloud Forest" for a few days gives you an awesome sense of clarity.
After leaving Ecuador, I traveled to Cusco, Peru, stayed in a hostile and took a three-and-a-half hour train ride to Macchu Picchu with two of my colleagues where we climbed to the top of Huayna Picchu. I'm extremely fearful of heights but with the support of two women by my side and the heartfelt encouragement from those coming down from the opposite side of the steps, I was able to fight my fears and get to the top. I had this absolutely incredible out-of-body experience that I will never forget as long as I live.
What were your most memorable experiences? What were the biggest disappointments?
Every meal was prepared from scratch by the owner Jorge's wife, and we dined outside under a gazebo surrounded by the natural Cloud Forest. I've never seen a more perfect, crystal clear night sky, absolutely serene. The food was also very hearty and delicious, especially the soups. Jorge's wife used cilantro and freshly picked herbs in many of the dishes she cooked, giving me a newfound love for authentic Ecuadorian cuisine. I also got the chance to literally stand on the middle of the world at the Equator line monument in Quito.
I will also never forget my experience at Macchu Picchu. Together, my two coworkers and I traveled three and a half hours to the base of Macchu Picchu and then climbed thousands of feet to the top of Huayna Picchu. I'm extremely fearful of heights but with the support of two women by my side and the heartfelt encouragement from those coming down from the opposite side of the steps, I was able to fight my fears and get to the top where I had this absolutely incredible out-of-body experience that I will never forget as long as I live.
I have always wanted to travel but unfortunately, I've never had the finances to do. This trip truly opened my eyes to how amazing and raw the world truly is and how many discoveries I still need to make—not only new places but discovering more about myself. Since then, I've become addicted to the thought of travel, saving everything I can and add to my passport.
I've also taken huge leaps in both my personal and professional life—I've relocated to Philadelphia and find that I have become a much stronger woman that I used to be and I've developed a much thicker skin (trust me, it's definitely necessary in the female-dominated world of PR!) I truly think that this experience had given much more than I ever anticipated and has helped to form the person I am today.
Other than losing my neck pillow before my last of seven flights for the week, I was never once disappointed!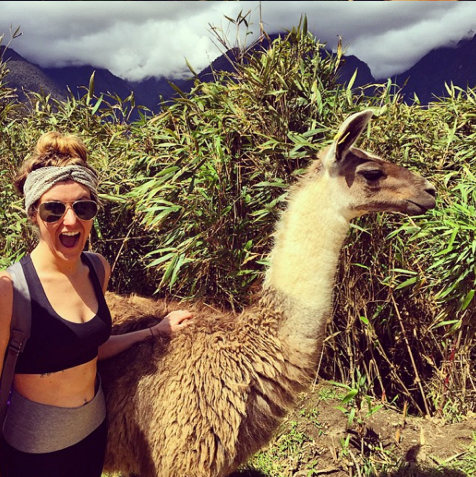 What do you wish you knew before you went?
First, I wish I knew how cold swimming in a natural waterfall would be. I also definitely should have brought a good pair of water shoes! Second, I should have taken up Spanish in college instead of French. The language barrier would have been much more difficult to overcome had I not traveled with a colleague who spoke three different languages. I did learn how to order pisco sours and haggle in Spanish—both necessities. Lastly, consider dry shampoo and baby wipes as essential investments when visiting the Cloud Forest.
Any favorite restaurants/hotels/hostels/sites you'd like to recommend? Tell us what made them great!
I would highly recommend going to Zazu in Quito. The Peruvian dishes and lavish atmosphere make you feel like a celebrity. The mushroom tortellini and Hornado were to die for and please do not leave without trying the Stone Crab Ceviche—you'll taste a bit of heaven.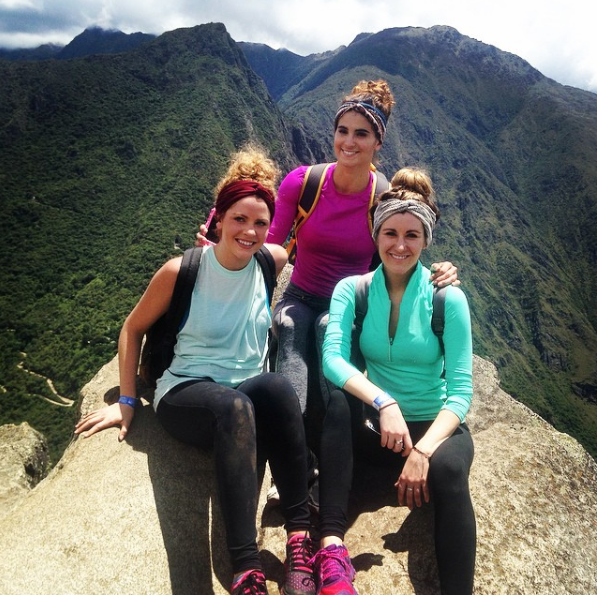 Is there anything that women specifically should know before they travel to your destination?
Be sure to stick together, keep a close eye on your bag, become familiar with your surroundings and always take a photo of the cab license plate. I read a number of comments on the internet about incidents with fake cab drivers sexually assaulting women—very scary stuff. And don't leave with a stranger—no matter how gorgeous he is, how beautiful the accent sounds and how far you've fallen in love at the bar. Safety first!
An Unforgettable Journey to Ecuador and Peru: A Conversation with Jessica Olenik