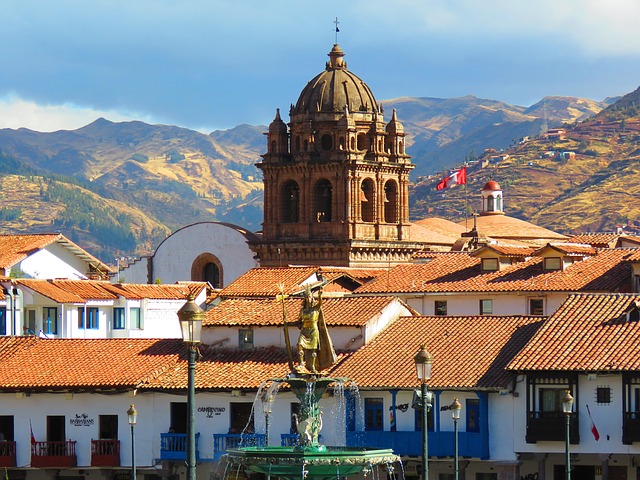 Peru and the wonders of Machu Picchu had tugged at my wanderlust heartstrings for years, and finally I'd be able to cross them off my bucket list. Research done and flights booked, I set out ready for whatever adventure my vacation days could buy me. My plan was to fly into Cusco, get a collectivo at Pavitos Street to take me to the village of Ollantaytambo, and stay overnight.
Since I didn't have the luxury of time to give my body the chance to acclimate, I wanted to get to lower elevation as soon as possible. That's where Ollantaytambo came in. From there, I'd go to Aguas Calientes, climb Machu Picchu, and return to Cusco the following day.
And just like that, I was in the Cusco airport, standing alone in the baggage area. I wondered how I'd get to Pavitos Street. I preferred walking in daylight, but it was too far on foot. Taxi it is, I guess. I looked around. I'd been advised to take taxis from inside the airport, because even though they were more expensive, they were generally safer.
From the corner of my eye I saw two men standing beside a counter with photos of vehicles plastered on the wall behind them, waving to get my attention. "Taxi? Taxi!" they called out.
The other man nudged him, smiling, muttering something I couldn't decipher, and led me out into the asphalt parking lot. Why did I feel as though he'd just won a bet? Quickly, I pushed the thought away.
I ignored them, waiting for other passengers to deplane, maybe another solo traveler trickling by or a couple I could split a cab ride with, like I'd done in Lima. Hesitant, I stalled. I freshened up in the restroom, checked my watch, pretended to wait for someone… but time was running out.
So I gave in, walked over, and asked for Pavitos Street. The one man, just slightly taller than I, dressed in a casual black button down shirt and gold watch, nodded his head reassuringly. "¡Sí, sí, solo quince soles!" At that point, I didn't even care if I was being overcharged. I still had a long ride to Ollantaytambo ahead, and just wanted to rest at my hostel.
The other man nudged him, smiling, muttering something I couldn't decipher, and led me out into the asphalt parking lot. Why did I feel as though he'd just won a bet? Quickly, I pushed the thought away. I glanced at him. His leathered skin had undoubtedly been no stranger to the fire of the Cusco sun. He was maybe in his mid-fifties, with a thick Spanish tongue. I imagined him being someone's hardworking father. He opened the door and generously lifted my heavy backpack inside.
"You can sit here," he motioned, waving to the front seat. I thanked him but declined, crawled in next to my pack in the backseat, and hugged it close. Though I'd grown tired of its weight, lugging it through cities and across country borders, it now was a comfort. I felt his eyes skim my dirty blonde hair and tan legs, heard a faint laugh when they reached my hiking boots. We spoke in broken Spanish. As most drivers do, he began asking about my travels.
Touched by Cusco.
"¿De dónde eres?"
"Soy de Estados Unidos," I responded confidently, thankful for years of Spanish classes in college.
"Eres bonita," he breathed heavily, and when I looked up I noticed he was watching my face in the rearview mirror.
My grip tightened on my pack but I kept my expression hard. I thanked him, conscious to maintain an unwavering voice, and changed the subject. He changed it back, asking me if I wanted to go for a beer. He laughed, but something told me it wasn't a joke. I declined again, trying to remain calm, but fear gathered in the pit of my stomach. I searched frantically for street names, tried calculating how fast we were going. How hurt would I get if I opened the door and rolled out? I needed to feel ground beneath me. Then I heard it again, a low growl:
"Eres bonita… me gustas…"
I felt the words slither from his mouth, slide up my pounding chest and cut my breath. It was then that I realized the car was stopped, and it wasn't the snake of his words slithering but his hands, reaching back, sliding all the way up into my thighs, splitting me in a way I couldn't say in any language.
***
I pictured my mother's snow globes. I am inside them, shaken and spinning in the hot, white whirl of an instant. I opened my eyes. The world had not stopped, somehow. Pigeons pecked at littered sidewalks. Yellow and red painted storefront buildings stretched out before me. Minivans packed full of travelers, men running between them, shouting destinations. I looked up. I was standing on Pavitos Street.
"Ollantaytambo," I choked out.
***
When I took the train from Aguas Calientes back to Cusco, I was seated next to a man in his mid-fifties, with a thick Spanish tongue. His name was Maciek, I learned, and he was traveling with a group. We talked travel as we enjoyed Inca Kolas, until the conversation dove deeper into our countries, our lives, things we knew of the world. Eventually, I confessed to him how nervous I was, since our train was arriving after dark, and I'd have to take a taxi in Cusco again. The story of Pavitos Street tumbled out. Maciek's face softened. "I'm so sorry that happened to you," he said quietly. "We are with a tour. I'll see we can take you!"
When we pulled into Poroy Station, Maciek negotiated with the driver as I stood watching, awaiting my fate. Moments later, I was sitting comfortably in the warm belly of a minivan with his son and friends.
I couldn't fathom the alternative. The drive was long and winding through the dark, chilly night. Once in Cusco, Maciek refused the soles I offered, saying I owed them nothing. They were just glad I was safe. We waved our final goodbyes, and through tears of gratitude, suddenly I saw a white blur again. I blinked. Cristo Blanco, the large statue of Christ, was shining brightly above Plaza de Armas. With the help of the moon, together they lit up the narrow cobblestone street to my hostel, where I sank into thick, wool blankets and fell fast asleep, my boots still on.
***
I'd climbed Machu Picchu with those hiking boots, conquered the mountain within myself. I stood speechless looking out over Inca ruins, tasted ceviche and had an appetite for my life again. But these photo-worthy sites are not what propel me to travel. It is the connection blazing across oceans, the hearts I've met from the other side of the sun. It is the colliding of two worlds, the ordinary experiences on the journey that we so often overlook—the fact that kindness and love are understood the same in any language.
Visit us here for information about Pink Pangea Writing Retreats!
Photo by Pixabay.