Carcassonne: Navigating a Medieval Town in France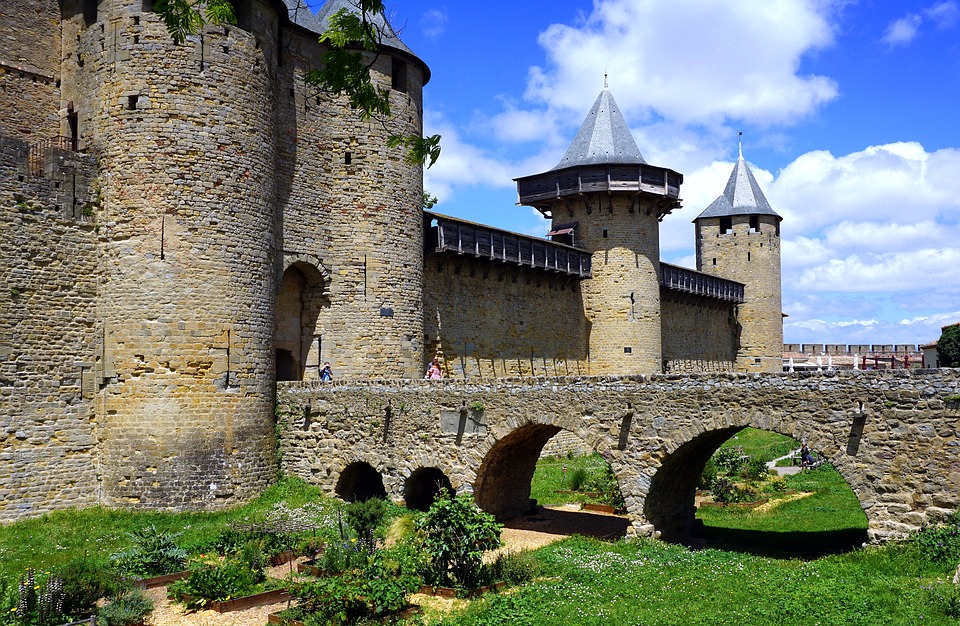 France is one of my favorite countries, and Carcassonne is one of the most spectacular towns I've visited. If you only have 48 hours, I'll show you how to maximize your time in this medieval town in France. Hint: bring your appetite and walking shoes.
Carcassonne: Navigating a Medieval Town in France
First 24 Hours: The New City
In the first 24 hours there is one very important thing you need to do: go to Le Blé Noir at noon and make a reservation for dinner. Carcassonne appeared to be a lot more casual than the other French towns I've visited so I was a bit surprised to find this restaurant closed once the first round of guests finished their meals. Even though we'd missed our chance at lunch, I was determined to unveil a real crêperie to my husband. So we found ourselves stopping back in for dinner at 7 PM, but even right when it reopened there were no spots available for walk ins. While we were bummed for the second time that day, we attributed it to a lesson learned and left with a reservation for the following evening. On the plus side, we got to choose our table.
We learned this is a bustling spot for a very good reason: the food is delicious and the service is impeccable. Upon arriving back, we were delighted to become reacquainted with Christophe, the one and only server. It was as if he'd been our friend for years. By the end of the night we had shared several jokes and forgotten that there were any other customers, or that we were in a restaurant at all. It felt like we were guests at Christophe's house. We smiled knowingly at the half a dozen hopeful diners who were turned away (like we had been) because they did not have reservations. The food was succulent and even though we were comfortably full, we felt pressed to order dessert, and weren't disappointed. We ordered one of the several crêpes that come au flambé, and sat back in bliss once we took that last bite.
After making your booking, wander through town on Rue Georges Clemenceau. To the right, you can enjoy window shopping and some exquisite churches (Église Saint-Vincent and Église des Carmes). To the left, take your pick of one of the charming cafes, then venture over to Place du Géneral de Gaulle, where you can promenade past the Cathédrale Saint-Michel de Carcassonne. For happy hour, be sure to visit Place Carnot, which is also where the morning market can be found. I could sit at Café Felix taking in the plein air, house sangria and endless people watching for hours.
It's also worth noting the Square Gambetta: a charming scene with fountains, relaxation and even a carousel! I enjoyed an evening stroll that took me through the square, up Rue du Pont Vieux and over the walking bridge to look upon the medieval citadel. I suggest making this an evening affair, as there are far fewer people and spectacular views of the castle lit up in the night sky.
The Following 24 Hours: The Medieval Citadel
It's essential to head into town early because the castle opens at 10 AM. The hike up the hill to the gated city from the "new town" takes about 20 minutes, so start your venture after grabbing a quick breakfast. I highly suggest arriving at opening to avoid peak crowds, and to allow yourself some time afterward to venture through the town.
Note: the Porte d'Aude (on the west side) of the castle closes from 12:00-14:00, so make sure you take account of the time when you arrive. If you do arrive while the west side is closed, you could meander through the rest of the castle and enjoy the 20-minute documentary to make the most of your time. I found the film to be both humorous and educational, but not absolutely necessary. Paying to enter the castle will ensure that you get the very best views of Carcassonne as well as the surrounding mountains.
Afterwards, you can visit the beautiful Basilique Saint-Nazaire, wander the medieval streets, and check out the hidden entrance to the walled city. The town is quite fun for kiddos too, as there are many venues that sell souvenir swords and trinkets for only a few euros. While you can grab food in the Cité, I would suggest venturing back over the bridge to get tastier and more economical food choices.
There is so much to do in Carcassonne, the trick is to map out your path and hit the bricks. Enjoy the city (both old and new) as well as some great food and drink. Oh, and don't forget your camera!
Top photo for Carcassonne: Navigating a Medieval Town in France by Pixabay.