My Life-Changing Vacation to Scotland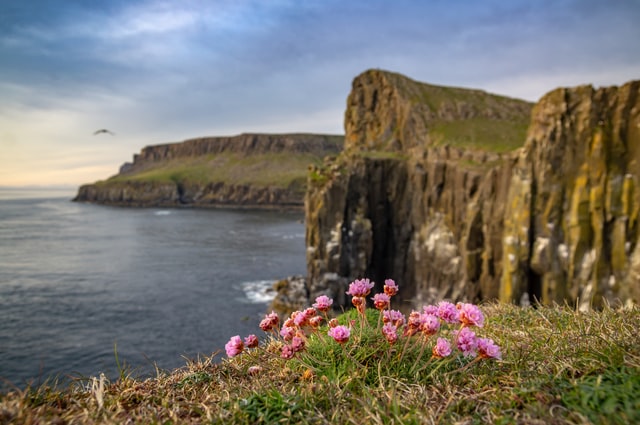 I landed in Scotland after a drama-filled visa collection process and got myself on a stand-by flight 30 minutes before take-off. When I arrived in the land of many lochs, glens and bens, I had no plan for what I was going to do since I'd already lost of all my tour and accommodation bookings, thanks to an earlier mess up with my visa and flights.
I arrived at the airport, and first things first, I prayed that I might run into some hot Scottish celebrity.
This did not happen…
Let's just say, the world still proved to be a huge, open space ready for exploring.
I took a chance that I would be allowed to drive with my South African license, and picked up a zippy 'little' Piccasso, and off I went, armed with a GPS, a ton of brochures and a prayer that I'd survive driving in a foreign country. Not sure about everyone else, but I get really stupid when it comes to driving in another country. You'd think I'd never driven before.
Luckily, they drive on the left, like we do in South Africa, but they use miles, instead of kilometers, so I kept underestimating distances!
I also learned that there are no more wolves in Scotland, so they are breeding American wolves.
The plan was to get to the Isle of Skye, but I am easily distracted…. SQUIRR… err… I mean, DEER… SCOTTISH DEER! So I detoured via some backroads heading towards a place called the "Scottish Deer Centre" near Cupar (Fife). I fed some deer, was stalked by one crazy-eyed deer, changed my view about otters (they're crazy little omnivores), and found that stags are quite easily offended. I also learned that there are no more wolves in Scotland, so they are breeding American wolves.
The staff were friendly and gave me some tips from the locals on a good place to crash for the evening – Pitlochry — and off I went!
But I didn't get to Pitlochry before stopping and taking in the beauty of Dundee. I'm a big sky and clouds kinda person, so when I see this kind of scene, I just have to stop, take a picture and enjoy the scenery for a bit.
Then it was onward to Pitlochry, a gorgeous little town surrounded by green fields and forests. I can only imagine how exceptionally stunning it is when they have their 'Enchanted Forest' festival around October, when the trees are all lit up.
The lovely B&B I happened to randomly come across is Fasaganeoin Country House. I would recommend a stay here to anyone and everyone. The hosts, Norbert and Sabrina are lovely people, who are more than happy to suggest things to do in and around town. A visit to the Market Theatre is definitely an experience. I am pretty sure I was the youngest in the audience by at least 30 years, but everyone was kind enough to explain to me what was going on in the play, which was about a famous British spy.
My Life-Changing Vacation to Scotland.
Norbert was a great storyteller with tales from crazy Scottish sheep attacking motorbikes to Harry Potter's train station, and about all of the castles, churches and famous landmarks around the area. He even drew me a map. It looked like something out of Lord of the Rings.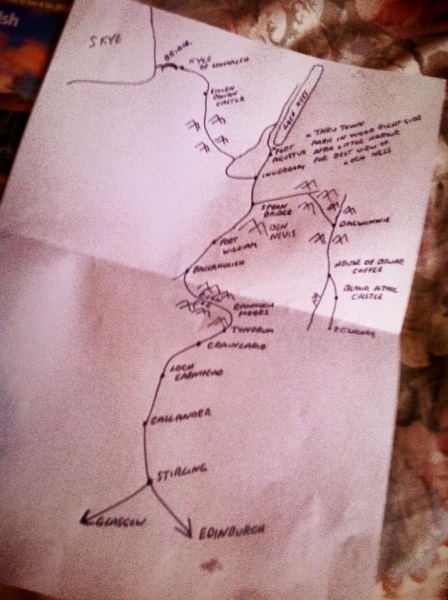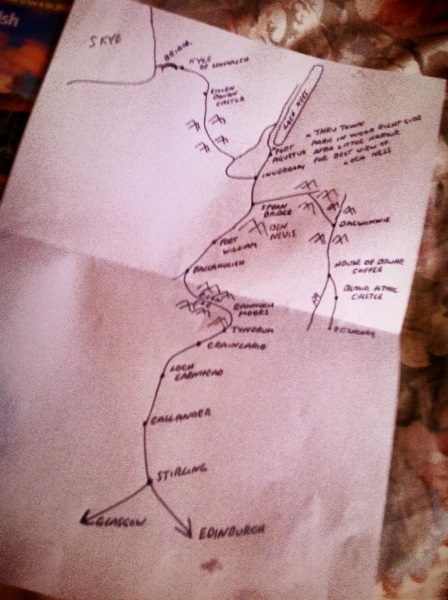 Before I left, he recommended I visit Blair Atholl Castle, outside Pitlochry and scope it out for my future wedding-reception with Gerard Butler… after our wedding ceremony at the church across the road from the B&B. What an awesome host.
Check this driveway towards the castle… Amazing, right?
Entertainment, Scottish style: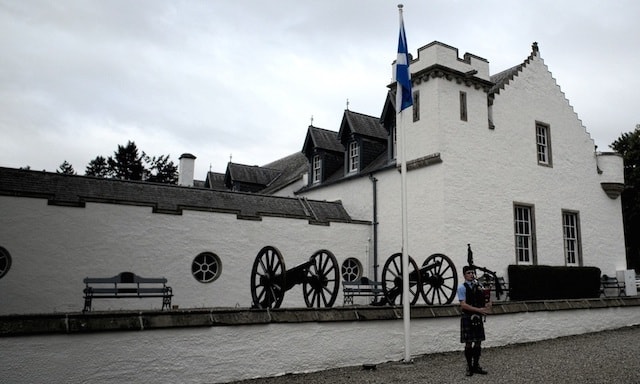 On my arrival at the castle, there was a 'smaller' looking castle-like building. I asked the gate keepers what it was, and they said it was the groundsman's house. You know, I would like to be a castle groundsman too.
I got a bit lost after leaving the castle, and ended up at a distillery. What's a visit to Scotland without a visit to at least one distillery?
Scenery on the way to Skye. I have to say, this is one of many places where I just stopped and stared.
My Life-Changing Vacation to Scotland
So on I went to spot the elusive Nessie, whom Norbert had promised to arrange a photo op for me. And what do you know, there he was, just chilling on the famous shores of Loch Ness:
Finally I decided to make a move on my visit to the Isle of Skye. A friend had suggested that I come visit because it was a good place to see the Northern Lights. This never happened because it was too cloudy the night I was there, but I made up for this by visiting Finland a few months later.
Just before crossing Skye Bridge, I came across Eilean Donan Castle, a.k.a. the 'Highlander' castle, and also that castle from Made of Honor. Romance all around, by day and by night – absolutely beautiful and worth a visit.
Finally I crossed into Skye and made my way over to Portree and found myself a cosy room in one of the B&Bs, where I planned my adventures for the next day. The next morning I was up bright and early, preparing for some kayaking on the loch. It was fun at first, until we capsized. Then it wasn't so fun anymore as I am a bit terrified of deep water. I think other people would love this though.
Words cannot express the sights that my eyes feasted on as I drove around.
I then took a trip around the Isle. Words cannot express the sights that my eyes feasted on as I drove around.
Kilt Rock – because they really do! This place is just beautiful especially after a drive past the Storr mountain range and other beautiful views over the ocean and lands – cloudy weather or not!
The roads are so narrow there that your car will JUST fit on it. So when you're facing oncoming traffic, they have these cute 'Passing Places.' Road chivalry… I loved it.
I had to visit yet another castle, the original home of the Clan MacLeod, Castle Dunvegan:
Then made my way back to Edinburgh, leaving the beautiful Isle of Skye. Wish I had more time here.
My Life-Changing Vacation to Scotland.
Entering Glencoe, a.k.a. the Valley of Weeping. It's unbelievably beautiful!
When I say that the people of Scotland are friendly, helpful and wonderful, here is another story about their warmth. Outside Stirling, I saw some deer in the bushes, so I stopped to get some pictures. Next thing I know, this guy stopped behind me (note, I'm from South Africa, so I'm always safety conscious…), and I was thinking, "Oh, please don't kill me. I need to climb Arthur's Seat tomorrow!"
What does this guy do?
He asks if I am okay. After I mentioned that I was just getting some photos, he offered to wait with me because it was getting dark. I was still a bit wary, but he sat in his car and once I was back in my car and on my way, he drove off with a hoot and a wave. Lovely.
I must say, Scotland has the most beautiful cows, a.k.a. coos. I love them and their bangs… so emo!
Some other 'stuff' to see while driving about–aside from the millions of lochs you'll pass, there's Ben Nevis, the highest mountain in the UK. You'll pass the railways track that the Jacobite Express (Hogwarts Express) takes, visit sites where the Harry Potter/Rob Roy/Braveheart movies were shot, visit Rob Roy's grave (easily distracted after seeing a signboard for it), hang out with Robert the Bruce at Stirling Castle and get to sing "The Bonnie Banks o' Loch Lomond" on the bonnie banks of Loch Lomond.
Edinburgh:
When you have delusions of grandeur, an empress, such as myself, absolutely loves strolling up a street called The Royal Mile, where you'll find beautiful castles on either end, little shops, hotels and other interesting places all along the road. At the top is the magnificent Edinburgh Castle, which towers above the city of Edinburgh. On the other end is another fairytale-looking castle, Holyrood Castle, home of the British royal family when in Scotland.
On my last day in Scotland, I decided to take a hike up Arthur's Seat. I met some locals with their dogs, and they assured me that it was an 'easy' 20 minute hike to the top. I think they lied to me, or I was just disgustingly unfit, but I think it's the latter. It's actually a nice walk and you meet many people along the way and some cute dogs – i.e. Miles, this crazy puppy that knocked me over to say hello.
I finally made it to the top and let my ears settle from the ringing. What a spectacular view it was!
Now, on my way down at one point, I decided to take a scenery break, which was a euphemism for I-need-to-try-to-retrieve-my-soul-which-I-may-have-lost-during-the-hike-because-I-am-so-unfit! I saw the cross of St Andrew in the clouds, also known as the Scottish flag. I just knew then and there that I would be visiting this country often!
Some other 'stuff' to see around Edinburgh: The Old Town is beautiful. All those 'old' buildings and architecture–it's like you're in another century. I also just had to visit Greyfriar's Bobby, the faithful dog. This story was a childhood favorite. One can also swing by The Elephant House, the cafe where JK Rowling penned many of the Harry Potter books. ?
I must say — even though I was alone most of the time on this holiday, it must be one of the best holidays I have ever had.
This country has stolen my heart and I plan on visiting every year, if I can. They say you find yourself when you travel, and I truly feel like I discovered another part of myself while zipping around the country. The kindness of strangers to a random girl really touched my heart and soul – so soppy, I know but it's the truth. I must say — even though I was alone most of the time on this holiday, it must be one of the best holidays I have ever had.
Extra note, those Scottish accents… WOW! Half the time, I may not have known what exactly was being said, but it sounded nice either way.
What's not to love about a country that has the Unicorn as its official animal?
My Life-Changing Vacation to Scotland Related Reading
5 Reasons You'll Want to Visit Scotland
Scotland and the Hebrides Call Me Back
Why I Chose Not to Trust My Gut in Scotland
Have you traveled to Scotland? What were your impressions? Email us at [email protected]pinkpangea.com for information about sharing your experience and advice with the Pink Pangea community. We can't wait to hear from you. Top photo by Unsplash.