Edinburgh, Scotland: The Nature Lover's Guide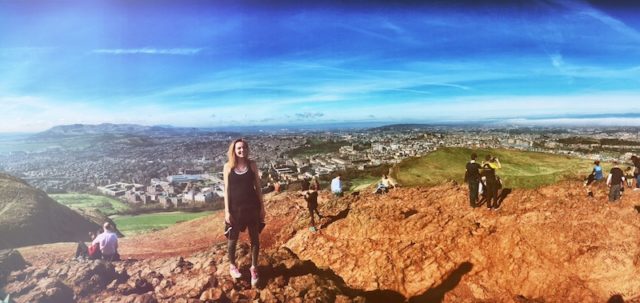 Hours of research aside, I still was not prepared for the vast amount of outdoor tourist destinations in Edinburgh, Scotland.
As the capital of Scotland and the second most populous city in the country I expected a fairly dirty, crowded, concrete and touristy stay. And although I personally am a fan of crowded and dirty (I live in Brooklyn where the closest thing to nature is an overly aggressive, well-fed and practically domesticated squirrel), I can also say I was pleasantly surprised when I realized Scotland's beautiful landscapes do not only exist in the highlands and islands, but also in Edinburgh's city centre.
While both Old Town and New Town offer fantastic restaurants, shopping and entertainment, the combination of rural and urban is what makes the city truly a place to marvel at. So before you eat at the café where J.K. Rowling wrote some of Harry Potter, hike a mountain. And after you shop at French Connection and Calvin Klein, take a tour of the famous St. Andrew's golf course.
Here are my favorite things that I checked out during my nature exploration of Edinburgh, which I recommend to anyone planning a visit.
Edinburgh, Scotland: The Nature Lover's Guide
Holyrood Park
Holyrood Park is a giant park in the east end of Edinburgh, within the Old Town district. It is a hot spot for all nature-lovers, both tourists and locals. With several different destinations you can easily spend a full day in the park or spread your trips out over a few days.
1. Arthur's Seat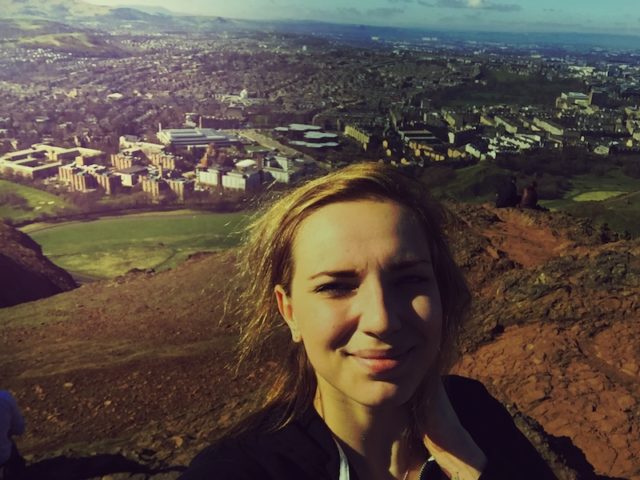 Arthur's Seat was one of the few things I had planned to do in Edinburgh prior to my arrival. Every travel website declared in a must-see and because I was spending almost a week there I decided to put it on my list of definite things to do. Arthur's Seat is the highest peak in the hills in Holyrood Park and was formed by an extinct volcano system.
It also provides one of the best views of the city and is a popular site for tourists and Edinburgh locals alike. You can see Old Town, New Town, the North Sea and beyond. Robert Louis Stevenson described Arthur's Seat as "a hill for magnitude, a mountain in virtue of its bold design," and he was exactly right.
I quickly learned that almost everyone admires New York City, which is a plus
On my first full day in Edinburgh I woke feeling anxious and afraid I'd make a mistake about travelling alone. I was about to recluse into my room for the day and overthink all of the reasons I should be back in my living room in Brooklyn, until I heard two girls in my 16-bunk room speaking English. I waited for a break in their conversation and asked where they were from: Australia.
New York, I told them (I quickly learned that almost everyone admires New York City, which is a plus). After we got acquainted they invited me to hike Arthur's Seat with them. I was eager to make friends and since it was one of the only things on my to-do list, I gladly accepted the invitation. They ended up being the best friends I made on the entire trip and we still talk now, a month later.
Tip: If you are as out of shape as I am and feel a collapse coming on halfway to the top, just think about the Instagram photo you're about to take at the peak (guaranteed at least 50 likes).
2. St. Anthony's Chapel Ruins and St. Margaret's Loch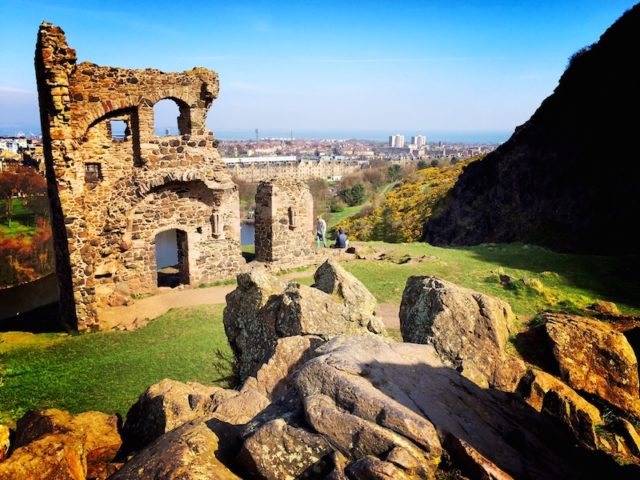 So many saints to name things after in Scotland! St. Anthony's Chapel Ruins is another easy thing to find in Holyrood Park, as it is hard to miss. Only one wall of the chapel is standing (hence the "ruins" label) and the history of the chapel is somewhat mysterious. There is no known date of construction except for "no later than the early 15th century", because the pope donated money for its repair in 1426, which is stated on the plaque in front of the structure.
Sitting at the base of the ruins is St. Margaret's Loch, a rather small loch compared to others in Scotland (you may have heard of "Ness") but it is definitely comparable in beauty. There are several benches and standing areas around the loch and more likely than not some children throwing breadcrumbs at ravenous swans and ducks. The water is gleaming and the shrubbery is wild but could pass for a garden. When standing on the street side of the loch (do not ever refer to them as lakes in Scotland, it's truly offensive), you can look up the Whin-covered hill and see the chapel ruins.
Although I'm terrified of birds (don't judge me–everyone has their thing), I tried my best to brave the masses of them so that I could get a few good pictures of the canoodling swans. The pictures were beautiful and I show them to friends like they are no big deal, but I still shudder a little when I look at them.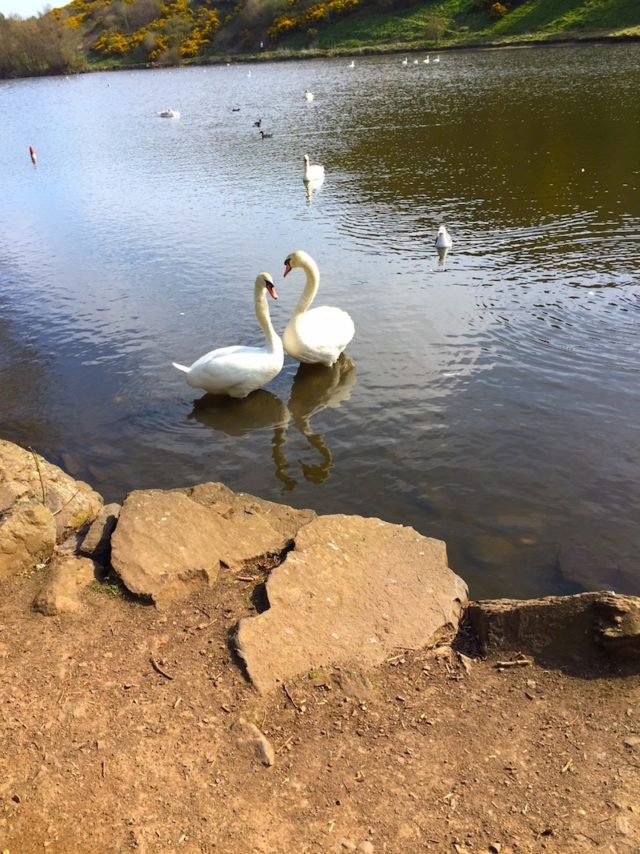 3. Prestonfield Golf Club and Duddingston Loch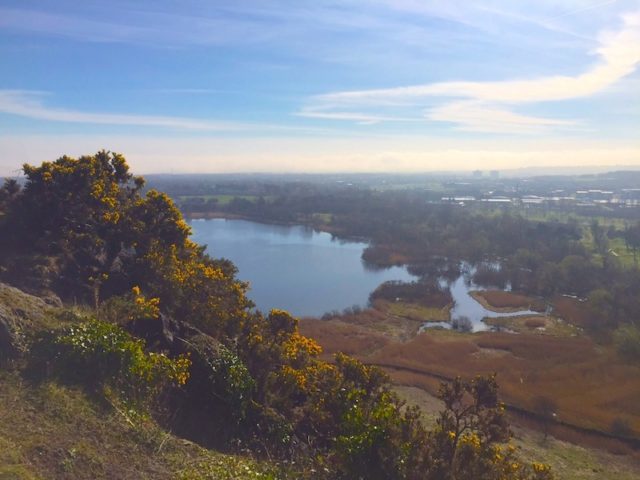 If you are going to Scotland, you have to see a golf course. That's it, end of story. It does not matter if you like golf, hate golf, play golf or have never heard of golf. It is Scotland's national sport and it would be like going to Brazil and not doing anything futbol related.
The most famous course is St. Andrews, which hosts The Open Championship and is north and across the water from Edinburgh. If you have a car or have a day when you can take public transportation, this would be the place to go. Even if you don't have clubs you can take a tour of the course with a guide for an inexpensive price.
But, if you would rather stay within Edinburgh, the Prestonfield Golf Club, which is next to Holyrood Park and clearly visible from Arthur's Seat, is another beautiful course to tour. You can view it from up on the hill or walk along the Duddingston Loch, which runs along side it. The course is not extremely crowded and a perfect example of the classic Scottish sport.
The loch is also a plus and much larger than St. Margaret's with more diverse wildlife and a longer walking trail. Just make sure you are quiet as Scotts to do not take it lightly when their matches are interrupted (good golf etiquette for anywhere in the world).
Edinburgh, Scotland: The Nature Lover's Guide
Cemeteries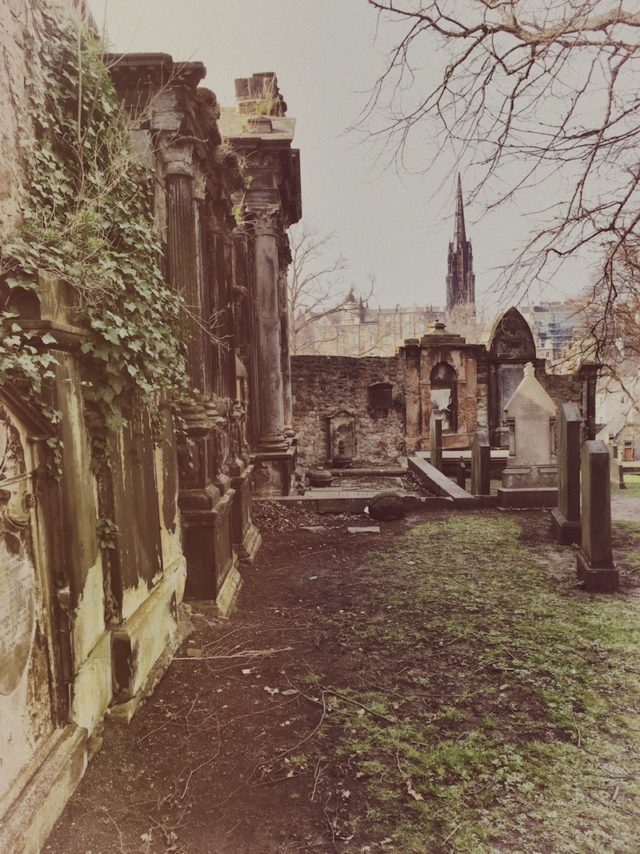 I know the word alone is not convincing. Graveyards do not exactly bring about thoughts of peacefulness and love, but I have to say the cemeteries in Scotland were borderline cheerful. They are huge, ancient, covered in flowers and shrubbery and are a perfect place for, oh, I don't know—J.K. Rowling to write a few chapters.
There are several cemeteries in Edinburgh that I would recommend visiting for the incredible tombs and relaxing sitting areas. The most famous in the city, and one that walking tours often stop at, is Greyfriars Kirkyard. It is said to be one of the main places where J.K. Rowling wrote the beginnings of Harry Potter (The Elephant Café in Edinburgh is another Rowling hub). Inspiration for her characters' names can be found on tombstones such as William McGonagall, a Scottish poet known for being quite terrible whom Rowling might have named Professor Minerva McGonagall after, and Thomas Riddell, a different spelling for the character Tom Riddle also known as Lord Voldemort.
I caught the cemetery during a lull in between walking tours and found a quiet corner to do some writing. And although I'm no Ms. Rowling, I definitely didn't want to miss out on trying her method. I will say, she's got the right idea and it turned out to be one of my favorite creativity-generating spots in the city.
Edinburgh, Scotland: The Nature Lover's Guide
Princes Street Gardens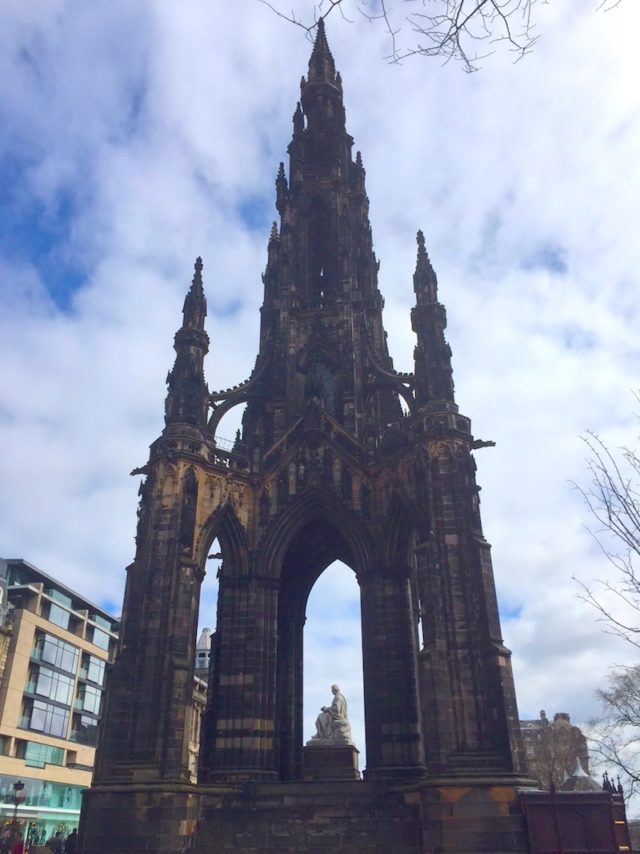 Edinburgh, Scotland: The Nature Lover's Guide
The Princes Street Gardens is a vast green park space that runs along Princes Street, which contains several well-known shopping centers, small boutiques and restaurants. But when you are done shopping and eating and want to take a break from the crowded street (or don't have any money like me), escaping to the gardens can provide a relaxing day in busy Edinburgh without busting your bank account.
Around the Princes Gardens are other attractions that you could easily check out on your days spent relaxing in the grass among the yellow flowers. The National Gallery, which is free to enter, boasts many classic paintings and sculptures (mostly of Jesus, just so you know) and serves as a nice break from the cool wind or hot sunshine. A portion of the park sits directly below the Edinburgh Castle, which is not free to enter, but has terraces accessible to the public and provide a wonderful view of the enormous castle and much of Edinburgh.
I soaked in some Vitamin D, fantasized about which loft I would buy if I could live there and bought cheap fish and chips.
The Scott Monument, an ancient tower structure that is incredibly beautiful and costs 5£ to walk up a tiny narrow staircase to the top, has installments that will give you a quick history lesson as well the best view of Princes Street.
On many warm days I found myself lying on a blanket watching nannies pushing strollers along paths and enjoying ice cream cones. I soaked in some Vitamin D, fantasized about which loft I would buy if I could live there and bought cheap fish and chips. If you are feeling more active you can also run, walk or jog along any of the given paths.
If you are spending a good amount of time in Edinburgh I suggest spending as much time in this park as possible taking in your local surroundings. It's a great base spot to either start or finish your day if you have other more adventurous or tedious activities planned.
Royal Botanic Gardens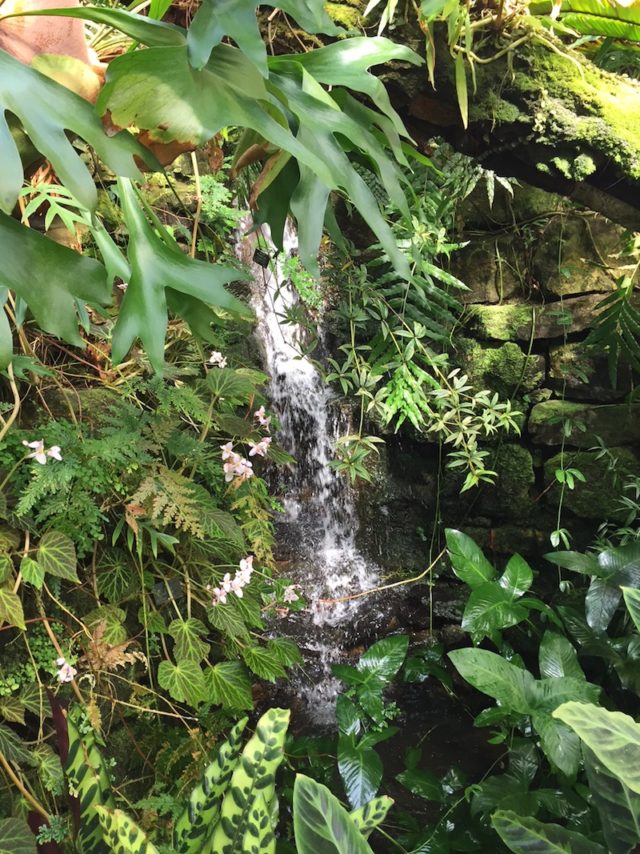 Edinburgh, Scotland: The Nature Lover's Guide
Of course every major city or town has a botanical garden and many of them are probably similar and not worth visiting. The Royal Botanic Gardens, however, can serve as either a good or bad weather activity and even with rain can accommodate outdoor needs.
To stroll the gardens themselves is free, but I highly recommend paying the 5£ to get into the glass houses. The gardens are quite impressive, even during April when the weather can still be rather unreliable, but the glass houses provide a much more unique experience. The gardens are full of diversity from an Asian wildlife section to more regional Scottish hedges; the walk around the outside gardens can take up a large portion of your day if you choose.
I'm sure the RGB is a wonderful attraction for children and families but I really did have a nice time alone.
The glass houses, on the other hand, are a group of glass greenhouses that contain different ecosystems within each. With a total of around 10 houses, each is climate controlled and takes you through different and diverse types of wildlife from arid deserts with cacti to jungles with orchids and palm trees to water gardens with lily pads and koi fish.
I'm sure the RGB is a wonderful attraction for children and families but I really did have a nice time alone. The gardens and attractions are interesting and the walk to and from is full of cute lofts and local parks and cafes and lets you see another part of town that is less touristy.
****
I have not listed everything nature-related I did during my stay in Edinburgh, so it is obvious that amid the shopping and show-seeing and museum going that you can find plenty of outdoor activities and sights in Edinburgh, even though it is one of the most populous places in Scotland.
My biggest recommendation would be to try to do a little bit of everything. Hike a mountain, lay in the gardens, eat chips and drink local cider, go out to a pub late at night and revel in the 80s American rock music being played, shop for friends and family and mainly yourself, and don't be afraid to try something you are not used to!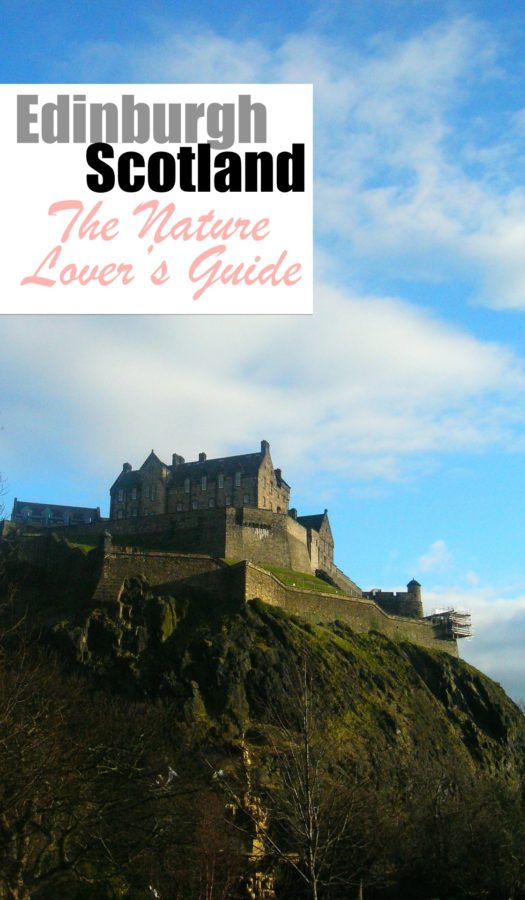 Edinburgh, Scotland: The Nature Lover's Guide
Have you traveled to Scotland? How was your trip? Email us at [email protected] for information about sharing your experience and advice with the Pink Pangea community.
Edinburgh, Scotland: The Nature Lover's Guide photo credits: Kathryn Cardin