Breathtaking Hike in Thailand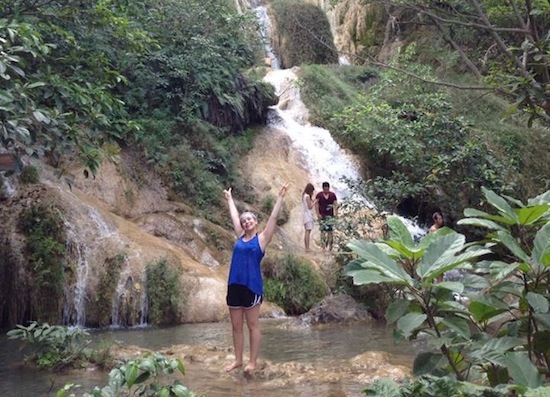 I'm stuffed full of som tam and moo yang as I reflect on my weekend spent in the province of Kanchanaburi. I was there to see Erawan Waterfalls. I took in some of the most breathtaking scenery I've ever experienced and woke up in my raft house aching from the trek to the top.
I'm spending the year teaching English in Chon Buri, a province about an hour southeast of Bangkok. Though considered urban, the area I'm in, Amata Nakorn, is far from being compared to the City of Angels. It's an industrial estate, which means I am surrounded by more than 200 factories and live in smog, dust and dirt. I must say, though, that I adore my job, am happy at my school, and pleasantly gorge on the local food. A weekend away, though, is always welcomed with open arms, and so I usually spend my Friday afternoons traveling by minibus away from Amata.
That weekend, we took the hike to the main road, flagged down a minibus with help from the motorbike taxi drivers, and were on the road to Bangkok. From there, we caught a connecting minibus right outside the Victory Monument BTS stop, and three hours later were in Kanchanaburi. This place was a backpacker's paradise! Every bar was lit up at night with music and dancing flowing out onto the streets. Buckets were in abundance, as were cheap food and guest houses situated on the River Kwai. During the day, it is easy to find a songthaw, taxi or tour guide to bring you to a number of local sites.
Breathtaking Hike in Thailand.
I spent two nights with my teacher and traveling companions at Noble Night Guest House on River Kwai Road. It wasn't our first choice, but with many other places booked, and at 325 baht/night, it was hard to say no. The walls were paper thin (I literally could hear the man in the room next to ours snoring), and when you flushed the toilet, it smelled of sewer, but the beds were comfortable, the staff was nice, the grounds were beautiful and it was in a convenient and safe area. For an easy, no-frills place to lay your head, I'd give it a chance. However, if you're willing to splurge a bit, or have a looser budget, Kanchanaburi is home to many great resorts with countless area perks.
We woke up early on Saturday morning and had breakfast in town before finding a taxi to take us to the falls. A kind man with a smile and a station wagon offered us a round trip ride for 300 baht each. We took it! Although my idea of safe and appropriate travel has changed drastically since coming to Thailand, I would never get in a car with someone or do anything that I wasn't completely comfortable with. I felt safe in this situation, and trusted my gut and my friends. About an hour later, we began our trek to the top, each tier getting more beautiful and fulfilling as we climbed.
We began by dipping our feet into the water, which led to many fish swimming towards us, eager to gnaw at our dead skin. This was the most unpleasant feeling, and after a bit of a freak out, we re-tied our shoes and kept heading up. Tiers 3 and 4 brought more fish, as well as monkeys hiding in trees and dogs running around barking at them. Crystal blue waters, sandy colored rocks, and vibrant green vegetation gave the grounds life. After tier 5, things got extreme and we found ourselves without a trail, climbing rocks and dashing across logs teetering over water, climbing up and down stairs without railings, and jumping over puddles. This is when the real trek to the top began, since we were previously walking on pre-created paths.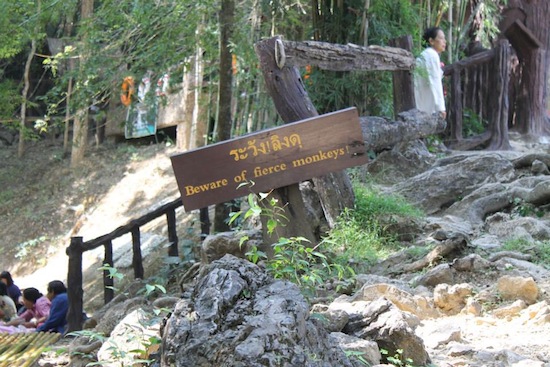 The entire journey to the top tested my strength and endurance, but was well worth it. Fellow explorers offered encouragement and support as we climbed boulders and balanced in the water together. Tier 7 was entirely breathtaking and incredibly satisfying. After a few photo-ops and moments of relaxation, we began our journey down. With growling stomachs and full bladders, we still made sure to soak up the crystal blue waters and the tranquility of it all.
With about four hours up and less than an hour down, every minute was well worth it. It's no wonder that Erawan Waterfalls is a must-see in Thailand. It made it to the top of my list and should definitely be on yours. The view from the top is always so much better when you have to work for it–in life and in nature.