Why You'll Want To Experience The Chaos Of Madurai, India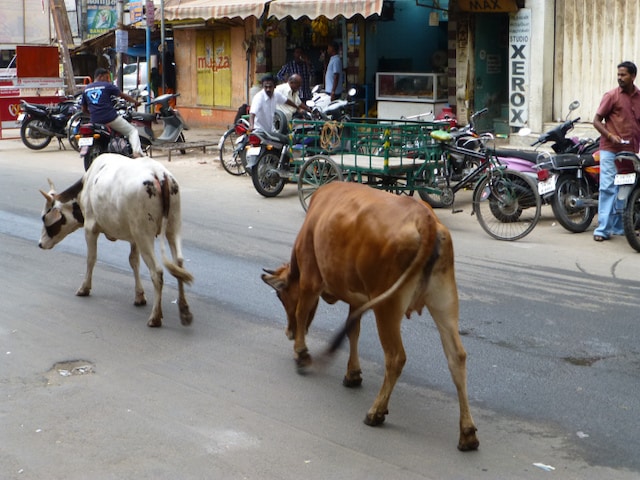 I realized as I was taking the very familiar bus journey from Tirunelveli to Madurai that I seem to have become pretty desensitized to the chaos going on around me. Near misses with oncoming traffic, animals, and people in the middle of the road are just a way of life here. And despite the pretty extensive time I have spent in Madurai I did start to question how much of the city I actually see and how much I actually take in. The answer is not much.
So, a quiet afternoon in Madurai provided a good opportunity to take some pictures.
It's a short collection because not only was I very aware of being stared at, but the photos that I really wanted to take felt wholly inappropriate and insensitive to the the people in them.
Transport
This is only a small sample of the transport you see in and around any Indian city or town. What I couldn't quite capture was a decent video of how the buses, lorries, cars, mopeds, bicycles, cycle rickshaws, autorickshaws, animals and people all share the same road space with what seems to be little or no order. It's the one thing that every visitor is sure to talk about as navigating your way across from one side to the other takes some practice.
Sure, they drive on the left here! But I've lost count of the times I've been looking to the right for oncoming traffic when a rickshaw came whistling past from the left!
The funny thing is, it works–most of the time.
Chaotic or organised? You decide.
Food
This has to be the number one thing that everyone loves about India. There's definitely no short supply of choice, and literally every street is scattered with options. From a lady selling bananas in the middle of a very busy bus station, to a street side stall selling snacks, to some of the nice rooftop restaurants, there's certainly plenty to whet the appetite.
Admittedly in my ignorance I hadn't quite realised the huge variety on offer here. It's largely vegetarian in this part of India, definitely spicy and the rice is the main component to most meals. But look beyond all that and you'll get much more than just rice, dhal and a popadom.
Animals
I've become quite accustomed to waking up to the sounds of chickens and geese in Manur, which live right next door to me. It's never a great surprise to see a goat, a cow, chickens, geese and turkeys while walking around here, but this is a rural village. This morning, I looked up from my laptop to see a guy walking down the main road with a bull. Perfectly normal!
Madurai in some ways still has the feel of a village but it's a pretty big place–the third largest city in Tamil Nadu, which is approximately half the size of the UK with a population of one million. It's chaotic, noisy and can get incredibly hot. With one million residents plus visitors and tourists milling about trying to go about their business, the last thing you'd expect to see are cows, goats and bulls thrown into the mix. This is only a very small sample of what you might see.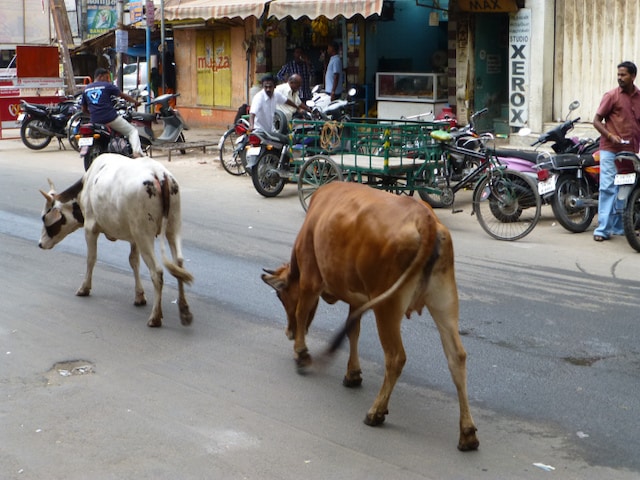 Temples
Madurai is home to the Meenakshi Amman Temple, one of the largest in Tamil Nadu. It's an impressive site. It has four separate towers, one at each point of the compass in the center of the city. It's one of very few temples to have four different entrances.
Situated in the center of the city, constantly busy with shoppers and tourists. It's nice to be able to walk all the way around them away from the traffic. It's definitely a must-see for any tourist but even now as a relative 'local' I have to say I enjoy walking around there,seeing what's going on, looking at the different shops, going into the tailor's market and laughing at the shopkeepers as they try their best lines to try to get me to buy things.
Of course this is only a tiny snapshot of everything that you can see on a daily basis in Madurai, and it's probably only a fraction of what you'll see on typical day here!
This post was originally published here. Have you traveled to India? Email us at [email protected] to share your experience. We can't wait to hear from you. Photo credits by Jo Clay.