Traveling Foodie: Cacao and Coffee in Costa Rica
This is the 2nd installment in my Traveling Foodie series, where I share my encounters with culture and food around the world.
"Do we really want to travel in hermetically sealed popemobiles through the rural provinces of France, Mexico and the Far East, eating only in Hard Rock Cafes and McDonalds? Or do we want to eat without fear, tearing into the local stew, the humble taqueria's mystery meat, the sincerely offered gift of a lightly grilled fish head? I know what I want. I want it all. I want to try everything once."
-Anthony Bourdain, Kitchen Confidential: Adventures in the Culinary Underbelly
I perused the menu carefully, choosing to treat myself for once. What to pick, what to pick… the brown-sugar vanilla flavor, or the coffee? Well, I reasoned, I am in Costa Rica, land of the coffee bean – I should get the coffee. Yes, the coffee. A young smiling woman came to check on me and see if I had made my selection. "Yes," I affirmed, "the coffee." "Excellent choice," she said. "Just take off your clothes, relax, and I'll be back in a moment."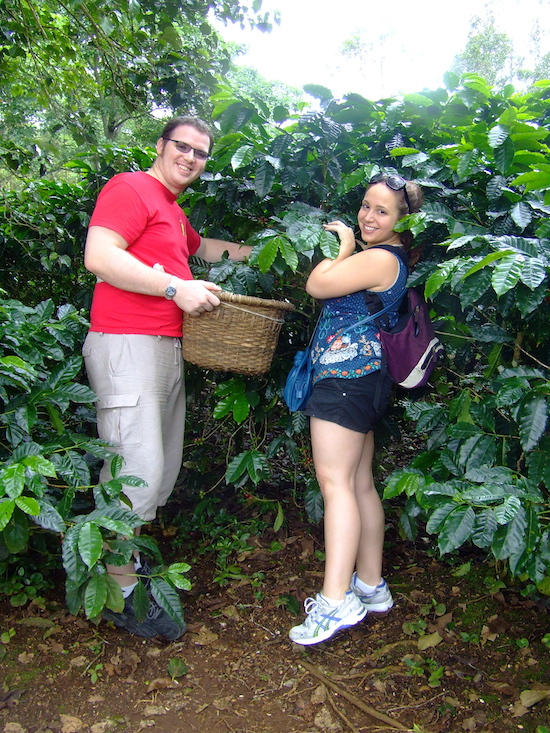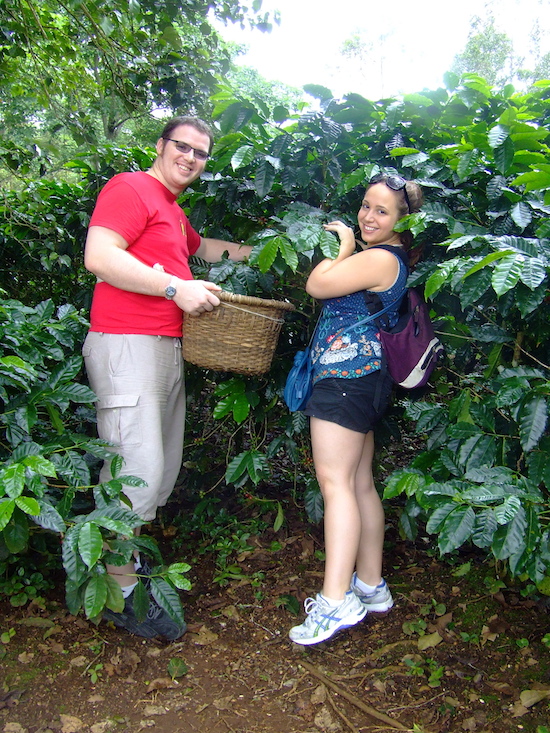 Who knew coffee grounds are such an excellent exfoliant?
This was the first of many things I learned about coffee, cacao, and spices on my honeymoon in Costa Rica. I came away with a tremendous appreciation for the skill and care that goes into creating these precious substances… and, of course, a year's worth of stock for my own cabinets!
Being in a tropical region, Costa Rica is the ideal climate to grow coffee, and it is one of the small nation's top exports. A day didn't go by on my trip where I didn't have at least two cups, and even my husband consented to try a few sips (he's now a confirmed coffee addict, just like me).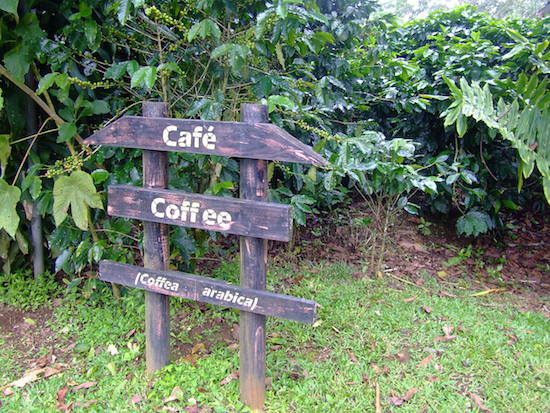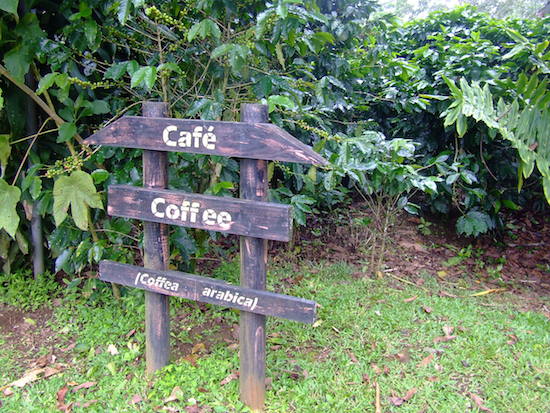 Of course I had to spend an afternoon at a coffee plantation, so on our way from Arenal Volcano to Manual Antonio national park, we stopped at Espiritu Santo. There we followed the bean through its lifecycle, from picking (which we did), to drying, roasting, and finally grinding and drinking. We experienced the traditional Costa Rican way of brewing coffee: with a sock. Not an actual sock, of course, but a reusable fabric sock-shaped bag that works basically like a cone filter.
Our guide at the plantation proudly showed me how I could then use the grounds as an exfoliant. "See?" he said. "They charge you lots of money for this at the spa, and you can do it for free!" I decided not to tell him I was already well acquainted with spa coffee-scrub prices, and thanked him for the tip.
Our food adventure continued when we traveled to Manual Antonio national park, and happened upon a brochure for a nearby spice plantation. The morning we spent at Villa Vanilla Spice Plantation still sticks in my mind as one of the most fascinating tours I've ever taken. It was just my husband and me and our tour guide, and she gave us a two-hour tour of the farm, as well as countless tastings. We picked a cacao fruit off a tree, shaved real ceylon cinnamon off its branch, and inspected vanilla blossoms. I marveled at this world of spices that I had never really considered before, their origins normally insignificant as I peruse uniform-looking labels at the grocery store.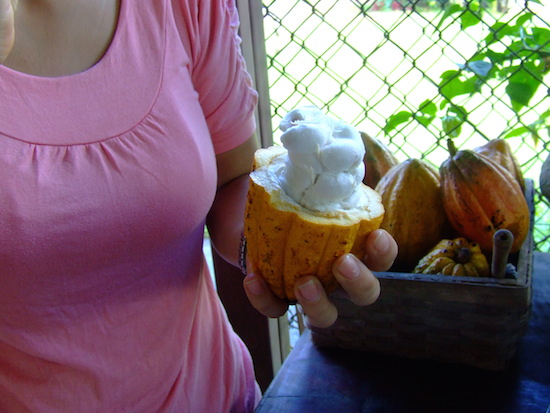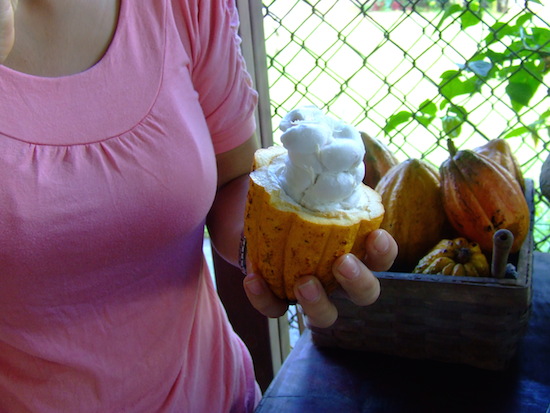 Did you know, for example, that the vanilla blossom has no scent, and so attracts no bees? Each vanilla flower must therefore be hand-pollinated to produce any vanilla beans – one reason why real vanilla is so expensive. And did you know that the brown, rigid scrolls we think of as cinnamon are not, in fact, real cinnamon? They are cassia, which taken in large doses may actually be harmful to humans. Ceylon cinnamon looks more like the bark of a tree (because it is), and is quite flaky, and slightly sweet when you suck on it (clearly, we did).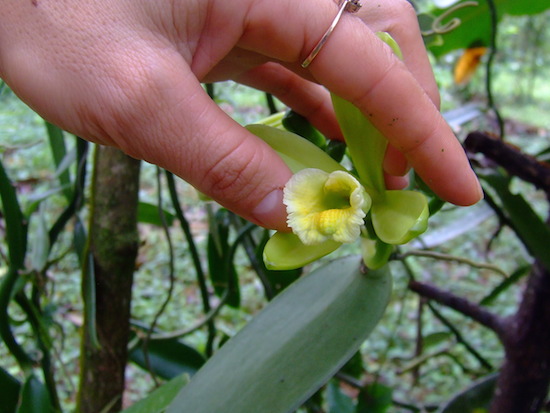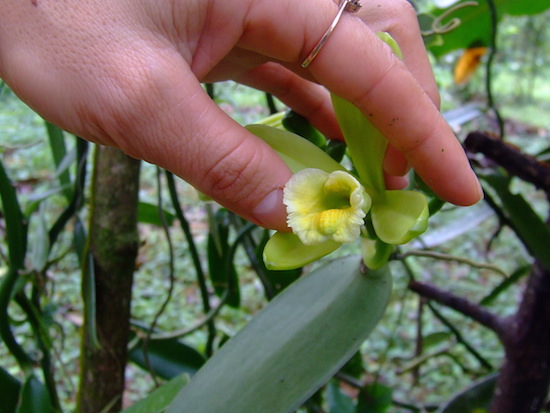 My new husband and I left Costa Rica with approximately my weight in coffee beans, chocolate, and various spices, many intended as gifts for our friends. Mostly though, they stocked my spice cabinet, spreading out the memories from our trip for months afterwards – I actually still have the vanilla beans I bought (they're good for years – who knew?). Most importantly, now I know that even in the event of an apocalypse, I will always be able to make coffee – as long as I have a (clean) sock.
Traveling Foodie: Cacao and Coffee in Costa Rica