Honeymoon in Portugal: Affordable Glamour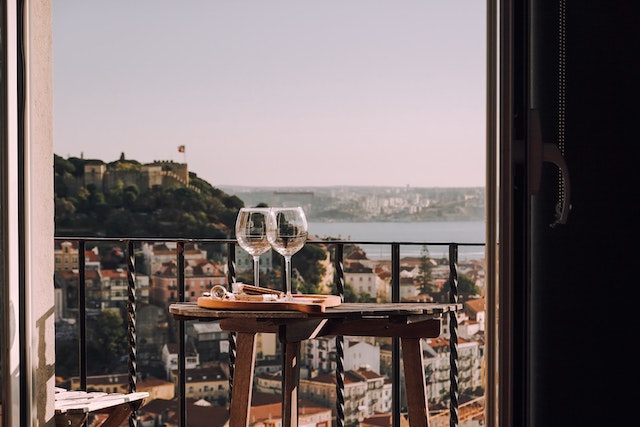 Our honeymoon in Portugal delivered all the glamour of a European honeymoon without draining our bank account. My husband and I honeymooned and traveled through Lisbon, Lagos, Porto and the Douro wine region. We dined on fresh seafood (cataplana), drinking inexpensive local wine (vinho verde), and toasting one another with several tumblers of port wine.
Whether you want the urban energy of Lisbon and Porto or the sun kissed coast of the Algarve, you will be immersed in the smooth energetic Portuguese culture that is almost always served with a side of french fries.
Honeymoon in Portugal: Affordable Glamour
Transportation:
In order to keep costs reasonable, we took advantage of Portugal's bus, train, taxi and boat systems. If you are familiar with any major city's public transportation system, you will have no problem navigating Portugal's. Although terminal train and bus signs were not translated into English as frequently as in other Western European cities, we found the Portuguese people incredibly friendly and willing to help point us in the correct direction. In one instance, while we waited at a bus terminal, a group of local fellow bus riders came over to us and informed us via hand gestures and by picking up our luggage that we were on the wrong bus!
Once we arrived in Porto by bus, we met up with our day cruise that sailed down the Douro River and through the country's wine region. Gliding down the Douro River with Douro Azul Cruises was a highlight of the trip. The one-day boat cruise included a basic breakfast, a traditional Portuguese lunch and several pitchers of vinho verde. A heads up to vegetarians: a traditional Portuguese lunch is not vegetarian friendly. The Douro Azul cruise was comfortable and hospitable–expect a true local experience and an opportunity to meet fellow travelers. The river cruise provided the natural luxury of viewing the green pastoral Douro region and the price point saved a few of those wedding checks to spend on sangria and cheese toasties.
Accommodations
Our trip began in Lisbon and we found updated and contemporary 2 and 3 star hotels in abundance. We selected Hotel Florida because of the hotel's proximity to the public train system and restaurants. The interior decor was inspired by American pop culture with a nod to Hollywood glitz; the hotel vibe was casual and chic–much like most of Portugal. While staying in Lagos, we decided to arrive and find lodging impromptu style. Trusted travel literary companion, Rick Steves, guided us to a few spots but we ended up walking by the Riomar Hotel and checking in. Breakfast was included, the interior was clean, the hotel location was smack in the middle of town, and the price was right!
If you want to take the romance up a notch on your honeymoon, stay in one of Portugal's many pousada options. Pousadas de Portugal runs a chain of historical hotels in Portugal that are a local treasure. Most pousadas have dramatic views of the ocean or wine country and are economically priced. Pousada lodging is available for under 100 American dollars, the food is 5 star and many have on site vineyards. You may ask yourself: Have I died and gone to heaven, pousada style? Yes. Yes, you have. But, at least you can leave this earth knowing you have slept and dined in luxury at a reasonable price.
Porto mirrors Florence, Italy in many ways.
Lodging in Porto was a misstep. The hotel room door where we stayed would not close or remain locked, leaving us to wonder if we had taken our love of a good deal too far. Do not let this housing mishap deter you from Porto. Porto mirrors Florence, Italy in many ways: a walkable historic European city with a beautiful river that divides the town. Instead of colorful gelato stands, Porto specializes in a variety of port wines. Porto's architecture transports the visitor to another time and inspires wish making by sunset.
Spirits, Seafood & NightLife
Portugal's wines, ports, and fresh seafood are a locavore's nirvana. These local effervescent and savory delights work in concert and stage each dinner to be a culinary event. Vinho verde is a local wine that translates to "green wine" and is a cheerful spritzy wine that is easy to drink. Some bottles have a slightly green glow but this wine runs from white to rosé. An average bottle will cost around 5 American dollars. Port wines are fortified and typically enjoyed after dinner, slowly. They end the meal on a comfortable note.
The dining options are traditional (seafood, meat and potatoes); you will not find a wide variety of cuisine, most every restaurant serves similar Portuguese menus. In Lagos, stop by the intimate and busy Casinha do Petisco to order your seafood cataplana 24 hours in advance. The chef prepares a meal for kings out of seafood and broth. If you are a lover of fish, this meal may be paradigm shifting.
The perfected simplicity of these dining experiences highlights what makes Portugal so special.
The perfected simplicity of these dining experiences highlights what makes Portugal so special–you are not living an orchestrated honeymoon experience; rather, you are transported, for a brief time, into the way the Portuguese live–one sunset at a time, one vinho verde at a time, one fresh meal at a time.
We spent most evenings sitting in the town center, people watching and cheering on the World Cup. If it is possible to travel through Portugal during the Euro Cup or World Cup, consider capitalizing on this opportunity. In every Portuguese town or city, the local restaurants set up a large screen in the street and people gather to cheer on the games. We felt like we were part of an international block party. Beer and wine are sold and chairs are set up to view the matches.
I highly recommend visiting Portugal for your honeymoon and falling in love with this beautiful European country.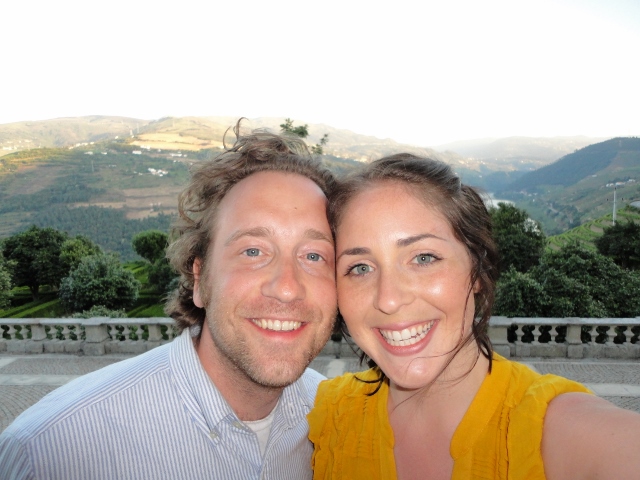 Have you traveled to Portugal? How was your trip? Email us at [email protected]pinkpangea.com for information about sharing your experience and advice with the Pink Pangea community. We can't wait to hear from you.
Photo credits for Honeymoon in Portugal: Affordable Glamour by Unsplash and Kathleen Harsey.