Travel the Rota Vincentina: In Conversation with Elizabeth McCarthy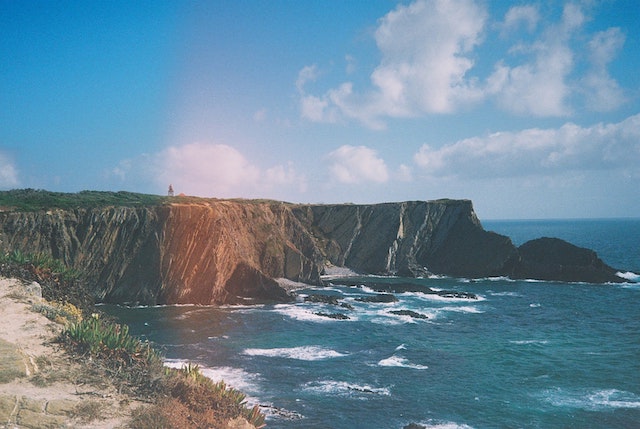 Ready to travel the Rota Vincentina, Portugal? Here's everything Elizabeth McCarthy recommends for and incredible trip.
Tell us about yourself! What do you do when you're not traveling the world? Where do you live? What inspired you to go to Portugal?
I work for a coffee company in The Denver Colorado area. I have a dream job that always allows me to explore and cast my eyes to a new adventure. When I am home, I hike and ski as often as possible, let the local beer scene quench my thirst, write, take pictures and plan my next trip.
I went to Portugal to hike the Rota Vincentina because I wanted to experience Europe with a sense of activity and energy and to tread where perhaps few others have. The potential to drink lots of vinho verde didn't hurt either.
How long did you go for? How did you spend your time?
10 days. I spent seven days hiking the Portugal coast and two days in Lisbon. There was also one odd travel day in London.
What were your most memorable experiences? What were the biggest disappointments?
My most memorable experience was leaving Porto Covo early one morning and walking along a quiet beach with not a single footprint in the sand. The ocean was so calm that a wave could barely be seen. The sky was so blue it looked unreal and the sand was soft and bleached clean. The Mercado da Ribeiro in Lisbon had an amazing combination of top-notch food, locals, and tourists. Anyone who loves food should wander this great hall of food stalls.
Besides leaving Portugal, my biggest disappointment was how much beach hiking we had to do. Lots and lots of hiking on soft sand.
What do you wish you knew before you went?
I wish I'd known more about the wine and the history. It was slightly off season when I went there, and though I liked that there were not a lot of people, it did make it tough to find food for lunch on the trail. A lot of seasonal businesses were closed for the season or had odd hours.
Any favorite restaurants/hotels/hostels/sites you'd like to recommend?
Not really. Everything along the trail was nice and reasonably priced. Yelp proved reliable for restaurants.
What's next on your travel list?
I'm leaving for Barcelona today for a vacation week. Then I'll be heading to Atlanta, Miami, Los Angeles, San Francisco, Philly, and Maine… mostly for work.
Photo credit for Travel the Rota Vincentina: In Conversation with Elizabeth McCarthy by Unsplash.