Two Weeks in Portugal: In Conversation with Stacey Cooney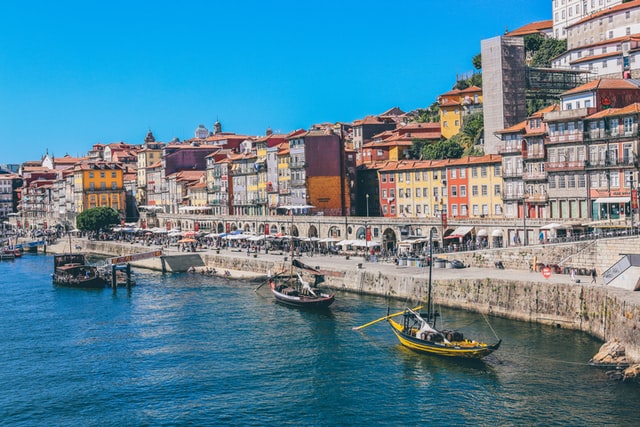 This month, we're interviewing women from all over the world and asking them about their experiences traveling to Portugal. We had the privilege of speaking with Stacey Cooney about her experience traveling through Portugal. Here's a glimpse into our conversation.
Tell us about yourself! What do you do when you're not traveling the world? Where do you live? What made you decide to go to Portugal?
I'm Stacey, a 23 year old living in New Jersey and working in PR. I've been chasing my wanderlust dreams for four years now, which has taken me to six different countries. When I'm not traveling the world, you can find me making the most of every experience at home (which is probably at a concert or a sporting event) while planning smaller trips to visit the friends I've met along the way!
My recent trip to Portugal came about when I met one of my now best friends in Ireland this past fall. She was planning her summer trip and I jumped on board!
How long did you go for? How did you spend your time?
I spent two weeks in Portugal. We arrived in Lisbon, picked up a rental car and drove down to the Algarve for our first week. We stayed in Luz, just a short drive away from Lagos. Luz is a quaint beach town with restaurants, bars, supermarkets and a beautiful beach. We rented an apartment with a balcony, a pool and an ocean view – stunning! We spent our days renting cabanas with bar service on the beach and sightseeing in other towns in the Algarve. One day, we went to Praia de Marinha, one of the most picturesque beaches in Portugal, which was worth the drive and the hike down the steps! We also booked a BBQ beach cruise through a tour company for a day, which took us out on a catamaran for seven hours with food and drink included while we went past sea caves and swam at a private beach.
After a week in Luz, we drove up to Nazare for a couple days. Nazare is the best of both worlds. It feels like a bustling city, but it's right on the beach. I don't eat seafood, but I heard the seafood here was to die for. I was feeling spontaneous and tried it out for the first time and I don't regret it. We took a day trip away from Nazare to Douro Valley to visit some quintas and taste some Port. While Douro is beautiful, I wouldn't recommend this as a day trip from Nazare – the drive is just too long for one day.
We ended our vacation in Lisbon. I absolutely love this city! While wandering the tiny streets, we found great viewpoints of the city that had food stands and bars. It was a perfect way to spend an afternoon. From small shops to winding roads and relaxing parks to great nightlife, Lisbon has it all! There is no shortage of authentic Portuguese food in Lisbon, either.
What were your most memorable experiences? What were the biggest disappointments?
I'll never forget lying on a beach with the view of Portugal's stunning cliffs. I'm a beach girl. I spend a lot of time at the Jersey Shore in the summers, so I made sure to soak up every moment of swimming at some of the most breathtaking beaches. It's not every day you go down to the water to cool off and notice you're surrounded by cliffs and sea caves.
I'm a huge fan of viewpoints. In the Algarve, I loved standing on the edges of sea cliffs. In Nazare, we took the trolley to the top of the town that overlooks the bottom. It was a beautiful view.
In Lisbon, visit the miradouros. Miradouro de Sao Pedro Alcantara was a close walk from our apartment and had food and drink stands, a bar and great views. Plus – it was a close walk to Bairro Alto and Santa Catarina, two spots great for night life!
What do you wish you knew before you went?
I don't think I realized just how much Portugal had to offer. Bustling cities, beautiful beach towns, stunning beaches, delicious food, nice people – the list goes on! I'd just do a little more research before I went to make sure I didn't miss anything I'd love.
Any favorite restaurants/hotels/hostels/sites you'd like to recommend? Tell us what made them great!
Praia de Marinha is photographed in a lot of travel books, but when you get there, it feels like you found one of the Algarve's best kept secrets. It is one of the most beautiful beaches I have ever seen and it isn't all that crowded. There are a lot of steps to climb down to the beach and it can be pretty intimidating, but once you get down there, you'll realize how worth it the climb was!
The Decadente Restaurante and Bar in Bairro Alto was recommended to us by a Lisbon local, so we tried it out. We enjoyed it so much, we ended up going twice! There was outdoor seating off the back that had a rustic yet classy vibe. Surrounded by buildings, it had a very private feel. The menu had a good mix of Portuguese food and other fare. Their sparkling sangria was to die for. Plus – the service was wonderful.
Park Bar in Lisbon is one of the city's hidden gems. Literally on top of a parking deck, the bar goes unnoticed unless someone told you it was up there. You enter the parking deck and take the elevator up to the top floor as if your car was parked up there. When you arrive, you realize the car park was turned into a terrace overlooking some of the city with bars and live music all around. A highlight of my trip to Lisbon and a must-see.
Visit Sintra while staying in Lisbon! It was a 40 minute train ride away. It's definitely a tourist spot, so be prepared for large crowds, but it's still worth seeing. We climbed Moorish Castle and the view was breathtaking!