Visiting my Husband's Hometown in Portugal: A Conversation with Courtney Dawley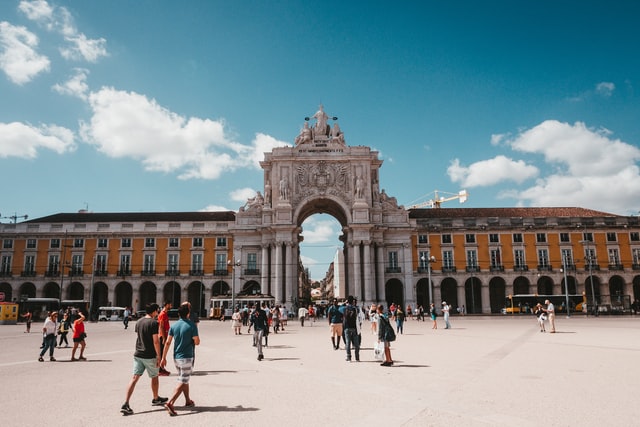 After ten years with her Portuguese husband, Courtney decided it was time to visit her husband's hometown in Portugal: Lisbon.
Tell us about yourself! What do you do when you're not traveling the world? Where do you live? What made you decide to go to Portugal?
I'm currently living in the Greenpoint neighborhood of Brooklyn, New York. I work as a prop stylist, event designer and run an ecommerce business. Here I sell mid-century modern home decor and upcycled products, including planters made from MCM enamel bowls, hand painted silver plate planters and vintage mug with hand poured soy candles.
My husband is originally from Lisbon, so this year we decided to visit his family as well as tour the areas around Lisbon. I had never been before and we have been together for over 10 years so it was a long time coming!
How long did you go for? How did you spend your time?
We were there for 11 days. His family lives in Sacavem which is one neighborhood outside of Lisbon. We stayed in their apartment which overlooks the Parque das Nacoes where they held the World's Fair several years ago. That was where we headed the first day. Also near the park is a train station (Estação do Oriente) designed by Santiago Calatrava. All along the waterfront park there are beautiful sculptures and art installations. My favorite was a series of tile fountains. There were about 6 of them in varying colors and they were spaced about every 300 yards down a wood boardwalk flanked by trees. Gorgeous.
The next day we headed up to Mafra to see the Palace of Mafra. When we arrived we learned it was closed for the day, but we found the beautiful gardens behind the palace open and available to wander through. The exterior of the palace was phenomenally beautiful so I can only imagine the interior! Before we walked the gardens, my husband's mother took us over to buy the pastry the area was known for, Fradhino, made by monks from beans, almond and assorted other ingredients. It looks similar to a nata but tastes totally different. Delicious. Everywhere we went it seemed like there was a special pastry to try!
Another day we explored the Jeronimos Monastery, walked around Belem, ate pasteis de belem (a unique version of the nata) and walked along the waterfront there. There is a huge monument on the riverside that features Portuguese explorers and figures from history. It is striking, as the design is modern and classic at the same time. They look as though they are climbing up a slope together.
Visiting my Husband's Hometown in Portugal: A Conversation with Courtney Dawley.
Another day we headed up to Sintra (which was my favorite place in Portugal). It was a rainy foggy day so as we traveled up the mountain I felt like I was going back in time. It was so amazing. The architecture there is all nestled on the hillside; it feels magical. There is a forest that grows around the buildings up the mountain on the way to the Palace. Next time I am in Portugal I intend to spend a few days in Sintra walking around to get a better chance to see all of the architecture and the landscape. There we visited the National Palace of Pena which was quite lovely. As I mentioned, it was cloudy and rainy so we didn't get the supposedly amazing view from the palace, but the interiors were worth the trip. The tile work in Portugal is gorgeous and this building had plenty of it!
Another day we drove up to Figuera de Foz, a beach town up the coast. We had lunch at a place that served roasted pork with very crispy skin. It was fabulous. We then walked around the town which felt deserted as it was out of season. In the summer it is apparently filled with people who have condos there but live in the surrounding areas.
One day we toured Lisbon with my husband's cousin who runs a tour company there (Your Friend in Lisbon). We were so lucky to have Claudia show us all the shortcuts to get to the best spots. We had drinks on a rooftop overlooking Lisbon, tasted cheeses, hams and wines from Portugal at Lisbon Winery in Chiado and climbed down the steps of the Alfalma neighborhood. She knew all the hidden elevators to get us to the top so we only had to walk down. It was great.
Another day we visited my husband's grandmother in the mountains in the town of Rendo. It was a chance to see how a more rural life in Portugal is. She used to run a working farm, but now at 94 has retired and spends most of her time by the fire. The town was picturesque. We walked the countryside with his aunts for a few hours. They took us to see the village church which was understated and lovely.
The last trip I will mention is the trip to Fatima. I am not religious, but I felt I needed to see this place that incites pilgrimages by foot and vehicle from all over the country and the world. It was massive. It has a large open courtyard with a slope uphill. At one end is a massive classic style cathedral, and at the other is an enormous modern sleek church. People come by the millions every year to burn candles and pray.
What were your most memorable experiences? What were the biggest disappointments?
The food, the hospitality and the beauty of the architecture, especially the doors, were my favorite parts. I also loved the trees there. There was a specific tree I started calling the broccoli tree, which I absolutely loved. I also loved taking an espresso after each meal. We would often go to a different coffee shop after we ate just to have an espresso, standing at a counter or pausing briefly at a table. The whole thing would take around five minutes, kind of fun and quirky.
The weather was a little spotty while I was there, but honestly that was my only complaint.
What do you wish you knew before you went?
O's are pronounced as U's in Portuguese!
I was pretty well-informed since I was going with someone who has lived there to stay with people who live there.
Any favorite restaurants/hotels/hostels/sites you'd like to recommend? Tell us what made them great!
I loved:
Lisbon Winery- knowledgeable staff and a variety of local wines, cheese, cured meats to try.
Barracao- a restaurant off the beaten path on the way to Mafra, traditional dishes, primarily dined at by locals. The bacalhau de nata was incredible.
There was also a little roadside stop on the way to Mafra that was the workshop/creation of a Portuguese sculptor. He created all of these little rooms showing traditional Portugal. It was amazing.
Time Out Mercado da Ribeira- a big market in Lisbon full of different types of food. Many are modern interpretations of traditional dishes, often with a touch of French prep, but absolutely delicious and a wide variety of options.
Is there anything that women specifically should know before they travel to your destination?
Lisbon is known to have some pick pocketing so store your valuables on you safely. Bring good walking shoes, as the sidewalks and streets are often hazardous with the wrong shoes.
Photo for Visiting my Husband's Hometown in Portugal: A Conversation with Courtney Dawley by Unsplash.