Wanderlust Festival: A Conversation with Andrea Carvalho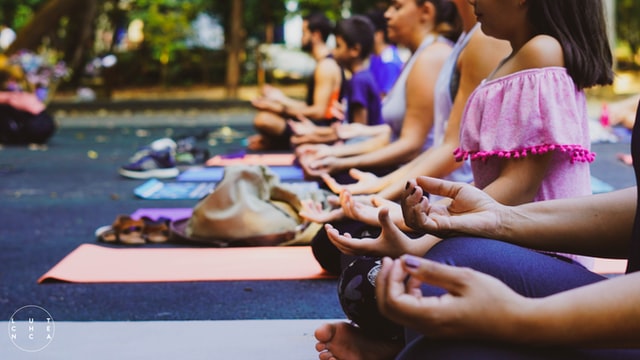 Before heading to our first Wanderlust Festival, we wanted to learn all about it. We caught up with yoga teacher Andrea Carvalho and spoke about what her experience was like. Here's a glimpse into our conversation.
Tell us about yourself! What do you do when you're not traveling? Where do you live?
I work full time and teach yoga at night so I keep pretty busy which makes it challenging to really travel, which I miss. Having lived in France for a year in college, I do miss the ease of hopping a train and going almost anywhere. Now, when not traveling, for fun I teach and practice yoga, love cooking, and enjoy exploring towns nearby in Connecticut where I live. Balancing a day job, teaching yoga, and traveling is a challenge, so when I do have an opportunity to travel, I prefer to do so with friends. In this way, we're able to create memories while on an adventure whether that adventure is in a museum in NYC or across country in a new town.
When was the first time you heard about the Wanderlust Festivals and what made you decide to go? How many have you been to so far?
Back in January of 2010 a dear friend of mine mentioned a yoga and music festival coming to Vermont with a wide selection of yoga teachers and styles, and it wouldn't be that far of a drive. Since we usually go to Kripalu together, it was right along our usual lines of a girls' trip for yoga. Since the 2010 Wanderlust VT, we've been back every year. Next year's tickets are already purchased, and our group keeps growing! In 2010, we started with just three of us, and this past summer, we were up to six or eight people. I'm hooked and wanted to do more than one festival per year, so along with WLVT 2015, we're also going to Squaw Valley. We enjoy them so much.
What did you think of the first Wanderlust Festival in Brooklyn?
Wanderlust Brooklyn was our first year at the local, one-day Wanderlusts. I liked the atmosphere that was created despite the inclement weather. There were more vendors than I expected and having only the Vermont Wanderlust experience as comparison, it's much smaller.
It doesn't matter if you are brand new to yoga or have practiced for years, if you can't stick a handstand or nail titibasana, everyone will encourage you to do your best, whatever that is in that moment, on that day.
What were your most memorable experiences? What were the biggest disappointments?
The weather was definitely disappointing. The rain started just as yoga started. Many people stayed for yoga in the rain & yoga mat – slip & slide. Since I dislike chilly temperatures and rain, I chose to talk with friends I rarely get to see who are vendors at the events and checked out the other vendors as well.
For me, the most memorable parts of any Wanderlust are the friends and welcoming, non-judgmental atmosphere. It doesn't matter if you are brand new to yoga or have practiced for years, if you can't stick a handstand or nail titibasana, everyone will encourage you to do your best, whatever that is in that moment, on that day.
Did you have a chance to explore Brooklyn while you were there? Any tips for travelers?
Outside of Prospect Park, I didn't get to do much exploring, other than 12th Street Bar and Grill where we warmed up, dried off, had good meals, and chatted with some nice locals. I'd highly recommend it if you're looking for a nice place with a low-key, neighborhood bar vibe. The staff was great, attentive, and super nice about menu questions!
What do you wish you knew before you went?
Be sure to get food before the 5k finishes! That the food lines were pretty long after it finished and while I never got to the meditation or Speak Easy, the freshly made rice balls and conversations with other people while waiting were worth it.
What's next on your travel list?
Traveling for work doesn't count towards my wish list so for fun and some R&R, I'm looking at a weekend jaunt to Kripalu this fall. After that I'll be focused on an LA-San Diego-Squaw Valley vacation next year. Depending on the timing, I might even try to get to ComicCon SD while I'm there and geek out! Bordeaux and the Bahamas however are on the near-term list for destinations. Both are warming, one does so with wine and the other with sun.
Top photo by Unsplash.