Your Quintessential Guide to New York City Food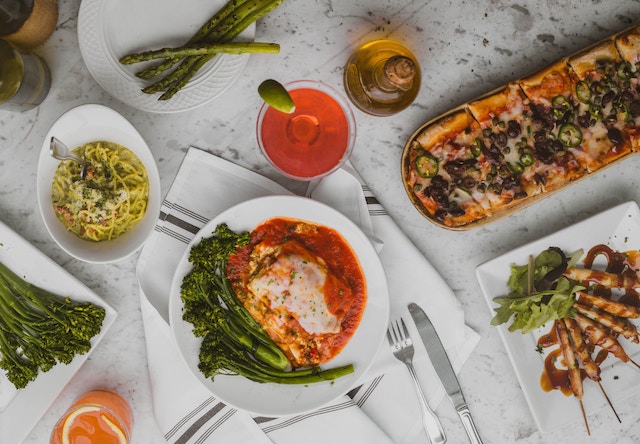 New York turned me into a foodie. When I arrived in Manhattan for college, a country mouse through and through, my food world was as narrow as the aisles in a NYC grocery store. Eleven years later, one of my favorite pastimes is "recreational grocery shopping," as my friend Emma calls it, and I have an ever-growing list of new places and dishes to try. New York is truly a city for food-lovers, and although I just recently relocated from NYC to Philadelphia, the first thing I do each time I return to the city is pick a few favorite food haunts to return to.
Because the love of food, like food itself, is best when shared, I hope you enjoy this (non-exhaustive) list of quintessential food experiences in NYC. You'd need about a month to do it all, so take your time, pick your faves, and savor every bite!
Your Quintessential Guide to New York City Food
Eat like a local on the Upper West Side
Start your journey at 72nd and Broadway. Depending on the time of day and your tastes, get a couple of hotdogs and juice from Gray's Papaya, or some fresh bagels with schmear and coffee at 72nd Street Bagel. Sip on your drink of choice as you head east towards the park. Find an auspicious-looking bench or lounge in the grass, and enjoy your treats.
Take a spin around Bethesda Terrace and maybe even rent a rowboat, to burn off some calories in anticipation of your next stop: Cafe Lalo, on 83rd and Columbus. Ogle the many desserts vying for your selection in the glass cases, and once you've finally picked one, enjoy it while watching New York pass by on the sidewalks of 83rd street, just outside the window.
Finish up by walking a few blocks to the city's famous Zabar's grocery store, and enjoy samples of cheese and meats. My personal pick – their fresh roasted coffee, Zabar's Blend – which I (some may say obsessively) stock in my cabinets.
Brooklyn calling
Walking across the Brooklyn Bridge will whet your appetite for the coal-fired pizza waiting for you on the other side – take your pick of Grimaldi's and Juliana's, but be prepared to wait in line if you want to eat inside. If the weather's nice, call ahead for pick up and bypass the queue. While you enjoy your slices of thin crust, read about the feud between the owners of the two establishments.
If you've got time, head on over to the Brooklyn Brewery to taste some local craft brews, and to take a free tour on the weekends. If you are in NYC over a weekend, you can't leave without experiencing the gustatory mecca that is Smorgasburg on Saturdays and Sundays, year round.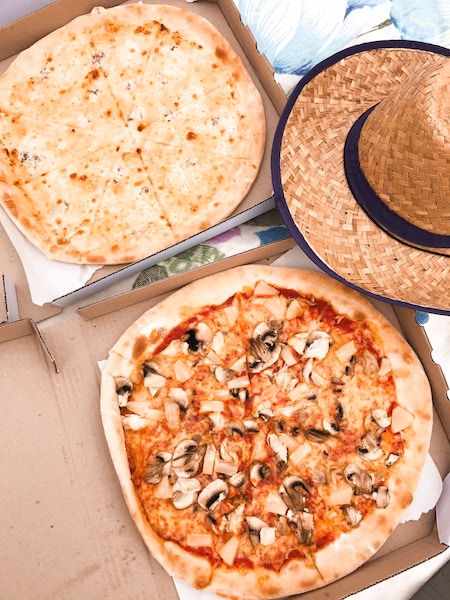 Brunch: Just do it
No weekend trip to NYC is really complete without brunch, New Yorkers' favorite meal. There are literally hundreds of "Best Brunch" recommendations for NYC, and I've only scratched the surface. For a whimsical experience, try Alice's Teacup at one of their three city locations – definitely get two scones and a pot of tea to share.
Good Enough to Eat is famous for their pancakes, but be prepared for a line. You also may have to wait at Jack's Wife Freda, but their charming dining room and excellent fare make it worth it. For a southern meal made with soul, check out Amy Ruth's in Harlem. I'm ashamed to say that before I went there earlier this year, I had never had chicken and waffles. The situation has been rectified, and deliciously so.
Travel Tip: If you're thinking about taking a food tour in New York, read this review from our friend Lisa at The Snappy Gourmet before you go!
NYC: The Melting Pot
New York is a city of immigrants, and its cuisine reflects that, boasting some of the most authentic restaurants outside of the cuisine's home country. If you've got a craving for Chinese, try the fried dumplings at hole-in-the-wall (and descriptively-named) Fried Dumpling, or even better, the xiao long bao (soup dumplings) at Shanghai Cafe Deluxe. Don't pop the whole thing into your mouth if you value your tastebuds – nibble a hole in the thin dough to let the steam escape first.
If hearty Jewish fare (and awesome New YAWK accents) is more your thing, try the smoked fish or rugelach at Russ & Daughters, a knish at Yonah Schimmel's Knishery, a full sour from the Pickle Guys, and pastrami at Katz's Deli.
Feeling more in the mood for Italian? Try the desserts at Ferrara in Little Italy, and sip on the best cappuccino outside of Italy at Caffe Reggio near NYU.
Markets galore in Chelsea and Union Square
Start early in the morning at the famous Union Square Farmer's Market, where NYC's top chefs often shop for the freshest and best produce. If the weather's cool, try warm pear cider (yes, pear!), and sample artisanal cheeses. Pick a few of your faves for lunch, but don't stock up too much – we've got another stop.
Head directly west along 16th street; the 15-20 minute walk will bring you to Chelsea Market, an indoor market that spans a whole city block, between 15th and 16th streets and 9th and 10th avenues. Try a baked good from Fat Witch Bakery or Amy's Bread; sample flavored oils, salts, and vinegars from The Filling Station; and round out your lunch selection from among the many grocery and prepared items available throughout the market. If the weather is not nice, stake out a spot inside the market and people watch while you nosh.
If it's a nice day though, head out the 10th avenue exit and up to the Highline, NYC's newest park, renovated from an old elevated rail line that ran through this once-industrial part of Manhattan. Grab a spot and watch the city stroll by, and be sure to explore the park too. Before you leave this part of town, grab a slice (or a whole pie) at Artichoke. Get the artichoke pizza. Don't even glance at the other offerings on the menu. Trust me.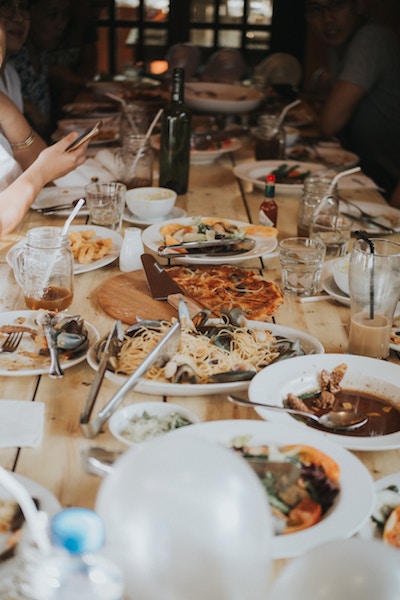 Your Quintessential Guide to New York City Food Related Reading
Have you traveled to New York City? What are your favorite New York City food spots? Email us at [email protected] for information about sharing your experience with the Pink Pangea community. We can't wait to hear from you.
Quintessential Guide to New York City Food top photo credit: unsplash.com