Travel Hong Kong: The Real Deal with Atikah Amalina Mohd Zaini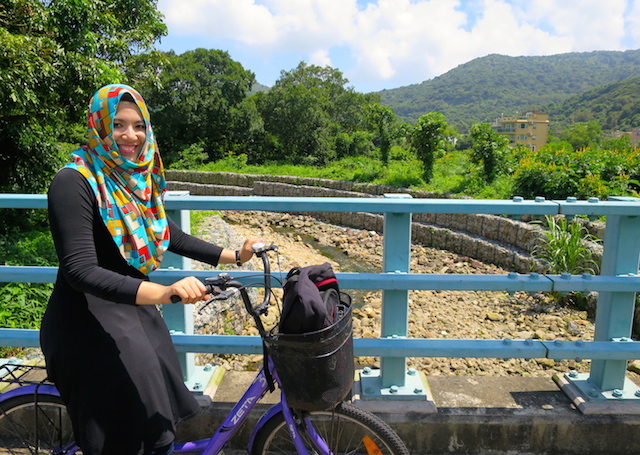 IIn Travel Hong Kong, Atikah escapes the city for the gorgeous waterfalls of Lantau Island, biking through the nature.
Tell us about yourself! What do you do when you're not traveling the world? Where do you live? What made you decide to go to Hong Kong?
Someone who loves to unravel life's wonders, I'm a life enthusiast who believes in the power of the mind and soul. Living by Mark Twain's advice to "throw off the bowlines, sail away from the safe harbor, and catch the trade winds in your sails," I strive to take on life as a traveler constantly learning new things. I'm passionate about inspiring and pushing others to go above and beyond their potential. When my writing mojo decides to come for a visit, I write on my blog.
A born and bred Singaporean, I have called Singapore, Malacca (Malaysia), Canberra (Australia) and Manchester (UK) home. When I'm not out there being travel's student, I educate and nurture young minds. My latest daredevil stunt has been to jump onto the teaching bandwagon – I'm an English and Literature high school teacher in Singapore.
During my last school break, I traveled to Hong Kong and Macau. It was right after my teaching practice and I was struggling against burnout. Truth be told, I had a $100 voucher for a plane ticket from Scoot, and basically went eeny-meeny-mini-mo on the list of travel destinations available. My finger eventually landed on Hong Kong. Two days into the trip, I thought, "Hey, Macau is close enough. How about heading there too?" Hmmm.
How long did you go for? How did you spend your time?
Recent news coverage of the ongoing protests in Hong Kong left me speechless. Images of the protests are bewildering, with tons of people camping out on the streets, blocking roads and daily businesses. The protests started a few weeks shy of my trip, and much of it is happening on familiar streets. Barely two weeks earlier, I was walking down these very streets with my travel buddy, getting lost in the crowd and trying to navigate from one place to another.
Being one of the most densely populated places in the world, it is hard to walk along the streets of Hong Kong without rubbing shoulders with other pedestrians. The high-rise apartments and buildings start to slowly mesh into one another when you've walked the streets long enough. But the city's layout is fairly easy to grasp, and it didn't take me long to get my bearings around the city, particularly with a well-executed public transportation system – the MTR and buses are easily accessible!
I'd found out from seasoned Hong Kong visitors that two main things should form the bulk of my itinerary: shopping and food. For the former, I was travelling on a budget. I did, however, visit some of the places that were touted to be the best shopping havens in town, the multitude of shopping centers and open-air markets in Mongkok and Tsim Sha Tsui, SOGO, and the City Gate Outlets.
Luckily, my wallet was kept safe throughout the entire expedition, but I could imagine having a lot less self-control and shopping with abandon at these places. Since there are no taxes charged, prices of branded goods such as Michael Kors, Prada and Longchamp are significantly lower.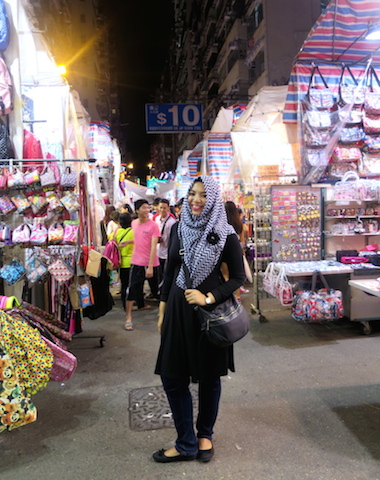 Travel Hong Kong: The Real Deal with Atikah Amalina Mohd Zaini
I practiced little restraint for food though. Chinese food is one of my favorite cuisines, and I was happily eating dumplings and noodles every single day. The street-side food stalls are always teeming with customers, and often customers will stand around to finish up their food. Desserts abound in Hong Kong, ranging from local produce such as beancurd to imports such as churros. There are a variety of options for Indian and Mediterranean food, which are mostly halal.
Since I skipped shopping and Disneyland and went straight into the pulse of the city, I pretty much covered the hot spots within two days. I quickly got bored of the city, which was really a denser version of my hometown. I was beginning to feel overwhelmed, so I began to look for ways to get out. A quick search on the Internet pointed me in the direction of Lantau Island.
Lantau Island is Hong Kong's largest outlying island and is a far-cry from the mainland. It houses the Hong Kong countryside and boasts some of the best trekking paths and beaches for people escaping from the city. It was exactly what I needed!
What were your most memorable experiences? What were the biggest disappointments?
I rented a bicycle in Lantau Island and cycled aimlessly, allowing myself to experience whatever the island had to offer. It was serene, cycling through villages with children playing outside and occasionally seeing lush greenery and tall mountains.
I also cycled along the Olympic trail, which had 11 Olympic competition layouts. It was along this road when I saw a handwritten, barely legible, signboard that had a picture of a waterfall drawn on it. Being a water-baby, I knew without question that I needed to find the waterfall. It took a whole lot of uphill cycling and intuitive navigation, but I was eventually rewarded with a beautiful waterfall.
This stark contract between my earlier experience in Hong Kong city made me come to terms with my preference for adventure travel, or at least, my lack of interest in travelling to metropolitan areas. Nature is the thing for me.
Travel Hong Kong: The Real Deal with Atikah Amalina Mohd Zaini
I would say that I had few expectations for Hong Kong, but what blew me away was Macau. Macau was an impromptu day trip out – it was only an hour's ferry ride away – and I had high hopes for it. Being a history fan, I was anticipating a myriad of historical sites to visit and get lost in. After all, besides its casinos, Macau has strong Portuguese heritage. There was no missing out the blinding lights of the casinos in Macau, but the buildings touted to be the historical sites were disappointing.
There was little information available for people to learn more, and some buildings were just facades. However, I have to throw in a word of caution here: I did only go for a day trip, so perhaps this judgment isn't justified. That day in Macau did not lend me any reason to stay beyond a day if I'm not interested in gambling though.
The Portuguese egg tarts are a saving grace though! It's definitely a must-try when one is in Macau!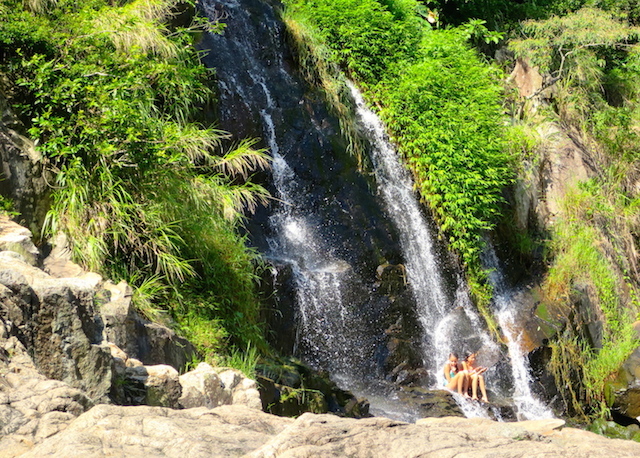 What do you wish you knew before you went?
I wished I'd known about the many trekking trails available in Hong Kong! I found out too late that trekking is a favorite weekend activity among residents, and much has been done by the government to make the trails safe. In fact, I would have loved to put on my hiking shoes and discover a different side of Hong Kong, away from the concrete jungle and hectic traffic junctions.
Any favorite restaurants/hotels/hostels/sites you'd like to recommend?
Lantau Island is definitely on the top of my must-go list of places, especially if one would like to travel back in time and experience what Hong Kong might have been like before concrete and economic progress crept in. It's also great for the adventure/nature junkie!
I would also recommend exploring Kowloon Walled City, to experience for yourself what is must have been like staying the most densely populated area in Hong Kong. The apartments have since been demolished, vices cleaned up, and then replaced with a Chinese garden, but visitors can still walk around and go through the exhibition.
What's next on your travel list?
I'll be travelling to Hanoi and Sapa, to stay with a local mountain tribe and to explore the old city! It'll be a solo trip for my 24th birthday, and I'm terribly excited and honestly quite scared!
Have you traveled to Hong Kong? How was your trip? Email us at [email protected] for information about sharing your experience and advice with the Pink Pangea community. We can't wait to hear from you. Photos by Atikah Amalina Mohd Zaini.