The Trip that Made Me Want to Move to San Francisco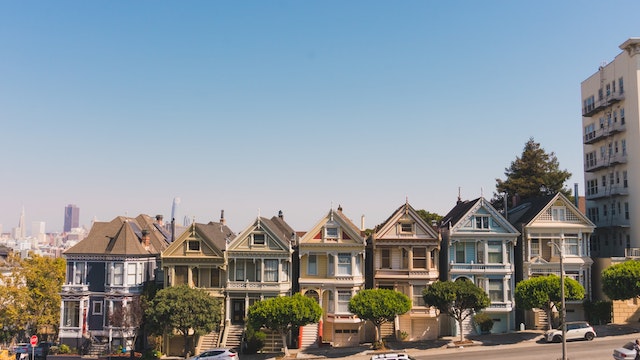 Ever since I can remember, San Francisco has been a place I'd like to live someday. It's strange because I don't know it well at all, but something about it calls to me. Just a few weeks ago I took a trip to visit and figure out if moving to the West Coast could be a reality for me.
When I arrived at the airport, I followed the signs to the airport train, which would take me to Bay Area Rapid Transit (BART). I took BART to The Mission, an area of San Francisco I had never been to. When I got out, I was somewhere unexpected. In my mind I pictured streets lined with houses and hills. Where I was, reminded me of Harlem; there were people of all different backgrounds, some homeless individuals, and a couple drunks. Strangely, I felt at home.
It's strange because I don't know San Francisco well at all, but something about it calls to me.
As a New York City girl, this was a scene I knew. I got myself together and walked the four blocks to my friend Jacob's office. He met me on the street and brought me upstairs. The space was everything you'd expect for a start up: a long table to work at, an area with couches, a couple closed rooms for meetings, and an incredible view.


Once I had a chance to take it all in, Jacob suggested I check out the neighborhood while he finished up his work. I headed out to Clarion Alley and Sycamore Street, two streets lined with mural arts.
It was incredible. I was moved by the words and images that these talented individuals had created and shared.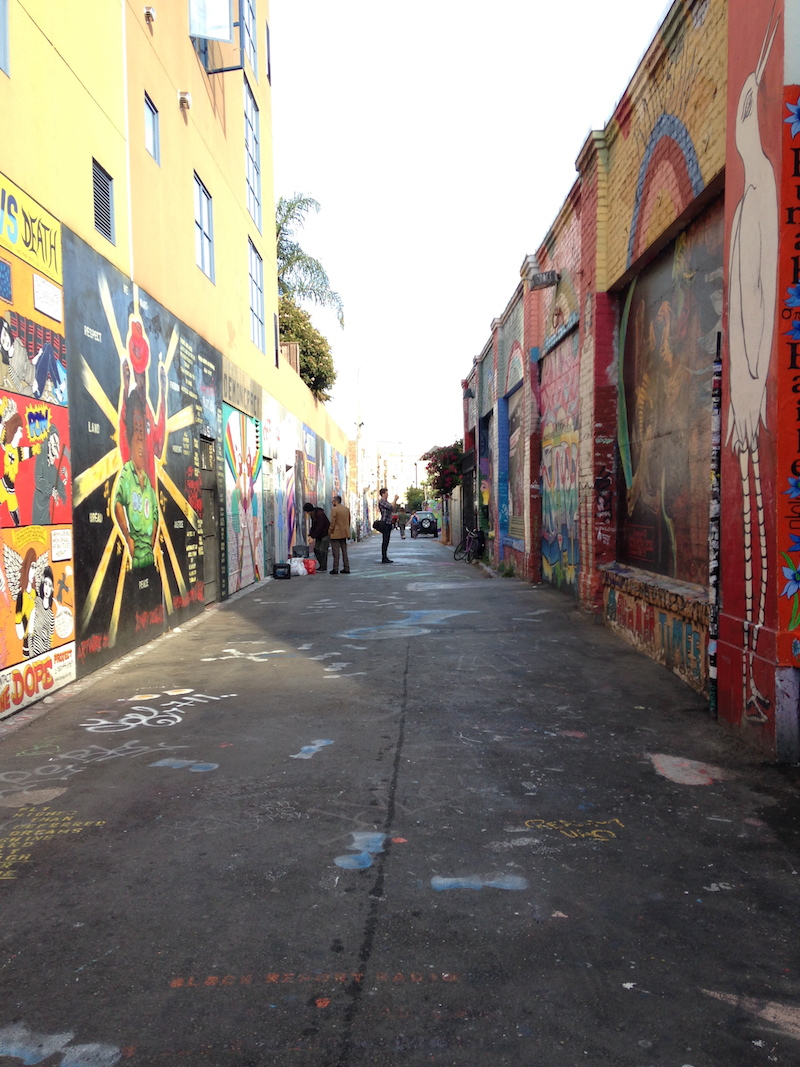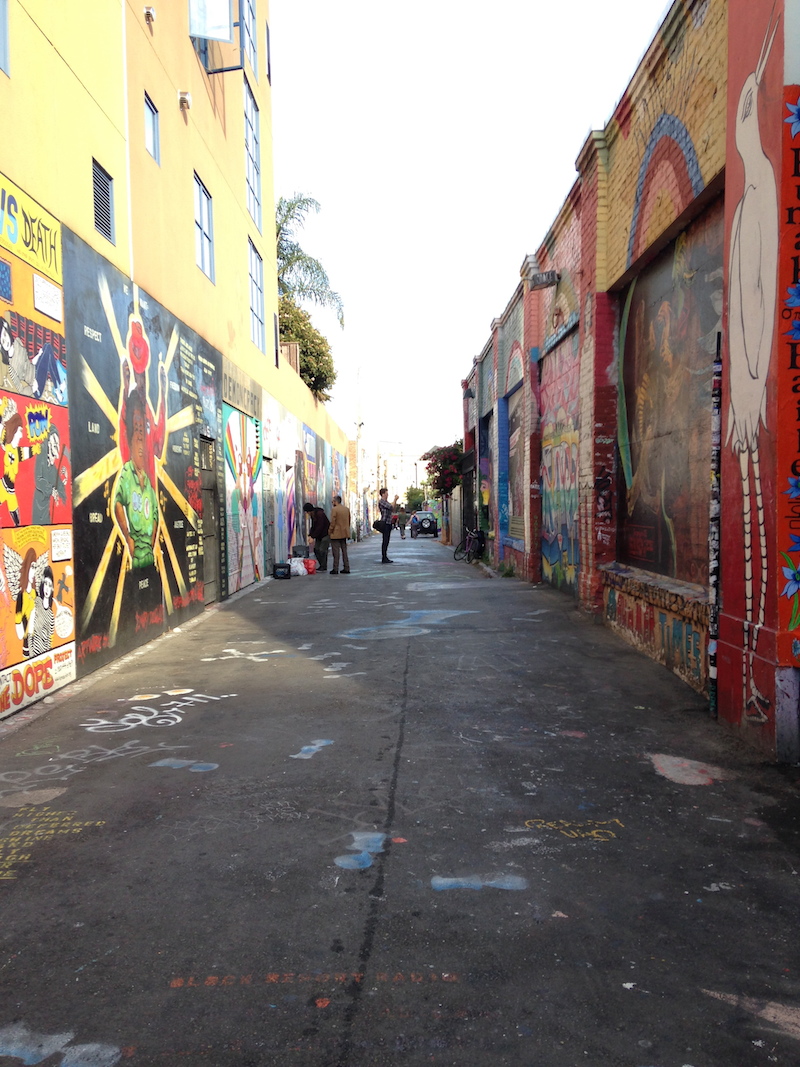 The more I walked, the more I loved what I saw. Such inspiring and liberal messages: "educate to liberate," "invest in education not war," "tax the rich," "one love." Again I felt at home in a city I barely knew.
After walking around a little more, and stopping by the neighborhood farmer's market, I made my way back to Jacob's office.
Turns out Californians really like their technology and therefore, cabs are no longer the in way to get around.
The next day was Friday. I was on my own to explore. I mapped out a route to visit the Golden Gate Bridge and Fisherman's Wharf. My goal for the day, aside from sightseeing, was to see how much walking I'd be able to do. Would I be able to get around like I do in New York?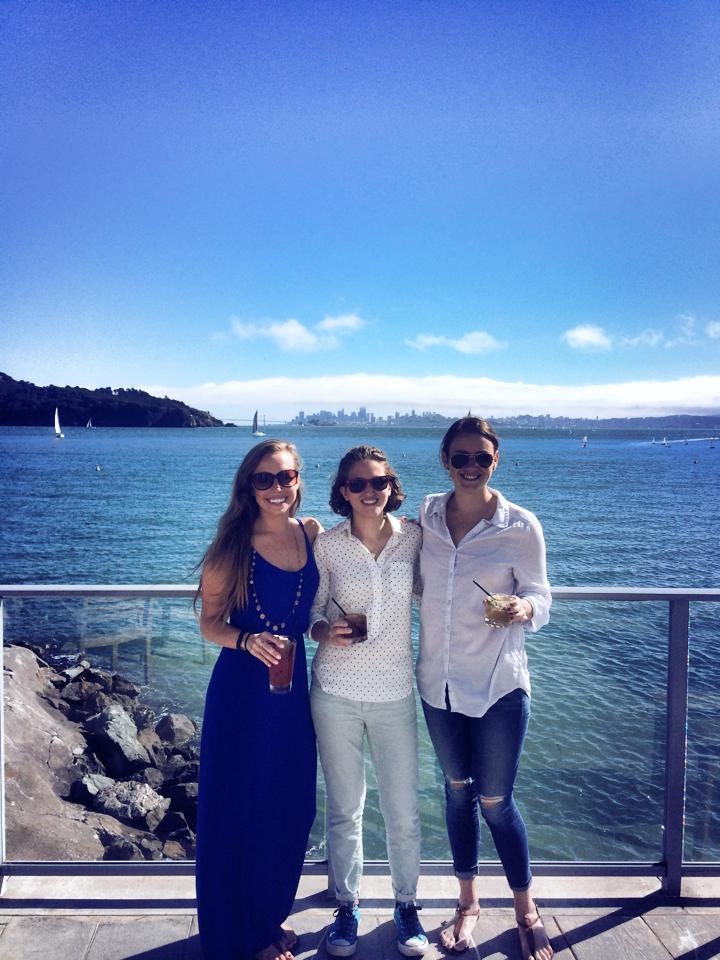 I began my walk through the Presidio. I was picturing a paved walkway and that I'd be joined on my way by other tourists. Instead what I found was hills, a hiking trail, and cars. Being that it was my first full day out in the city, I was not dressed correctly. In 60-degree weather I had on a long sleeve shirt, a sweater, and a sweatshirt. With all the hills, eventually two layers had to come off.
After about a half hour of walking, I made it to a lookout point. It was beautiful.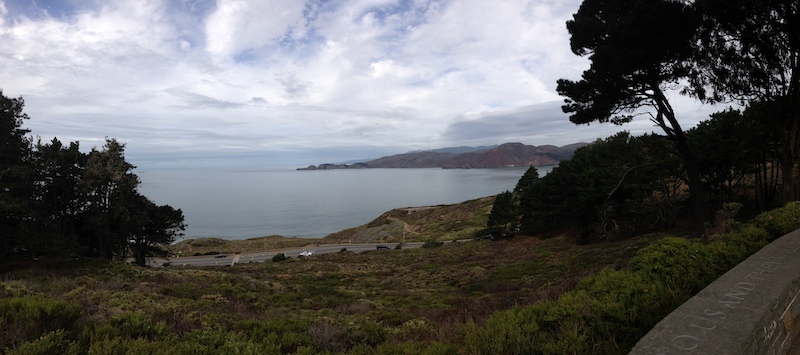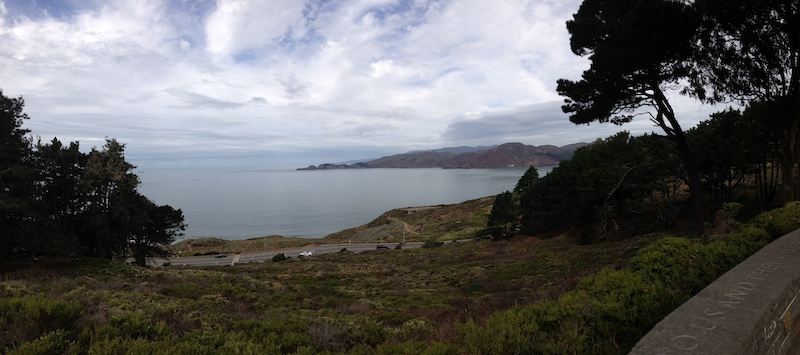 Just a few minutes later I had my first view of the bridge.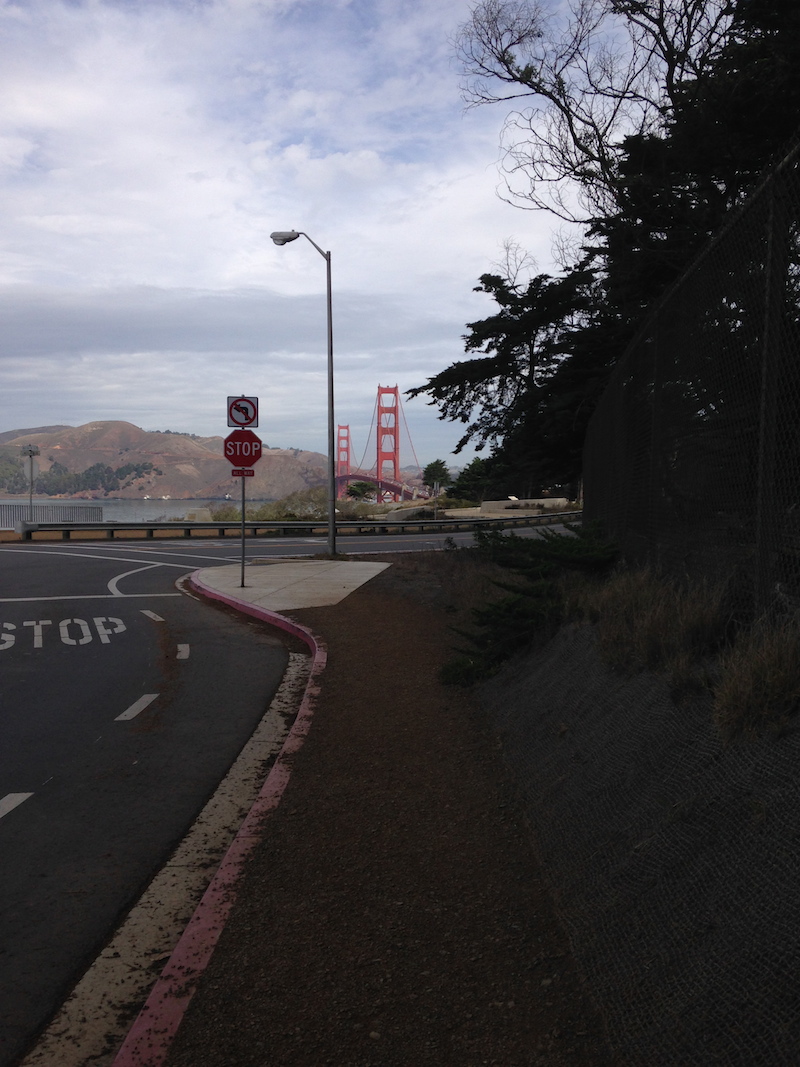 I continued walking. Eventually I got to the main Golden Gate Bridge Park, which is where I found all the other tourists. I took in the view, this time much closer to the bridge. Soon, I was on my way again, determined to get to Fisherman's Wharf. I followed the bike path and headed to Crissy Field; an open space that runs along the water. The more I walked, the better the view got. I kept stopping to take pictures. I was amazed by how beautiful the area was, and that the city was right there behind me.
I took a quick rest in Crissy Field, watching the locals run, bike, walk their dogs, and enjoy time outdoors. Next, I moved on to Fort Mason, a former United States Army post. I then passed Ghirardelli Square. Again I stopped to people watch. Finally after another 15 minutes or so, I made it to Fisherman's Wharf. It was full of people.
After an afternoon of people watching and walking in and out of stores, I headed back to Jacob's apartment. My legs were killing me.
The next day I packed my things and took an Uber to my friend Emily's place. (Uber was something new for me. Turns out Californians really like their technology and therefore, cabs are no longer the in way to get around; apps like Uber and Lyft are).
Saturday and Sunday were spent with friends. Emily showed me around her area called the Marina. We enjoyed brunch at Judy's Homestyle Café and then walked around. Since we were nearby, I asked her to take me to the house from Mrs. Doubtfire.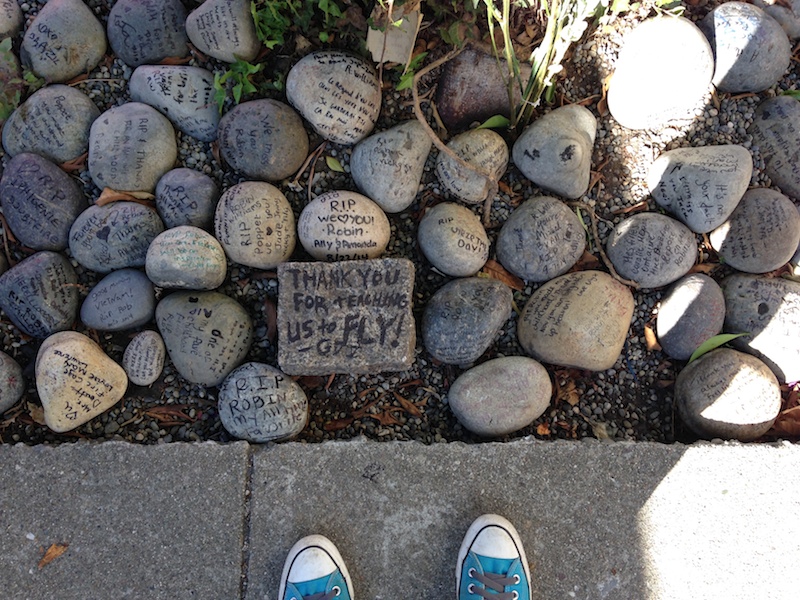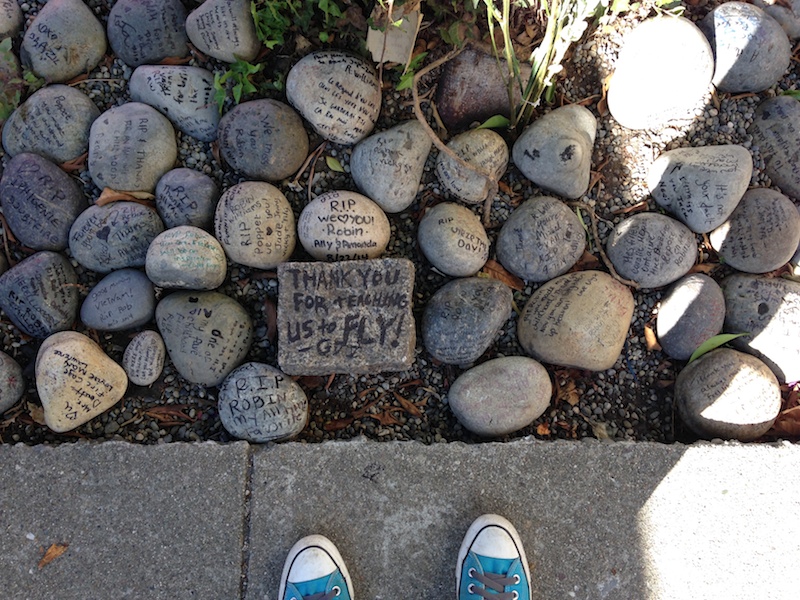 On Sunday, our friend Katie took us to her family's yacht club. They were having an event to welcome newcomers and Emily, her boyfriend, and I all tagged along for the fun. It was the perfect day and we ended up talking with a number of individuals who had moved to California from other states and had made a life in San Francisco.
My experience in San Francisco was life changing. It connected me to my love of California and my need for a change. I am now back in New York and working towards my goal of moving to San Francisco in the next year.
Top photo by Unsplash.