Itinerary: The Best of the California Coast
My partner, with whom I am in a long distance relationship, recently came to visit me in California for the first time. He had never been before and it had been months since we had last seen each other so I was eager to squeeze in the most California had to offer in the least amount of time! With a tight schedule and lots of ground to cover, I put together an ultimate and optimal California trip itinerary that covers the best of the golden coast! My itinerary focused on covering the most ground in the least amount of time, with the theme of indulging in food, local culture, and the natural beauty of California's coastal towns.
We started out in Northern California where I spend most of my year. I live in Berkeley so in addition to showing him my local stomping grounds, I was able to also take us to some more out of the ordinary excursions in the various famous features of the Bay Area.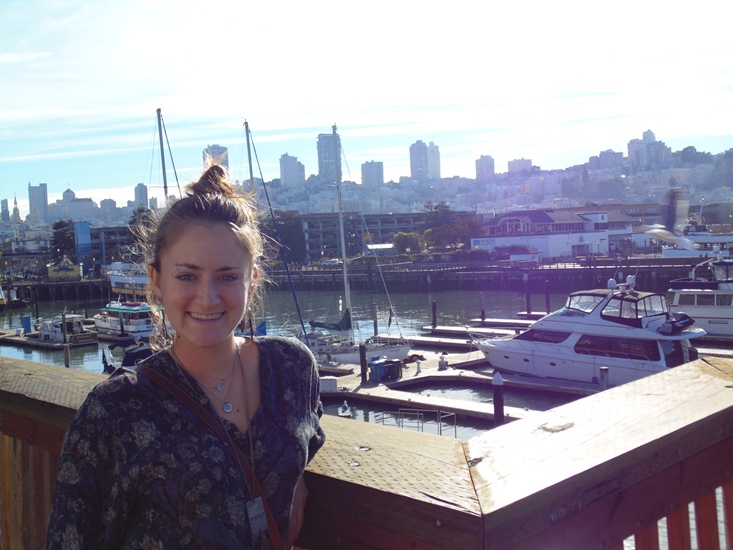 Day 1: Elmwood, Berkeley
Our first day began with walking around one of my favorite local Berkeley areas. The Elmwood neighborhood around College Avenue and Ashby Avenue is famous for its quaint boutiques and delicious eateries. We had lunch at La Mediterannee, an incredible Mediterranean restaurant that is open all day and night and has an especially wonderful brunch menu on weekends. We then walked around the few square blocks with the most vibrant shops, complete with bookstores, clothing boutiques, jewelry stores for window shopping and a fair share of coffee shops and bakeries for the best sweet tooth fixes in town! We were sure to leave room for a stop into Ici, a local favorite old-fashioned ice cream shop with the most unique and unexpected ice cream flavors I have ever seen! The line at Ici is often down the block–no matter what the weather or temperature, so after a mouthwatering wait we finally indulged in an unexpectedly delicious combination of flavors while observing passersby on the street corner.
Ethiopian food is a great way to share different sample sizes of food and also has incredible vegetarian options.
TIP: Order your ice cream in a handmade cone for an extra chocolaty surprise in your last bite! And Ici is worth the wait, no matter how cold it is outside. Trust me, stick it out!
After walking off our lunch and spending a few hours browsing and relaxing around the quaint residential area of Elmwood, we found ourselves a little farther down the road at Café Calucci for Ethiopian food. Ethiopian food is a great way to share different sample sizes of food and also has incredible vegetarian options. Café Calucci, which is technically in North Oakland off of Telegraph Ave, has an amazing eclectic energy as well as diverse and colorful clientele. There is no better place to get a taste of authentic Oakland flavor and people watching that will surely leave all of your senses excited!
TIP: Ethiopian food is known for its incredible honey wine accompaniment. Definitely be sure to order a glass at dinner to get the full flavor experience!
Day 2: The Ultimate San Francisco Day
Our most eventful day was definitely spent in San Francisco. It was there that we had the most ground to cover, especially because this city is known for its wide range of unique neighborhoods! We began in the Castro where we walked around and munched on some baked goods from a few local coffee shops. I was sure to take my partner into my favorite store, the Human Rights Campaign headquarters, which is housed in what used to be Harvey Milk's camera shop. The history is palpable in this sacred space and I make sure to pay my respects to my biggest hero while I am in the neighborhood.
TIP: When parking on any sized hill in the city at any time of day, be certain to not just use your parking break but also turn your wheels into the curb. Parking fairies are rampant throughout the city and I paid the price for not observing the wheel turning rules even on a tiny hill!
We then made our way to the nearby Mission District where we hit up all of the cute stores, galleries, and eateries on Valencia Street. My favorite dessert place in the city, Dandelion Chocolate, is housed right in the center of this legendary district so we paid our caloric dues. This is a great place to stock up on gifts for loved ones because all of the chocolate bars and products are made right there on the premises. You can even watch the entire chocolate making process live and in person while you wait! My favorite item on the menu is the European drinking chocolate, as well as the brownie bites that allow you to sample chocolate from different locations around the world in a more carb-loaded way than just through the pure chocolate itself…. And who can say no to that?!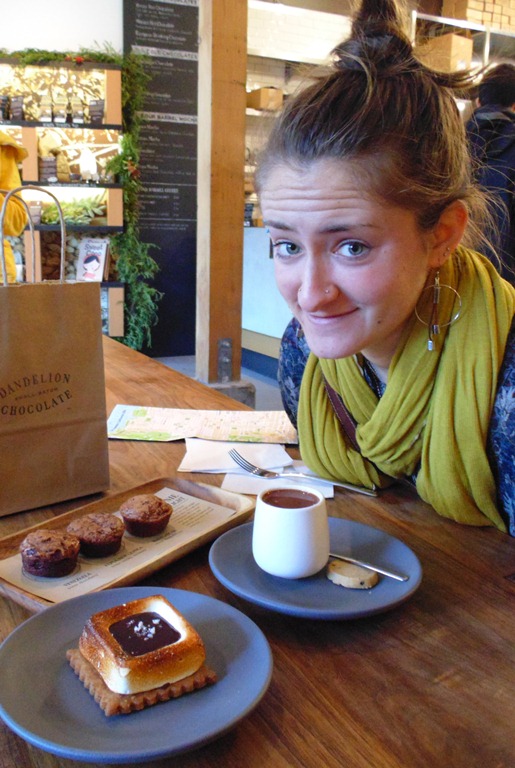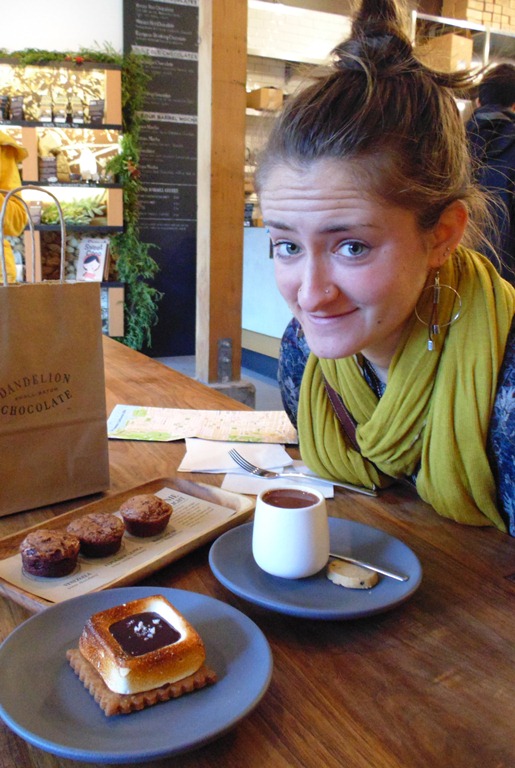 Our next few quick stops included Haight-Ashbury, Alamo Park, and Lombard Street. The intersection of Haight and Ashbury is probably one of the most famous in the city for its rich history in queer and hippy culture. It is a colorful and unique neighborhood to this day with a great selection of thrift stores for those bargain shoppers looking for one-of-a-kind pieces from way back when. Alamo Park is a gorgeous hilly park with an absolutely incredible view of the city as well as of the Bay itself. The park is also home to the Painted Ladies, a series of incredible California Craftsman style homes that are historical sites within San Francisco. Legend has it that the Painted Ladies are the most photographed site of the city, and judging on their stunning beauty, I definitely believe it!
The hill of Lombard Street is so steep that the road for cars curves back and forth across the hill instead of going straight down because it would be too steep for vehicles to drive directly down.
No drive through San Francisco is complete without a visit to Lombard Street, the curviest street in the world! The hill of Lombard Street is so steep that the road for cars curves back and forth across the hill instead of going straight down because it would be too steep for vehicles to drive directly down. The view from the top of the hill is amazing with great visibility of the city from above as well as of Alcatraz Island in the Bay. The view from the bottom is even better though, with a vertical perspective of the steep winding road! Don't miss the incredible opportunity to drive down this curvy road and passengers, put your hands up for the roller coaster ride!
We continued to our next stop at Fisherman's Wharf where we walked along the touristy yet colorful street all the way to Pier 39. There are countless souvenir shops, seafood restaurants, and piers to visit in the Wharf area. My favorite though is definitely Pier 39, which is home to dozens of sea lions! Watching the sea lions lounge about in the sun was a perfect way to enjoy the lovely day by the water. No stop to the Bay coast is complete without a visit to Ghiradelli Square for a sundae and perusal through the gift shop. For a more adult fix, we also visited the famous Buena Vista Café, which overlooks the legendary trolley car loading area and gorgeous Bay Coast. Buena Vista has been around for decades and has the gentlemen's club vibe complete with its famous Irish coffees. Do not miss your opportunity to indulge in this slice–or slurp–of San Francisco history!
After enjoying the refreshments available around Ghiradelli Square, we kicked up the energy and headed to the Golden Gate Bridge National Park. This area just north of Fisherman's Wharf is super easy to get to by car and once we parked, we continued by foot through the gorgeous pathways leading up to the bridge itself. We then walked the entire length of the Golden Gate Bridge which allowed us to really enjoy views of the Pacific Ocean, San Francisco Bay, and East Bay skylines. We also timed our walk really well because we were able to catch sunset!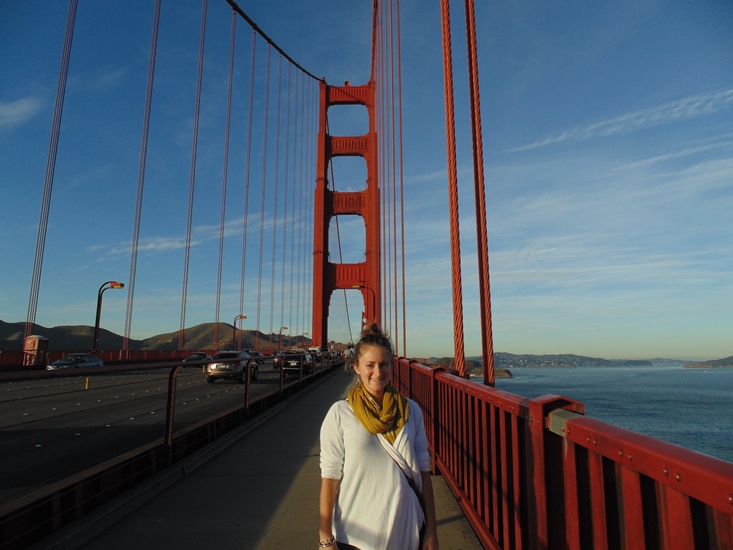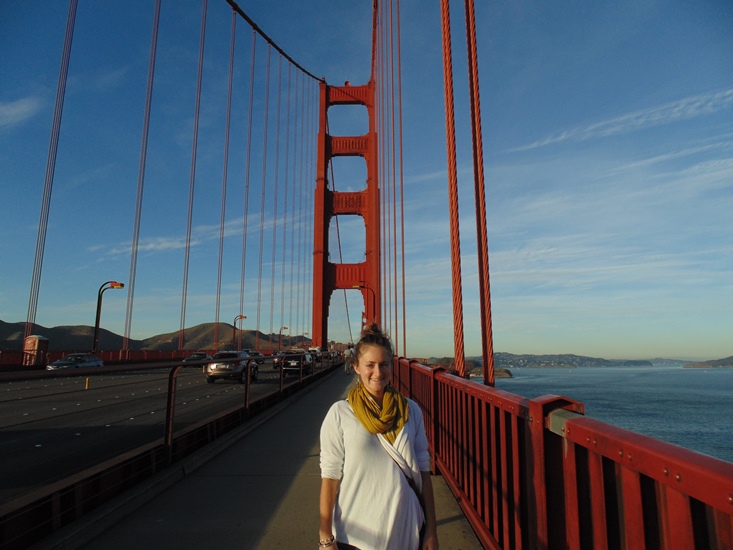 Our final stop of the day was to Union Square and Chinatown where we enjoyed a lovely dinner at Sabra, an Israeli restaurant hidden among the cluttered Chinatown shops. These two neighborhoods are extremely close by so walking between the two is incredible easy to do. Chinatown is another San Francisco classic, with plenty of sensory stimuli and rich history to offer visitors. Union Square is a bustling and vibrant area that is especially gorgeous during the holiday time, complete with lights and an iconic ice skating rink! One of my favorite places to eat when I am not trying new hole-in-the-wall restaurants is the Cheesecake Factory at the top of Macy's Union Square. Let's face it, cheesecake is a necessity no matter what the season.
TIP: The wait at Cheesecake Factory is usually long in the evenings, so get there early before you are too hungry and then enjoy browsing the rest of the store while you wait! Be sure to request a seat on the heated balcony for the best views of the Square from above. For after dinner, make your way a few floors down to the armchair and mattress section of Macy's to sample the comfortable offerings while you happen to sleep off your decadent meal from above! 
This article was originally published on Gay Travel.  Itinerary: The Best of the California Coast