On Assignment in Embarcadero, San Francisco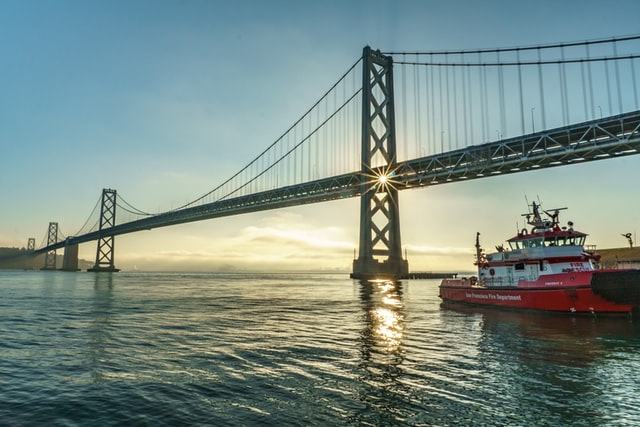 The ferry was crowded. Moms, dads, grandparents, gaggles of teenage girls, couples and a few solo travelers like myself. Not the usual crowd you'd see at 9:30 am on Friday. But it's the day after Thanksgiving and many Americans are on holiday. The usual business commuters are recovering from food coma, Black Friday shopping, or maybe just sleeping.
Me, I'm headed to work. I'm a freelance travel writer, photographer, and videographer. I'll spend the next three days on Embarcadero working from end to end.
In between is the Ferry Building, ferry terminals, cruise ship terminal, Fisherman's Wharf, museums, food, music, art, hotels, and so much more. Was I taking on more than I could do in three days?
My work didn't start that Friday. Thirty days earlier, I booked two nights at Harbor Court Hotel, began researching, and started to query publishers. My idea was to find five great video opportunities or "VidOps" (my new word) along the 3.5-mile Embarcadero. I had two online publishers interested. I was "on assignment."
San Francisco's Embarcadero is a boulevard skirting the waterfront on San Francisco Bay. At the southeast end lies AT&T Park, home of the world champion San Francisco Giants. At the northwest end, Hyde Street Pier is the repository of San Francisco's Maritime history. In between is the Ferry Building, ferry terminals, cruise ship terminal, Fisherman's Wharf, museums, food, music, art, hotels, and so much more. Was I taking on more than I could do in three days?
10:30 am was too early to check in at Harbor Court. I planned to leave my bag and return after 3 to my room. Before leaving home, I filled my backpack with the gear I needed for my sojourn up and down Embarcadero, which would involve filming, shooting, and reviewing. Two video cameras, two still cameras, a mini-computer, two small tripods, one full-sized tripod, and miscellaneous stuff weighed in at 12 pounds. Now I know what "get a grip" means.
At the front desk, I was welcomed with genuine warmth. My room was ready: a bay view room. I had been upgraded from the single interior room I'd paid for. Wow, this travel writer thing does have its perks, I thought. I contacted the hotel manager prior to my arrival, asking for an interview. She was on vacation during my stay but arranged for my upgrade.
The room was delightful with an extraordinary bay view. I photographed everything, freshened up, put on my hat, and journeyed out. I had a detailed schedule, and I had to stick to it.
While researching the area, I found an interesting market and deli on Lombard Street 1.2 miles from the hotel. It seemed like a great place to have a reasonably priced lunch before getting down to business. The track was short and flat, but tiring. Low on energy, I was now in the seventh hour of my day. I needed something to eat. At last Lombard Street. According to my Google directions, my destination was on my right. I didn't see a market, but I did see a huge stone cliff. The monolith was one block wide and five stories straight up. No possible way to get over. Thanks, Google. I now realized my destination was on the other side of this rock and miles away.
Lunch changed from reasonably priced deli fare to $50 at Franciscan Crab Restaurant. And, yes, it included a great glass of wine. The Franciscan is my favorite San Francisco restaurant. The view of the bay is unbeatable sitting at a table in the terrace bar. There are binoculars at the tables.
On Assignment in Embarcadero, San Francisco.
Watching passing boats and ships is mesmerizing. The food is excellent here and for San Francisco, not too steep.
Feeling guilty about abandoning my plan and budget so quickly, I recorded time lapse video capturing the traffic on the bay interspersed with waiters and customers passing my table. I took my time eating the succulent fish and chips and savoring the crisp white wine. But, I had to get on with my work. I paid my tab and proceeded out the back entrance.
Opening the door to the deck, everything changed. I was assaulted with a din of rock-n-roll music, throngs of holiday visitors, street cars, taxis, autos, and buskers.
There it was, a perfect subject for "5 VidOps on the Embarcadero." I sat up my tripod and camera and began recording the one-man-band on the street below. For the next half hour, he would draw a crowd for a few minutes, then move them on. I loved watching them gather and disburse, gather and disburse. I realized without that $50 lunch, I would never have recorded this scene.
Inspired by my unexpected VidOp, I abandoned my schedule for a more relaxed approach to fulfilling my assignment. Wandering off the beaten path, I found the commercial wharf. There I discovered countless photo opportunities and loads of video to record.
On Assignment in Embarcadero, San Francisco.
The rest of the day was spent capturing the hidden Fisherman's Wharf. I fell in love with the tiny Fishermen's and Seamen's Memorial Chapel. Although closed, I was able to look through the windows.
Thousands of crab traps were piled high and deep. Their brightly colored floats and neatly coiled ropes charmed me. Party boats came and went with their merry making passengers.
The next two days were a flurry of action. I toured AT&T Ball Park, found two great dive bars along Embarcadero—just to photograph, no drinking. Photographed a sailboat marina, visited a Christmas tree lot with a bay view and got chased away. "No cameras!" the attendant called.
My plan to record a time lapse of the Saturday Farmers Market was cut short. A security guard told me I needed a permit from the Ferry Building to film there. I did manage to get a few minutes before being asked to stop. I rode a vintage street car, photographed and chatted with the driver.
Early Sunday morning I took the California Line Cable Car to China town to buy tea for home and my favorite—Dim Sum for breakfast.
Later Hyde Street Pier took my focus as I videoed the bay, ships, boats and the Golden Gate Bridge. Amazing sailing ships are tied up there. Photographing their intricate masts and lines kept me occupied for some time. There were swimmers, rowers and a group riding Segways. The tranquility of this area was wonderful. My last stop was the Cable Car Turnaround at the end of Hyde Street. I sat eating a picnic lunch and time lapse recording the manual process of turning cable cars around to head back up steep, steep Hyde Street.
At 3:00 pm on Sunday, I returned to Harbor Court, retrieved my bag and rushed to catch the 3:30 ferry to Larkspur. Taking my seat, I relished a glass of wine. Very few people on the trip, it was quiet, many were napping.
I hadn't followed my plan or kept to my schedule. There was more I could have done, but I did capture Embarcadero end-to-end. Those things I missed, well that's another trip and another story.
Photo by Unsplash.