6 Things Your Guidebook Never Told You about Madrid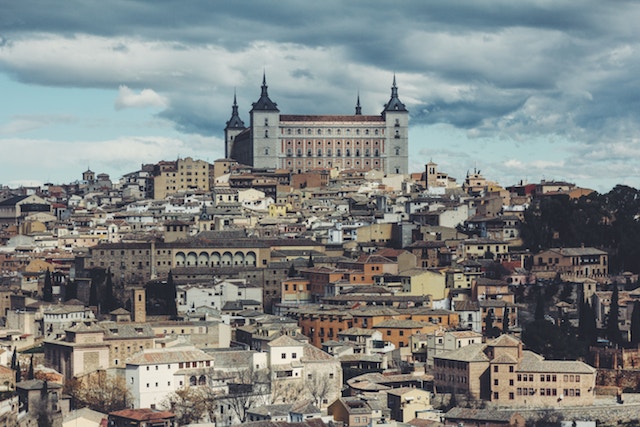 I tell anyone who will listen that Madrid, Spain is filled with hidden gems. This city grows on you: it's understated and underrated. It's not like the capital cities of Paris, Rome, or London, with their numerous popular landmarks and tourist attractions. It's a place where one wanders and almost stumbles upon its beauty. You have to give it some time, and once you do, you're hooked. Addicted. In love: a gradual, deep, forever kind of love.
The standard points of attraction in the city are, in fact, beautiful: the royal palace and cathedral, Retiro Park, and the San Miguel Market are essential to a great Madrid visit. From my years exploring the city, however, I have discovered some incredible places I wouldn't have known to visit had my stay been shorter. Don't miss out!
Travel Spain: 6 Things Your Guidebook Never Told You about Madrid
1. Rosaleda de Madrid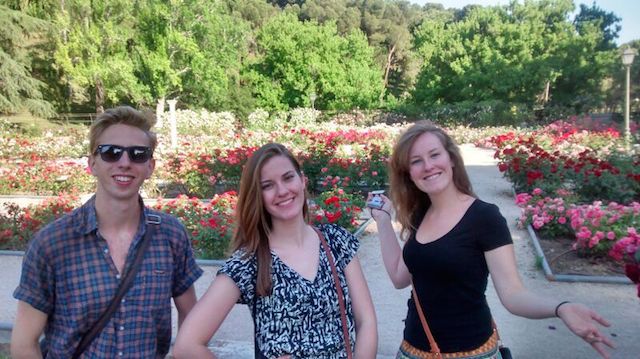 La Rosaleda is a gorgeous rose garden in the western part of Madrid. Located below Parque Oeste on a long and quiet street, this garden is often overlooked by tourists. It is filled with over 500 species of roses from all over the world and one can spend hours wandering through the flowers, appreciating the beauty and the sweet smells.
The garden's colors are stunning and it is impeccably manicured and tranquil. May or early June is the perfect time to go because the roses are in full bloom and the weather is ideal.
The San Fernando Market in central Madrid is my absolute favorite. I passed by it for almost two years on my way to work without ever venturing inside, and I'm so happy I finally decided to explore it. Located in the Lavapiés neighborhood, it's less famous than other central Madrid food markets, which is why I've yet to see many tourists there.
Rarely crowded, this indoor market is comprised of numerous foods, books, and accessories stalls. Fresh produce, meat and poultry can be purchased as well as pastries, coffee, and the best empanadas I have ever eaten. The market is reasonably priced and truly a foodie's dream! (Calle de Embajadores, 41)
3. La Dalieda de San Francisco
When I need space to collect my thoughts and just be, I go to the Dahlia Garden next to the San Francisco Basilica in the La Latina neighborhood. The Basilica itself is a beauty, and the colorful garden at its side has peaceful views over the west end of the city. I have been lucky with my time at the Dahlia Garden: on sunny days, I change my walking route after work to read, knit or rest on one of its benches, and I have rarely seen more than a handful of locals and tourists.
This small park is a well-kept secret in Madrid's center, and my favorite times to enjoy the Dahlias in full bloom are during late spring and early autumn, and of course, sunsets during any season. (Avenida Gran Via de San Francisco, 29)
4. Cine Doré
I've spent many a rainy Sunday curled up in the plush velvet seats of the Cine Doré movie theater. Opened in the early 20th century, this theater consists of a handful of beautifully and ornately decorated "salóns," complete with balcony and box seating. The theater shows a wide array of movies, all in their original languages including Spanish subtitles, and range from Alfred Hitchcock's Psycho to James and the Giant Peach.
Instead of popcorn and candy for sale, you will find tortilla de patata and other Spanish comfort foods. At around 2 euros per ticket, Ciné Doré is the perfect place to enjoy a good movie and time away from city life. (Calle de Santa Isabel, 3)
Travel Spain: 6 Things Your Guidebook Never Told You about Madrid
5. Cuevas el Secreto
Hands down my friends' and my favorite place to eat, drink, go on dates, and share with visitors is Cuevas el Secreto. I typically shy away from restaurants and bars in Sol. Sol is the center point and tourist hub of Madrid, but Cuevas is too delicious to pass up. Our go-to drink here is the bota de vino. This sweet, dark, strong wine is served in a wineskin sack and poured, or, if feeling bold, squeezed from long distances in hopes of reaching one's mouth.
The wine is shared among friends and provides a nice buzz. Wspecially when accompanied by the savory tostas served here, which are thick pieces of toasted bread topped with ingredients ranging from my favorite caramelized onions and goat cheese to duck liver and berry marmalade.
As the night progresses, the amount of free wine and food increases, and the staple selection of early 2000's R&B music becomes less out of place. And fear not, the following day's hangover can easily be nursed with a heaping plate of the restaurant's huevos rotos. It consists of fried eggs, potatoes, and crunchy bits of ham, a perfect blend of savory Spanish comfort food. And who doesn't love Spanish comfort food?
6. Círculo de Bellas Artes
This building and its views encapsulate so much of my love for Madrid. My first trip to its rooftop was during my time as a study abroad student. Back then, I scrambled to explore as much as possible during my last days in the city. I spent hours in the sunshine, enjoying the scenery of the incredible architecture and mountains in the distance.
Over the years, the azotea of Círculo de Bellas Artes has become a trendy social spot. It was complete with a bar, live music, and comfortable seating. I make sure to bring all my visiting guests to this open-air bar and lounge. Mostly because it is one of the tallest buildings in the city center. It has the best and most beautiful view of central Madrid, especially at sunset.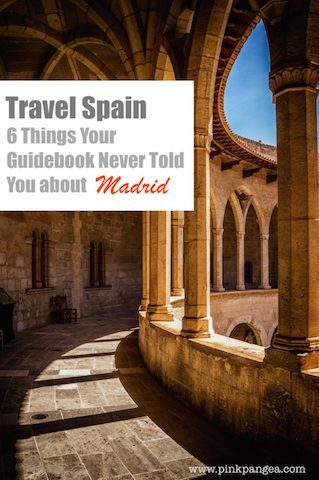 Travel Spain: 6 Things Your Guidebook Never Told You about Madrid
Related Reading
Madrid Travel Tips: Marisa's Take on Health, Safety and Romance
Have you traveled to Madrid, Spain? What were your impressions? Email [email protected] for information about sharing your experience with the Pink Pangea community. We can't wait to hear from you.
Travel Spain: 6 Things Your Guidebook Never Told You about Madrid photo credit: Jessica Shen and Unsplash.