6 Important Lessons Learned While Traveling Solo in Nepal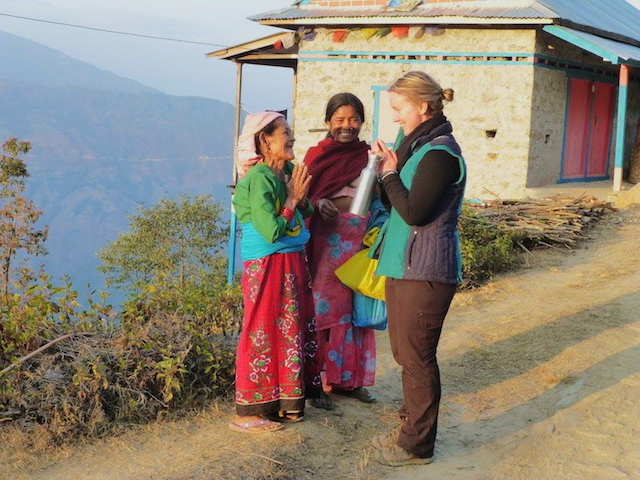 "I have no idea what I am doing." That is the very first line of my travel diary from November 15, 2014. I was lying on the soft green lawn of The Garden of Dreams. The European-styled courtyard surrounded me with roses and plum trees, and I felt as far away as I could from the city of Kathmandu without even leaving. I was dazed, immensely happy and completely lost. I had been in Nepal all of twelve hours, and I was wondering why I was there.
It's a funny feeling to acknowledge your fragility whilst also congratulating yourself on your own bravery. I may have been lost, a tiny dot on the world map, but I had followed through with my plans and I was a woman traveling solo.
During those first 24 hours, I questioned my motives. It had been a tough year at university, the working days had started to drag and, I'll admit it, I was falling in love but it wasn't what I wanted. I had images of settling down. We would have a modest home, maybe some place where it snows.
I'd wake early and pour his coffee, and on the weekends, we would share our favourite bottle of wine while he let his fingers roll over the strings of his guitar. He was my best friend, and I didn't know if he was feeling the same. I was going to ruin the relationship if I didn't leave soon.
I had been in Nepal all of twelve hours, and I was wondering why I was there.
At the time, I was nervous and confused and I wanted clarity. I had been like living the same day over for nearly two years and I needed to escape, and to run free for a little while. Additionally, I needed some life perspective. Once I arrived in Nepal, I felt so insignificant I caught myself thinking, "Don't worry, 'cause how good will this look on Instagram?"
I clearly needed to change. I was ready for Nepal to mold me so that I could find the balance between selfishness and selflessness. Here's what I learned during my solo travels in Nepal:
6 Important Lessons Learned While Traveling Solo in Nepal
1. Don't skip leg day
The next day, I was on a nine-hour bus ride to Pokhara, sitting next an American expat and in serious need of a toilet. I couldn't have crossed my legs any tighter if I'd tried. I was making hurried conversations with my new friend and reading to distract myself. When we finally pulled up at the halfway pit stop I could barely walk. And there they were, squat-toilets.
Luckily the first time around I wasn't crippled with stomach cramps from the unidentified meat I'd eaten just hours before. But if you're holding a squat beyond 30 seconds it starts to get difficult. The heat in your quads burns as you try aimlessly to lower your respiratory rate in order to reduce the inhalation of toxic fumes. And every time you walk out unscathed you think to yourself, "Die another day."
2. The world is big, and you are small
By day nine, I was at Annapurna Base Camp. I had met a 27-year-old history teacher from Texas, we had hired ourselves a yoga teacher (Arnie) and a trekking guide (Danesh) and we were halfway up a mountain. We had saluted the sun every morning, sat on rocks in the middle of rivers, and walked in a state of meditation for seven days. My whole body was beginning to feel defeated and my heart was humbled by the Himalayas.
I always thought I would cry when I made it up to Base Camp but instead I couldn't move, couldn't speak and couldn't believe my situation. It turned out I just wanted to share the experience I had with the world but there was no photo, no words, and no emoticon that could do it any justice. I had made the effort to be there and the moment was completely mine.
3. You will not die of thirst
This is something that made me anxious on a regular basis leading up to my departure and into the first few weeks travelling in Nepal: water availability and contamination. The only reason my backpack was almost always unbearably heavy was because I insisted on carrying 3 litres of water. My first rupees were spent on a pack of 100 water sanitation tablets of which I used none.
By week three I was settled into a small living space in Boudhanath, just above the day care centre where I was volunteering. 20L bottles of drinking water were being dropped off regularly, the tap water was running clean and I wasn't afraid to brush my teeth with it.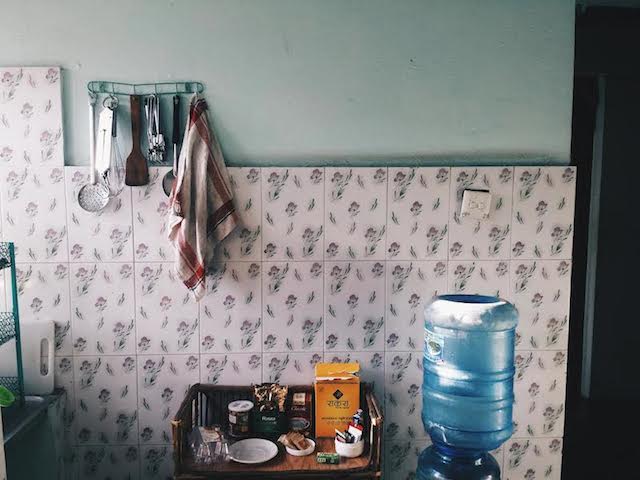 6 Lessons I Learned While Traveling Solo in Nepal
4. They give more than they get
I had signed up to volunteer in Nepal with Education & Health Nepal (EHN), an NGO, just a couple of months before I left Australia. Upon arrival, I was placed at The Maitri Griha Day Care Centre, a small facility for disabled children working alongside a beautiful team to which I was welcomed like family. They fed me, they looked after me when I was sick and they made sure I was on the right bus to Chitwan National Park for the long weekend. I mean, even the kids called me "didi" (sister).
Then before I knew it, it was the 23rd of December and EHN had popped me on another nine-hour bus ride heading to Ramechhap. With a team of doctors, nurses and pharmacists, we were going to set up a medical camp in the rural village. The patients we saw were amazing. But, what blew me away most were the families we stayed with and the hospitality that they showed us. We were occupying their homes and living off the land with them.
Their possessions were minimal and their hearts were full. It was hard to feel worthy of the appreciation and respect that they consistently offered.
5. Learn to say thank-you
"Dhanyabad" — learn it and live it. If you haven't already realised that there is a lot to be thankful for in life, Nepal will teach you.
Like when Arnie offered his hand to help me step over the buffalo that was blocking our path; or when I left Maitri Griha donned with multiple white khatas (Tibetan Buddhist ceremonial scarfs) around my neck; or that time when the medical team were invited for breakfast by one of the local families, which turned into a half-day farm tour eating oranges off their trees, cuddling puppies and jumping down rice paddies, before eating what can only be described as a feast under the span of the snowy Himalayas.
I didn't know how this adventure had found me but I am thankful.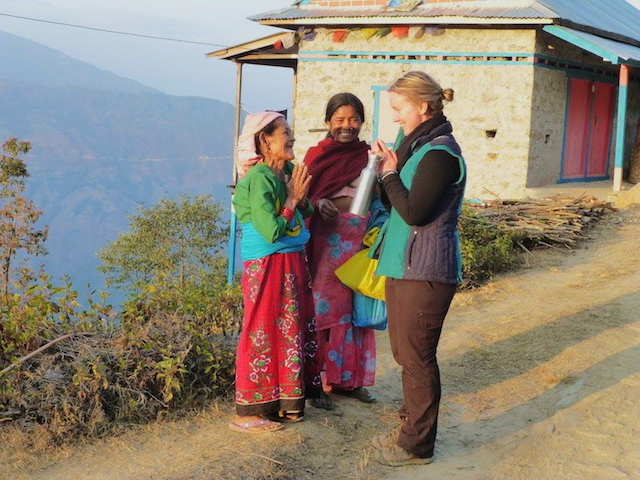 6 Lessons I Learned While Traveling Solo in Nepal
6. Fall in love and promise to return
"Mero chori," she said. She was our last patient, dressed in blues and pinks, red bracelets up her arms and a big gold nose ring. She had walked hours to see us in our makeshift clinic. Her weathered hands were together at her heart and she called me, "my daughter". That was when I realized I had fallen in love. I had travelled far and befriended many, and I had made connections as timeless as the moon and the ocean.
Somewhere during that December, I also connected with myself. Everyone says you will come back a different person after a journey like this. But I haven't changed. I've been tested and challenged at every bend in the road. I've responded with the kind of bravery I never knew I had. I am still Faye, and I love who I am. I am young and fragile but I am also a strong, ambitious human being with a future as unpredictable as a tidal current.
I'm tempted to describe myself as independent, but there are too many strangers and new friends that I have relied upon so often along the way. These are the people whose faces I want to see again and the voices I need to hear. I will return to the skies. To Nepal and the wandering life in due time, a time which I know is soon.
6 Important Lessons Learned While Traveling Solo in Nepal
Related Reading
Humbled at Everest Base Camp, Nepal
Have you traveled to Nepal? What were your impressions? We'd love to know if there's any important information you recommend adding to this list. Email us at [email protected]pinkpangea.com for information about sharing your experience and advice with the Pink Pangea community. We can't wait to hear from you.
Photo credit for 6 Lessons I Learned While Traveling Solo in Nepal by Faye Martin