Teaching in Mexico: 5 Tips for Prospective Teachers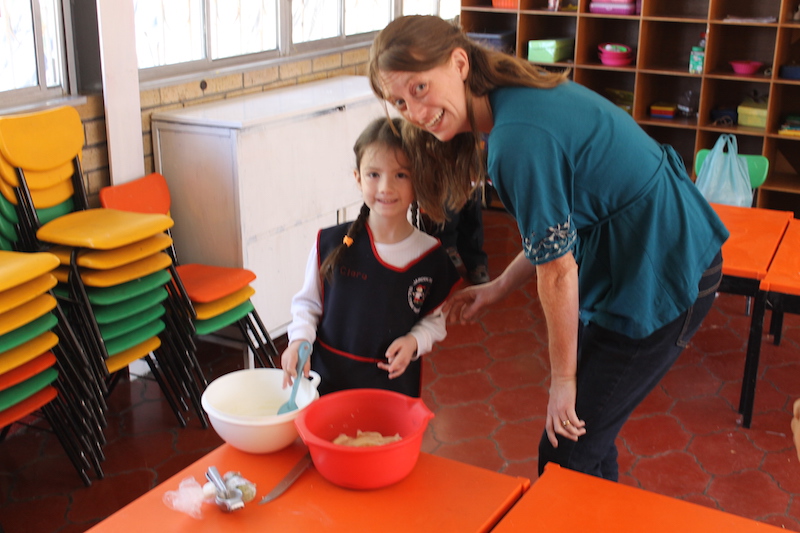 Teaching in Mexico can be a rewarding, if challenging, occupation and there are many ways to approach the field. One year, I taught fifth grade at a prestigious bilingual school. Another year, I taught preschool at a tiny school whose parents only sometimes paid tuition. After comparing my own experiences and after talking with other teachers, there seems to be a number of similarities nationwide. I can only comment with confidence on my own experiences in teaching abroad in Mexico, but here are five important factors for prospective teachers to consider in making the decision to teach in Mexico, whether to foster a bilingual education or or to completely immerse oneself in the Mexican education system.
Teaching in Mexico: 5 Tips for Prospective Teachers
1) Employment Availability
I moved to Mexico in early November and by the end of the month, I was armed with a fat stack of resumes addressed to every private school within a bus drive. As I was looking for a job with the school year well underway, I thought my chances were slim.
Was I wrong! At the first school, I left my resume with the receptionist. That director called me the very next day. However, the second school I visited hired me on the spot, to begin immediately.
Other schools provide excellent benefits to attract qualified teachers. Some years, those schools have plenty of native English speakers with degrees in education. Other years, they content themselves with any native English speaker, whether they have a degree or not.
2) Typical Benefits
This depends greatly on the school. At the prestigious Bilingual School I worked for, they paid teachers a higher salary than average, and we paid taxes, so we were eligible for government medical insurance. They also kicked in private medical coverage, and round-trip airfare to visit home for summer vacation if we were to continue the following year. As icing on the cake, they paid and arranged for our work visas.
Coming to Mexico as a foreigner, it seemed like a no brainer that they;d arrange our visas. After all, I didn't have a clue how to begin that process. However, after talking with teachers around the country, this appears to be a rare benefit.
In contrast, at that school of the on-the-spot hire, instead of paying for our visas, they paid us under the table. During my interview, the director opened her ledger to visually demonstrate how many parents were not paying their monthly tuition. This should have been a huge red flag, and I should have run as far away as fast as possible. But no, I stayed. It mystified me how she'd complain about how she was unable to pay us on time, yet she couldn't be bothered to arrive before 9:30 every day, well after the time she could have refused entrance to those students whose parents hadn´t paid tuition.
Accustomed to the director's quirks, I was no longer surprised that she didn't have enough cash to pay me at the end of April. On Mother's Day, the school threw a lovely brunch for the students' mothers. I still was not paid. On the 15th of May, Teacher's Day and the following payday– the director took the entire staff out to dinner. I hoped she'd hand us our pay along with dinner. Nope. Finally, at the end of May, the money magically appeared again.
On the other hand, I had a grand total of nine students in my preschool class. The director never poked her head in my room, so I could run the place as I saw fit. I loved the autonomy, and I loved my students. Despite not being paid on time, I stayed for the sake of those nine little guys. They reminded me daily why I went into teaching in the first place.
Teaching in Mexico: 5 Tips for Prospective Teachers.
3) Who's really in charge?
Private education is big business in Mexico. Parents pay big bucks to educate their children and if they have a problem with a teacher, the administration often backs the parents, not their teachers.
At the Bilingual School, I was originally hired to cover a teacher's maternity leave. Sometime during Christmas vacation, they decided to give me another teacher's classroom, one who had been having serious issues with her students. This teacher had no idea I was replacing her until after she returned from vacation and I was already in her classroom.
Neither the principal nor the English coordinator of either school visited me in the classroom, innately trusting that I had everything under control and that the students were learning. But if the parents complained, the administration suddenly became very interested.
4) Cultural Quirks
Another theme that astounds foreign teachers is students' sense of entitlement. It's commonplace to know kids who never have to pick up after themselves because, at home, their maid does it for them. Some students are driven to school by a chauffeur. While in most respects these kids seem perfectly normal, on other levels it becomes clear that something slipped into these students' brains, telling them that certain things are simply beneath them.
However, this pervasive sense of entitlement doesn't mean that students are rude or disrespectful. On the contrary, one teacher mentioned that her Mexican private school students are the most respectful she has encountered in her career. "Sometimes after class, they come to me and say 'thank yo' for their lesson." The entitlement issue is something of an irritating upper-class quirk, one that unsuspecting foreign teachers don't expect to encounter when venturing to teach in Mexico.
Teaching in Mexico: 5 Tips for Prospective Teachers
5) Rewards
With all that being said, do I regret my experiences teaching? Not at all. It can be overwhelming, and, like many aspects of living in a foreign culture, it can be difficult to understand and navigate. At the same time, teaching provides the financial resources and an extended time in a foreign culture. It provides the opportunity form meaningful relationships with students and coworkers. Teaching can deliver both a great deal of stress and a great deal of satisfaction.
So, to answer that initial question, it can be easy to find a teaching job in Mexico. Is the job easy? Not on your life. But the rewards can be tremendous.
Teaching in Mexico: 5 Tips for Prospective Teachers photo by Jill Douglas.