Backpacking in Southeast Asia: Your Packing Checklist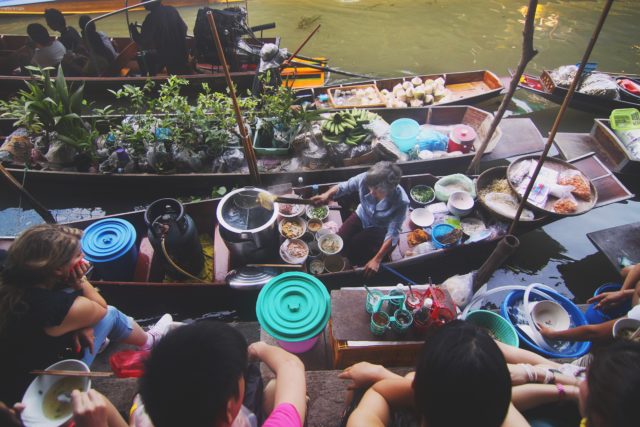 My first step in preparing for three months in Southeast Asia was learning how to pack like a backpacker. This meant ditching my trusted and heavy roller suitcase for a lightweight backpack. I planned to travel to Thailand, Laos, Cambodia, Malaysia and Indonesia, which meant that I would need a variety of clothes for different weather, as well as different activities, including, hiking, diving, and visiting temples.
While walking on uneven dirt roads, climbing out of longboats into the ocean to get to shore, and walking on the beach, I was so grateful that I'd invested in a backpack. Along with my smaller day pack and a light canvas tote, I'm able to carry all I need with me. But it wasn't easy to learning to pack light.
Heading to Southeast Asia? Here are my packing tips:
Shoes
I allowed myself to pack four pairs of practical shoes: one very comfortable yet decent looking hiking sandals, one pair of water shoes for hikes and rocky shorelines, one pair of flip flops for the beach and showers, and one cute camel color Michael Kors flat sandals for going out. I also packed a few pairs of socks for flights and trains to keep me warm.
Tip: I always carry my shoes with me into temples and hostels so that they don't disappear.
Beachwear
I knew I'd be spending a lot of time in the water so I allowed myself four swimsuits with two coverups, as well as a hat that was easy to pack and, of course, sunscreen. I had read that the sunscreen sold in Southeast Asia is often expired, but you can buy it everywhere. Many of the creams and SPF creams in Asia do have whitening products in them so you still may choose to bring these items from home.
Bug Spray
Because I wanted to wear a bug spray that had deet in it–instead of taking malaria medication, I brought some bottles with me. It's a little harder to find bug spray with deet in it because many people use natural bug repellents. I did not bring a mosquito net and have not needed one at all.
Essentials for Hostel Stays
Since I'm staying mostly in hostels, I purchased an Ecodept antibacterial towel and hand towel set that has proven to be priceless for showers, beaches and pools as it dries quickly, is lightweight and folds up small. I also bought a silk sleeping sac as hostel bedding is usually not soft nor clean. It also adds an extra layer of warmth when trekking in the north or in highly AC rooms.
Toiletries
I packed travel size toiletries and put my face and eye creams into small jars that are lighter, smaller and can be tossed as I go. I did the same with my shampoo and conditioner. Don't forget your tweezers and razors or you'll be frustrated while searching for decent ones here. Pads and basic tampons without the applicator can be found in bigger cities but if you'll be in small towns, or have a particular brand you prefer, bring them.
I've heard that the reusable cup is a great alternative but you must have soap and water access to clean it, which is not always available plus it takes some getting used to. You may also need to pack Midol depending on the severity of your cramps. Toilet paper is sparse in certain areas, even in highly traveled areas, so I packed travel toilet paper and wet wipes. I cannot tell you enough what a blessing they have been!
Primping Products
You can always find a cheap manicure/pedicure but when you're on a budget, $10 to $20 every two weeks can add up. Also, the quality of the polish in Southeast Asia is often subpar. So I brought a nail file, nail scissors and a bottle of clear and pink Opi nail polish as I'm the kind of woman who just doesn't feel together with chipped nail polish. I did find an inexpensive travel-size nail polish remover in Laos that works just fine and smells much better than American brands.
I also brought a small amount of makeup. Because I'm a makeup artist, I can't just go cold turkey. I never use it during the daytime but I have used it almost every night since I've been traveling, as do most of the locals and backpackers even though they may not admit it.
Leave your blow dryer, flat iron and curling iron at home. They are bulky and unnecessary unless you're getting married and even then, you can find amazing local hairstylists when necessary.
Clothing
I packed an array of clothing as I knew I'd be trekking in the north of Thailand, where it can get cold; on the equator in Bali, where it is very hot; and visiting sacred temples where women must cover their knees, chests and shoulders. Wrap skirts, tank tops, dresses, golf skirts and larger, thin scarves have proven to be some of the best items I've packed. The scarves double as swimsuit wraps.
I brought leggings and a thin hoodie for flights, trains and cozy times but I honestly could have done without the pair of jeans I packed. I have a mix of casual and dressy options for all occasions and have picked up a few handmade pieces in Asia. I've been tempted with cheap, cute clothes everywhere.
I am grateful I packed a large silk sarong, which I use after showering, as a coverup and as a curtain when I need privacy in the dorms. I'm getting by perfectly with four bras and ten pairs of underwear.
I also brought powder laundry detergent and a drying line. I wash my clothes in the sink and they dry in a day. After sending my clothes out to be watched in Laos, I found that they smelled worse and that my whites weren't as white anymore. So now I wash everything by hand.
I also feel incomplete without some jewelry so I chose a few inexpensive pieces that are not irreplaceable in case they disappear.
Money and Documents
The most important document to take is your passport. Make a photocopy of it and take a photo of it so you always have it in your phone. Then lock it up with your personal padlock at your hostel or hotel. I'd also recommend buying travel insurance and printing your insurance information in case of an emergency. Be sure to write down the phone numbers of your country's embassies in each country you visit.
I brought $1,000 in cash and separated it into three different hidden locations with no more that $300 on my body at any given time. I even separated that amount into different components in my wallet. US cash is the only currency you can use to pay for visas in Laos and Cambodia. You will also need passport size photos for your visas so bring a half dozen or so. You can get them while traveling but it saves time and money if you get them at home. I brought my ATM card for cash withdrawals, as well as a credit card to use for booking flights, reserving hotels and hostels and for emergencies. Make sure to contact your credit card company and bank before you leave to inform them where and when you will be traveling. Also, keep all of your receipts.
Tip: With most ATM machines in Southeast Asia, the money comes out before your card so always remember to check for the following before walking away: cash, card and receipt.
Miscellaneous
My iPhone with a charger and adaptor were musts not only for staying in touch with friends and family, but also for booking flights and hostels, researching and mapping out key points of interest, and of course, writing and submit my blog posts. My travel journal and professional camera were also essential for me but most people get by with their phone cameras. I brought my iPod as I can't live without music. Also, with limited places to charge my phone, I didn't want to run my iPhone's battery down by listening to music.
A small flashlight has saved me on several occasions in hostels and on dark streets so I strongly advise that you bring some kind of portable light. I also brought two smaller books. There are many bookstores where you can trade and/or buy books along the way.
Packing light will allow you to be more flexible and show you just how little you truly need to live.
I'm also a healer so I have a collection of crystals and my tarot cards for both personal guidance and to aid to other open-minded people who I meet but I realize that these are my luxury splurges.
I packed some nuts, chamomile tea and granola bars to begin my journey and have replenished these as I go. Because I'm a vegetarian, I also packed my multi vitamins and B12 vitamins. If you take any medication or vitamins, be sure to pack them in ziplock bags in order to save on space and weight.
Finally, don't forget a handkerchief comes, hand sanitizer, and a portable water filter.
All in all, the key to backpacking is taking as little as you possibly can because you'll be carrying your life on your back and you don't need as much as you think. Packing light will allow you to be more flexible and show you just how little you truly need to live. Leave all expectations at home and surrender to the journey of the unknown. The most important thing to always take with you is a warm smile. It can open doors for you that money, connections and education cannot. May your journeys be filled with peace, love and light!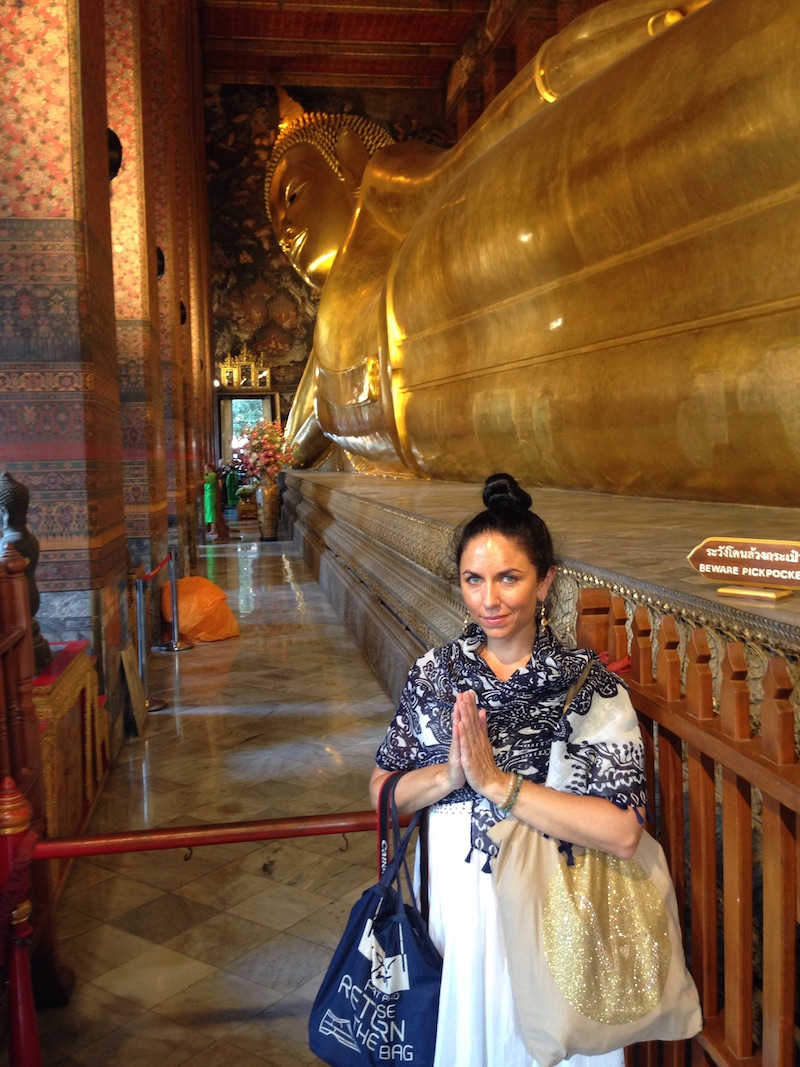 Top photo by Unsplash.