8 Great Reasons to Travel with Your Mom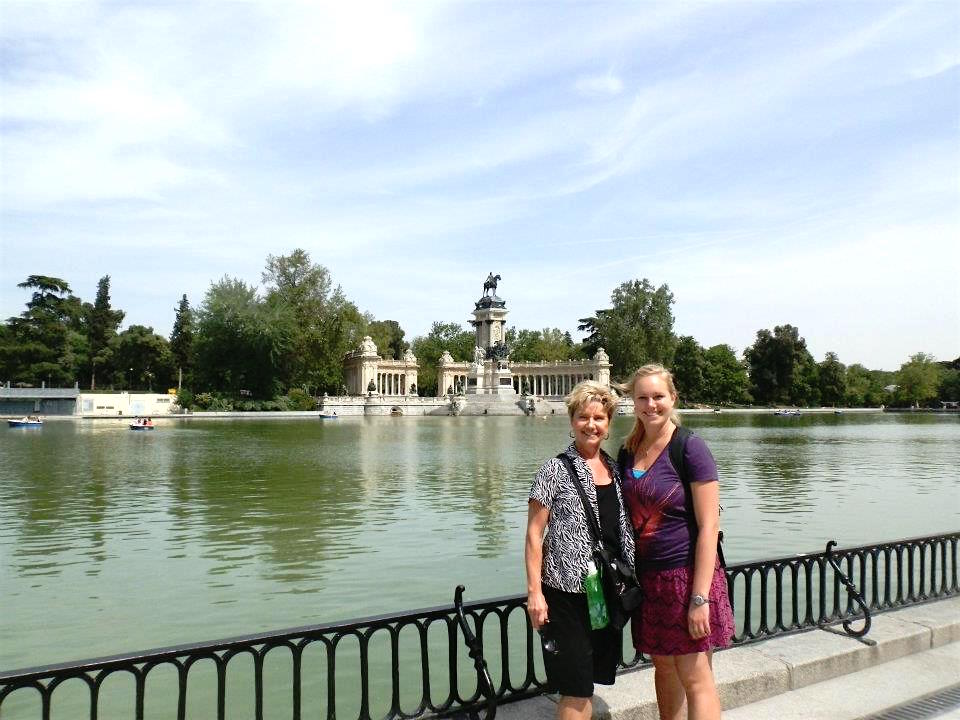 When I was 14 years old, I asked my parents to join me in the living room as I went through a Powerpoint presentation about why I wanted to go to Botswana that summer. What 14 year old wants to go to Botswana? One who cares deeply about helping others and isn't afraid to venture outside of her comfort zone: two traits I inherited from my adventurous and compassionate mother.
The similarities between us don't stop there. My mom has been an athlete her entire life, and she taught me how to gain body confidence through sports and athleticism. She has always encouraged me to pursue whatever made me happy, including traveling to all corners of the earth. Although she remained behind while I ventured to some destinations, she joined in for the exploration and discovery for others. Together, my mom and I have traveled to eight different countries and just as many U.S. cities, making memories, drinking wine, laughing loudly, and sampling all sorts of local cuisine along the way.
My mom and I almost never argue about what to do on a trip because we usually want to the same activities. Watch a live flamenco show in Madrid? Check. Hike to the top of Snowbird mountain in Utah? Check. Catch beads at a Mardi Gras parade in New Orleans? Check. My mom and I enjoy many of the same things when traveling. Here are several other reasons why I think everyone should call up their mother and plan a trip together:
8 Great Reasons to Travel with Your Mom
1. Traveling with your mom is an incredible way to learn more about each other.
In the months and days leading up to a trip, my mom and I are constantly on the phone, chatting about every little detail to plan our perfect getaway. I have discovered many interesting things about my mom during the planning phase. For example, she is the type of person who looks forward to spending three hours in an amazing museum like the Met, but she gets equally excited about seeing windmills in the Netherlands. Want to get closer to your mom? Plan a trip together.
2. You'll be able to indulge in all of the "girlie activities" you dream of.
Over cocktails in New Orleans, I realized that traveling with my mom is different than traveling with a boyfriend in so many ways. Most boys don't want to spend hours shopping, watching live dance performances, sipping mimosas at brunch, or taking an art class. But moms do!  When I traveled with my mom, I had someone to tell me if the bright Desigual dress on sale in Seville was worth the price, someone to help me choose which type of gelato to enjoy in Pisa, and someone to lounge by the pool with in Palm Springs.
3. You'll be too busy to fight.
Worried that you and your mom won't get along? The best thing about visiting a new and exciting place with your mom is that those little petty arguments you might have had at home become irrelevant while relaxing on the beach in Mexico. Back home, my mom and I frequently skirmish about what time we should arrive for an event (I'm always late and she's always early), what to cook for dinner (I want a steak but she's thinking chicken), what I should wear ("are you really going to wear that dress in public?") and a million other little ridiculous things.
Luckily, on a vacation, we hardly ever argue. Instead, we have always been too busy listening to a tour guide talk about the history of Ephesus, taking photos on the canals in Venice, or asking for another limoncello in Tuscany to get into a fight about something as insignificant as the outfit I choose to wear on any given day.
4. Moms make the best cheerleaders!
My mom was cheering loudly when I crossed the finish line of my first marathon in San Diego. She spent hours watching me play tennis matches in El Paso and Albuquerque. When I decided to study abroad in Spain, she was the first person to buy a plane ticket to visit me. Whether you have a business meeting, a graduate school interview, or an athletic event, inviting your mom to join you for the trip and cheer you on is a fantastic idea.
5. Moms are really good at organizing everything.
For our upcoming trip to Amsterdam, my mom has booked advance tickets to three different museums and made dinner reservations… and the trip is still three months away! My mom is an incredible planner, so traveling with her means that I can relax and not have to worry about taking care of all of the little details.
6. The photos that you take during your trips make the perfect gifts for Mother's Day, Christmas, her birthday, or any other special occasion.
After our six week Euro trip four years ago, I gave my mom a personalized coffee table book (PhotoBox has great options) that still takes center stage in her living room. She proudly displays it to guests and frequently flips through it to remember the nights we spent staying up late drinking sangria in Spain, the warm days when we hiked the Cinque Terre, and the day we visited the Acropolis in Athens.
7. By traveling with someone who is 20 to 30 years older than you, you may discover that you actually like some things which you previously considered to be "only for old ladies."
Like cruises, all-inclusive resorts, high-end makeup, and bus tours. Well, maybe not the bus tours. But definitely the cruises! I probably would have still never been on a cruise if my mom had not suggested a two week Mediterranean itinerary. I am pretty sure I remember telling her that "cruises are for old people." But, I went and I loved every minute of it! Everything is taken care of during a cruise, so we could enjoy spending time together without distractions like cooking and cleaning.
8. Your mom may actually be a pretty good wing woman.
Cute young waiters love to ask if we are sisters (probably they want a good tip), but I don't mind the extra attention. Always helpful, my mom has pointed out several suitable potential Italian husbands. You know, so she can visit Italy on a regular visit. "Oh, he's cute. What do you think about him?" she asked about the waiter at a cafe in Rome. Although we haven't managed to make a successful match for me during our travels yet, we are always on the lookout for potential mates.
Next year, I will be moving to the Slovak Republic as a Fulbright Scholar. Guess who is already looking at plane tickets? If there was ever any question about who I got my sense of adventure from, I think the answer is obvious by now. My friends constantly ask me, "Aren't you scared to go to XYZ place alone?" No, I am not. I am not afraid because I have an intelligent, independent, and strong mother who has shown me that traveling teaches one much more than could ever be taught in a book or read in a classroom.
My mom took me on trips from a young age and exposed me to people and cultures very different than my own. Those cross-cultural experiences have been incredibly valuable in shaping me into the international, open-minded, fearless young woman I am today. For that, I am so thankful to my mom for setting a bold example, and for encouraging me to follow my dreams, even if it occasionally means that there is a nine-hour time difference between us.
This is a guest article.