9 Tips for Navigating Ketema, Eritrea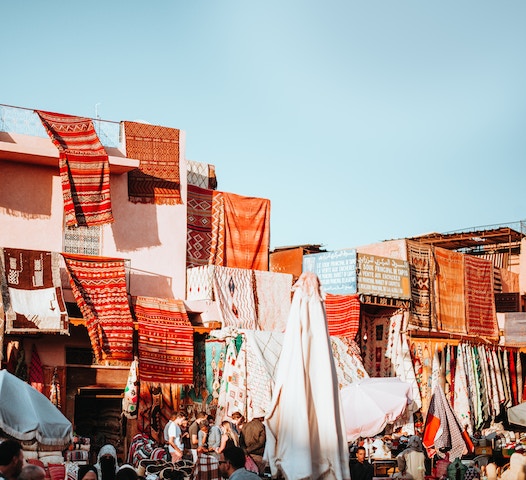 After 15 years, I had finally seized an opportunity to visit my parent's native country, Eritrea, one of the newest countries in the world. In the mid '80s, my parents sought temporary refuge in Sudan, a neighboring country that borders the West, while the 30-year-war with Ethiopia – a neighboring country that borders the South – turned unbearable before their migration to New York City. My father was a soldier who met his beloved, my mother, during the armed struggle. Together they wanted to build a life elsewhere which didn't involve casualties and left in pursuit of economic prosperity.
I hadn't been in their hometown of Asmara, the country's capital, since the age of eight and only then had I been to Eritrea once in 1993 – two years after the motherland achieved independence. Then, twenty-two years old and wired for adventure, I had long forgotten about the country's aesthetics or what life was like.
Together my parents wanted to build a life elsewhere which didn't involve casualties and left in pursuit of economic prosperity.
All I knew was the towering apprehension I held regarding my language barrier and how it would affect the communication channel among myself, family members on Eritrean soil and locals. Although I was raised in a traditional Eritrean household, I am not fluent in Tigrinya – the country's dominant language. I have always communicated with family in English, and only recently have I began producing Tigrinya.
Another apprehension of mine was navigating a new city for the first time. With the help of a few pictures I saw on Google maps, social media and an elegant guidebook detailing names of neighborhoods, distance between major towns, recommended eateries, bars, shops and more, I had to trust that faith would work its magic.
I had cleared all summer plans and the mere thought of uniting with family, photographing the nation's landscape and art-deco architecture, basking in the warm breeze, sampling organically grown cuisine and cakes, and flexing my mother language propelled me to push through two more months without working up a sweat.
While I visited every part of the country, I spent a great deal of time on solo and group walks in Asmara's main strip: Maekel Ketema, or Ketema for short. Ketema meaning "Middle of the City" is home to a slew of cafes and iconic vintage photography that natives and diaspora see every day including Cinema Impero, built during Italian occupation in 1937, and the stark lining of palm trees, "Arko Ko Bye" down Godena Harnet.
Ketema is the Times Square of Asmara – [the neighborhood] in the city that never sleeps – and a free market where expats, educators, tourists, and beggars make their money and play.
Ketema is more than a meeting point for locals, a shopping district for outsiders or a farmer's market on Saturday mornings. It's a junction between the traditional and secular Asmara – a place where school girls, including my mother, wore skirts to school in the '70s, and where now women wear tight denim and Chuck Taylor's and publicly smoke cigarettes. It's the Times Square of Asmara – [the neighborhood] in the city that never sleeps – and a free market where expats, educators, tourists, and beggars make their money and play.
Here are nine tips that any diaspora or foreigner traveling to Asmara's most recognizable neighborhood should know.
9 Tips for Navigating Ketema, Eritrea
1. Cab drivers will charge you the "diaspora" fee.
No, that's not a real fee – I made it up. But there might as well be one at the rate cab drivers charge foreigners during cremti [the rainy season]. The advice most often given to foreigners traveling in the capital is to board the non-contracted cab that charges 10 Nakfa. (One dollar is equivalent to 15 Nakfa.) What you don't hear is that the contracted cabs are the ones you'll likely find stationed on two roads in Ketema; the block west of the Cathedral and a block east of Impero.
Since I was staying two blocks away from the main road, I walked everywhere, yet there were times where I had to rely on transportation. Cabbies quoted me at inconceivable prices every time. The contracted cabs are 70 Nakfa and your foreign money silently raises that fare to 80-100 Nakfa, and depending on where you are and the hour that you're requesting service, your fare could fall between 200-300 Nakfa.
2. Get ready to be pushed and shoved
I credit my high school's location, Chinatown in New York City, for getting me used to bumps, shoves and shoulder knocks. Honestly, these unflattering encounters with strangers happen anywhere in NYC, but my brush ups with Eritreans felt slightly uncomfortable at first. I experienced it at shuq [market], and in expected crowded areas like the bus and on a club dance floor. What differs in Asmara is the response you'll likely receive. Nothing, but a cold stare. Not an "excuse me" or "I'm sorry," because those habits aren't ingrained in society. Don't catch a hissy fit. Don't get overwhelmed. And don't be quick to react.
3. Shops close during lunch hour
In America, shops close when they can't afford to stay in business. In Asmara, shop owners close their business every day. As an American who (once) spent senselessly in brand name retailers like Macy's and H&M, I hadn't encountered problems with working hours until I wanted to buy a chiffon and several sharbas [scarves] in Ketema. While normal operating hours are between 8 AM and 8 PM, shops in Asmara close around noon (lunch time) and re-open at 3, or sometimes 4 PM. Keep this in mind when you decide to run errands during those hours or need to connect with government offices because the door will likely be closed.
4. Sometimes, the bus is not an option
Asmara is a metropolitan city, and Ketema feels the most city-like. So I challenge you to exercise your judgment as a pedestrian and practice caution while on the public bus. Firstly, it's crowded throughout the day. Also, there's a sense of flight in everyone there, which is exacerbated at the bus stations. The buses are crammed and everyone around you will try their hardest to board and exit before you do. (Don't think anyone will show their sympathy or compassion for you as a foreigner waiting to get on.)
One advantage is bus routes are abundant, and once you configure how to get from one neighborhood to another, your options increase. But walk if you can and take a cab if you have the money. Travel with other natives you know. But under any circumstance, don't rely on the bus because sometimes, it is not an option.
5. Leave your iPhones and Nike sneakers at home
You already look like a diaspora. You sound like one. And you clearly dress the part – walkin' down the block with your distinct iPhone earbuds and spotless Nike sneakers on. Nobody will steal your headphones (theft in Eritrea is uncommon) however, this may cause you unwanted attention, especially from child beggars who will spot you before you spot them. Vendors will also charge you more on x, y and z if they know you can afford more than 800 Nafka on a t-shirt. I suggest leaving your diaspora armor and fitted caps at home. Dress humbly.
Join Pink Pangea's Travel Writing, Hiking and Yoga retreats!
6. Prepare to be stared at
Don't engage in it. People stare at you because you're a foreigner. That's all. Nobody wants to snatch you, kidnap you, hurt you, or run you over…well, I'm not sure about the last one, but Eritreans in the homeland stare at their fellow countrymen too. American society and probably much of the West considers gawking at another person as a disrespectful and sometimes a dangerous gesture.
It took some time to understand why anyone would stare so hard at me. I went to Europe the year before and had a similar experience as a non-Turk, but Eritreans stare with intense focus. My tour guide at the Ministry of Information HQ confirmed that people stare when they don't know you.
7. Keep public transportation usage at a minimum
One day I boarded a bus with family because it was cheaper than paying per person in a cab. Plus, home wasn't far. The bus dropped us 25 minutes later than it should have because civilians continued to pile into the bus. Soon the bus was three times over its capacity. I'm surprised we didn't tip over. The buses, especially the smaller ones, will pick up anybody without judgment of those already on. Walk if you can. Take a cab if you have the money. Ride a bus with other natives you know. But under all circumstances, don't rely on the bus.
8. If you run, prepared to be gawked at
I'm convinced locals find running on a roadside in daylight very unusual. I run every week in the States – parks, sidewalks, around the block, the treadmill in my mother's room. The whole running-to-stay fit fad in Eritrea is exclusive to athletes who train during the rainy and sunny seasons. I ran circles in front of my aunt's consolo [gate] a few mornings in Ketema, and each time it turned into a public show by locals who drank tea every single day. Surprisingly, I didn't hear applause – just smirks, chuckles, and car honks.
9. Tip the waitress
You'll probably be there again – many Asmarinos drink coffee and tea all day, every day. Show your gratitude and leave a gratuity in the hands of those serving you. Three to five Nakfa will suffice.
Have you traveled to Ketema, Eritrea? How was your trip? Email us at [email protected]pinkpangea.com for information about sharing your experience and advice with the Pink Pangea community. We can't wait to hear from you.
9 Tips for Navigating Ketema, Eritrea Top photo credit unsplash.com