Border Crossing: From Costa Rica to Nicaragua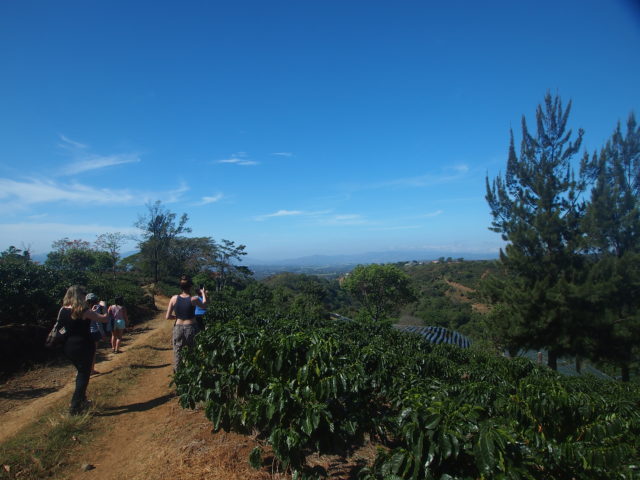 Costa Rica is a great place to pull up a hammock, but it's also an important stop on the way to Nicaragua or Panama. There are a number of ways to get in and out of the land of Pura Vida, and hopefully these border crossing tips will help my fellow travelers make wise, safe, and cost effective choices to bounce across the borders.
Border Crossing: From Costa Rica to Nicaragua
Manuel Antonio
Costa Rica is kind of expensive—way more than Panama or Nicaragua. Especially the buses, food at the supermarket, and restaurants. Fortunately, the hostels do have always more or less the same prices ($8-$15).
I stayed in Manuel Antonio for one night, after I crossed the border from Panama to Costa Rica.
After about a 30 minute walk from my hostel to the beach, I couldn't believe my eyes. The beach was full of people! Mainly, they were Costa Ricans on holiday, but western tourists also frolicked in the waves and sand. Later, at the National Park, I was informed that the craze was due to Semana Santa. I walked along the beach, watching the crazy scenery. Many people offered drinks, food, tours, swimming articles, toys, etc. Unfortunately, the beach was too busy to be beautiful.
Directly behind the beach was a signboard stating that the crocodiles should not be fed, and that one shouldn't walk into the water ponds behind the beach! Luckily, instead of crocodiles, I saw a very beautiful bird, looking for fish to eat.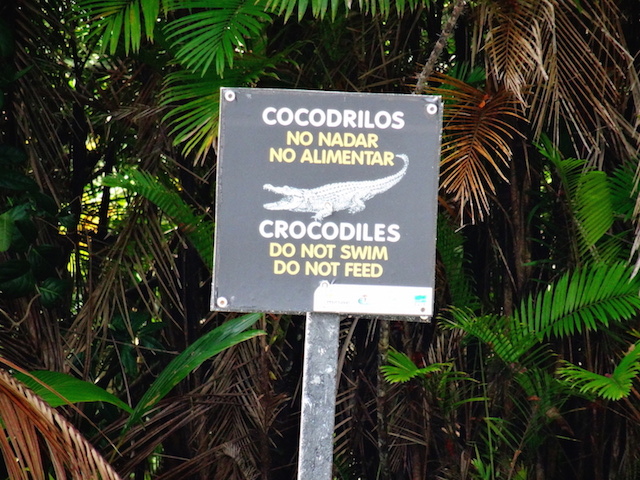 Accommodation
I stayed at the Backpacker's Hostel in a dorm for $12/night, which served pancakes, fruit and coffee for breakfast.
Transportation to Manuel Antonio
It's not easy to get to Manuel Antonio by local bus. I took the bus from Neily (directly behind the boarder in Costa Rica) to Quepos (close to Manuel Antonio), and told the bus driver's ayudante (assistant) that I want to get out in Quepos in order to continue traveling to Manuel Antonio.
The bus doesn't have a designated stop in Quepos, though, so make sure you pay attention to your surroundings and remind your bus driver when you need to deboard. Luckily a local tour guide, had just finished his last tour and was headed to Quepos, and he took me in his little bus back to Quepos.
Once in Quepos, there are many frequent buses to Manuel Antonio, since Manuel Antonio is a tourist destination. There is one big, expensive hotel, restaurant, and café after another and plenty of tour offices. Now and then you'll find a cheaper hostel, in case you wish to spend the night here.
Transportation to San José
I drove by bus from Manuel Antonio to San José, by going back to Quepos. The bus from Quepos to San José (Terminal Trachopa) runs every hour or so. Be aware of annoying taxi drivers.
San José
I arrived around 4 p.m. exhausted from days of bus travel, and Diego (a friend who I met through Couchsurfing some months ago) picked me up from the terminal. His girlfriend was also there and the three of us cooked some local dishes, one was called Chancletas (tastes like kohlrabi, fried with egg foam and cheese).
Later, another friend from San José (Jeffrey) picked me up and we drove to his flat in Alajuela. I stayed there another night and the next day, he dropped me at the bus station in San José and I drove to Nicaragua. It was very kind of Diego and Jeffrey to host me!
Border Crossing
There is a bus from San José (Terminal Caribe) directly to Peñas Blancas on the border. It costs about 4500 Colones (10 Euros) and takes around 6 hours. The bus leaves every full hour from the morning until the evening.
At the border it's a bit more complex. First you have to go to a little house in order to pay the $8 fee for leaving the country. Then you have to go the the counter for leaving the country, in order to get your stamp and then you have to walk for around 500 meters to the Nicaraguan side. Here you have to pay to enter the country, this time $12. You will also be asked to pay $1 at a separate counter, but nobody wants to see proof that you paid it.
After this procedure, you have to walk again to the other side, where the local buses to Managua or Rivas start. Taxi drivers will attack you and tell you that there are no buses, but just like the catcallers, it's best to just ignore them.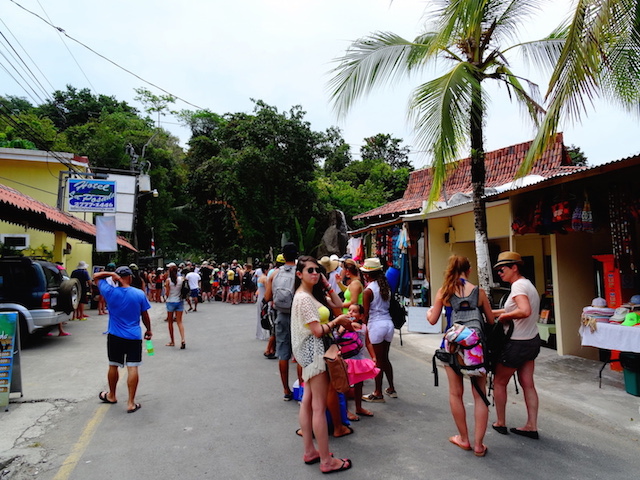 Border Crossing: From Costa Rica to Nicaragua
Additional Tips
Avoid travel during the Easter season of Semana Santa (and one week before/after). If you are already traveling (like I was), try to avoid tourist hotspots. I can guarantee that you'll have far less fun than if you were traveling during a "normal" time. Sure, there are always some festival days in Latin America (they simply like to celebrate) but Easter (and Christmas) are extreme seasons.
The prices are often double or even triple what they usually are, and there are too many people around and too much trash on the beaches (and everywhere else). Accommodations become sparse and you have to book in advance. The buses are full and drunk driving escalates.
Border Crossing: From Costa Rica to Nicaragua
Related Reading
Have you traveled to Nicaragua? How was your trip? Email us at [email protected] for information about sharing your experience and advice with the Pink Pangea community. We can't wait to hear from you.
Border Crossing: From Costa Rica to Nicaragua photo credits: Jessica Shen and Sarah Schmidt.