London Eating: Restaurant Recommendations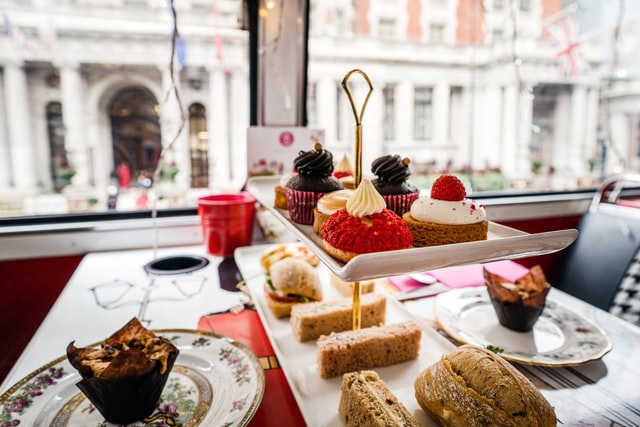 Find fantastic restaurants in London–depending on how much you want to spend: cheap, mid-range, or expensive. London Eating: Restaurant Recommendations. All the information below is provided by Pink Pangea community members based on their experiences abroad. Add your voice!
London Eating: Restaurant Recommendations
Cheap Restaurants in London
Giraffe: I love this place for breakfast or lunch. They have a great selection of a wide variety of foods from international cuisines to burgers. For a real (and really large) English breakfast including baked beans, try the full brunch plate. Plus their smoothies are great if you are fresh off an early morning flight and don't want a full meal.
Cornish Pasty's: These shops–often found in train stations–serve the most delicious flaky crust pastries filled with piping hot toppings. My favorites are cheese and onion or steak and ale. These are all take-out (with no place to sit), which are great if you are catching a train or are in between attractions and don't want to spend too long (or too much) on a hot lunch.
Mid-Range Restaurants in London
Portrait Restaurant & Bar: If you want somewhere with a view and are near Trafalgar Square, Portrait is the spot. Located at the top of the National Portrait Gallery, you can gaze over the heart of Westminster (Lord Nelson, Big Ben, the London eye are all in view) and enjoy a nice meal. Seasonal ingredients, interesting sides, and some vegetarian options make it hard to choose from options on their set menu.
Roast: I love this place and it's located in one of my other favorite places in London, Borough Market. The first time I went they served this amazing pea soup (not words I would normally use together) – bright green, creamy rich texture, and full of flavor. The menu is classic British cuisine with ingredients primarily sourced from the market so everything is always fresh and in season.
Expensive Restaurants in London
L'Atilier de Joel Robuchon: We go to L'Atilier for major celebrations – my husband's 35th birthday and our last weekend in the UK. The food is delicious and served in small plates so you can try many things. Don't miss the smoothest truffle mashed potatoes–its buttery goodness melts in your mouth. Don't forget to have coffee or tea in the terrace after your meal.
Photo by Unsplash.