Best Independent Book Stores in Paris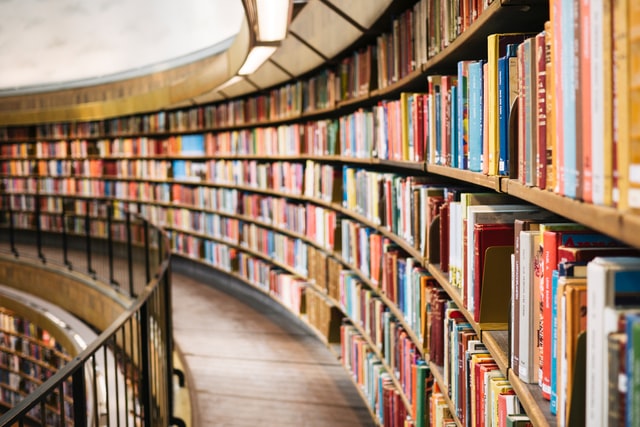 There are two things that French people don't throw away: good bread and good books. With more than 2,500 independent bookstores still thriving in the age of e-books and Amazon, France weaves its love for books into legislations that protect and subsidize independent bookstore owners while forbidding large corporations to discount books prices more than 5%. Paris alone boasts an incredible bookstore-to-resident ratio of 1:4000 and is home to a vibrant literary scene as old as time.
Nowadays a trip to the bookstore is no longer a simple act of peruse and purchase but an active social and cultural experience. More and more independent bookstore owners, while reverently guarding their loyalty to the printed pages, incorporate art, dining, fashion, music, and design into the traditional reading space to engage a greater variety of audience.
While the old family-run specialty bookstores still charm the streets of Paris with their classic glamour, these new multitasking independent shops are writing a modern chapter in the French love affair between people and books.
Best Independent Book Stores in Paris
Merci Used Book Cafe
The historic district of Le Marais is never short of surprises. Merci, a concept store created in 2009, packed a fashion boutique, an interior design shop, a used bookstore and a café all together into a former wallpaper factory. Merci "works like a magazine," according to owners Bernard and Marie-France Cohen, inviting artists all over the world to contribute their own pieces to the 1500 sq. m space that constantly evolves.
The Used Book Café is located on the ground floor which is infused with natural light coming through the spectacular glass roof.
The seemingly endless bookshelf runs from one end of the store to the other, with a few ladders to access the higher shelves.
The seemingly endless bookshelf runs from one end of the store to the other, with a few ladders to access the higher shelves. Wooden coffee tables, which most likely can be seen holding the patrons' favorite hard-boiled eggs and buttered, soft baguettes, run along the bookshelf to make it easy for patrons to pick out a book while sipping on a cup of coffee.
All the books are second-handed with prices ranging from 2 to 20 euros. There's also a small basket near the cashier to drop off your own used books. "Merci" indeed.
OFR Paris
The influence of New York-style concept shops is becoming more and more prominent in the northern end of Le Marais. OFR is situated in this little part of Paris that's geographically and sentimentally caught between former aristocratic residences and rusty and industrial avant-garde boutiques.
A bookstore and a gallery under one roof, OFR is the lovechild of the old and new Paris who happens to spend a lot of time in the basements in Williamsburg, Brooklyn. Books of fashion, photography, travel and music pile up against the window along with house-made handbags and postcards dedicated to contemporary art.
Behind the bookstore through a narrow doorway, a small gallery hosts the works of local or sometimes international artists as well as movie screenings, book signings and small gigs by indie bands.
Channeling the self-sufficient spirit of many independent artisanal shops in Brooklyn, OFR not only distributes but also publishes their own works from books, magazines, and records while also selling candles, postcards, and its well-curated GuideParis which invites artists, designers, housewives, illegal squatters and carefree retirees to contribute their own ideas for a better Paris.
What better place to find books about maritime adventures than an actual boat?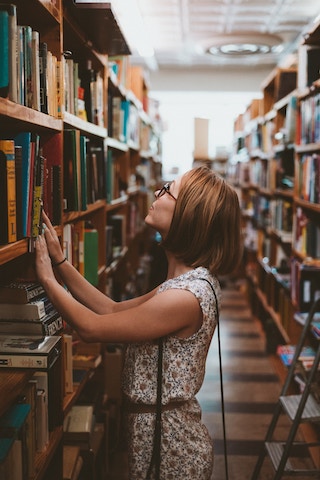 Péniche L'eau et les Rêves
What better place to find books about maritime adventures than an actual boat? A houseboat poetically named after French philosopher Gaston Bachlard's essay "L'eau et les Rêves" (literally translated to "water and dreams") dropped its anchor near Quai de l'Oise in the spring of 2014. After a few months of restoration, it opened its door to the public as the only floating bookstore in Paris. Entirely dedicated to "water, ocean, and voyage," L'eau et les rêves cleverly combines the ingenuity and specificity of an independent bookstore and the authenticity of a maritime experience.
Ring buoys decorate the deck filled with coffee tables and chairs on warm sunny days, and the bookstore itself is located on the lower deck.Through the circular windows, you can easily see the sparkling surface of the green canal water.
Books new and used are carefully arranged into sections divided by age; old compasses, telescopes, wooden ship models, teleram machines, radio stations, and sailor hats are scattered on the shelves among boat manuals, yellowed treasure maps, comic books about whales, and watercolors of teach towns.
The intimate space is lit by sunlight filtering through the greenhouse-like glass ceiling. It generates the feeling of a friendly visit to an old captain's study where he stores years of memories. Memories waiting to be shared. The very idea behind this floating bookstore is to promote ocean preservation and marine animal protection. In addition to spreading knowledge of the ecosystem that is built around water.
The Abbey Bookshop
An English bookstore as old and as claustrophobic-inducing as the famous Shakespeare and Company, the Abbey Bookshop is an Anglophone cultural center with a diverse collection of more than 35,000 titles. The flowing Canadian flag above the door honors the founder Brian Spence of Toronto who opened his store on the historic Rue de la Parcheminerie where, judging from its name, parchment makers and book traders once flourished.
Bound in different materials, books jam pack every single inch of the space from floor to ceiling. All while leaving little breathing space amid wooden ladders and old posters.
Instead of having multiple copies of the same title, the owner prefers quality to quantity and reassures the uniqueness of each title.
Instead of having multiple copies of the same title, the owner prefers quality to quantity and reassures the uniqueness of each title. Being the nice and friendly Canadian that he is, Brian is the living GPS of his own store who can lead you to the book you need or you don't even know you need.
Just like antiquing along the Seine or trying out an absinthe bar in Montmartre, keep an open mind as you enter the Abbey Bookshop because you never know what you will stumble upon.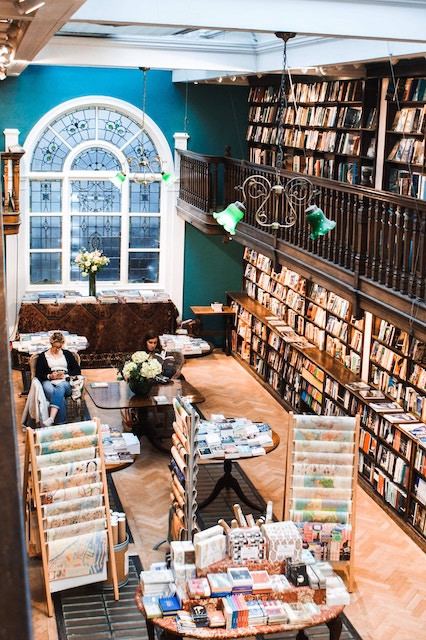 Best Independent Book Stores in Paris
Related Reading
A Would-be Local's Guide to Paris
8 Unusual Things to Do Around Paris
Delicious Encounters with French Men and Desserts
A Girl's Guide to Blending in in Paris
Writer's Retreat in Paris, France
Have you traveled to Paris, France? How was your trip? Email us at [email protected] for information about sharing your experience and advice with the Pink Pangea community. We can't wait to hear from you.
Best Independent Book Stores in Paris photo credits: Unsplash.