An Unforgettable Homestay in Seville, Spain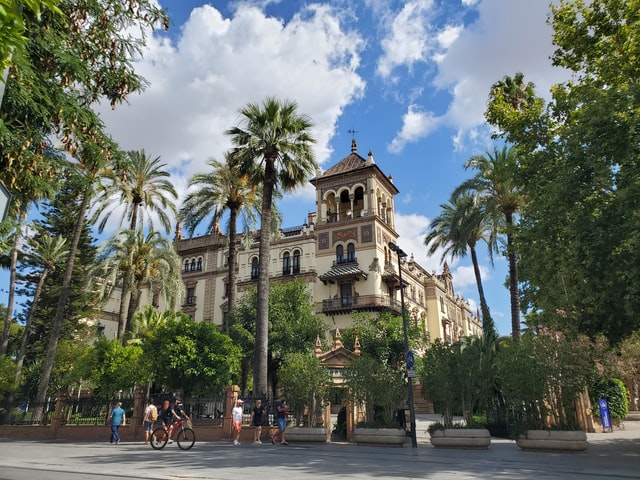 Seville, the gem of Andalusia, is a true mix of the wonderful architecture, history and gastronomy that Spanish cities have to offer. Legend tells that Hercules founded the city when sailing through the Strait of Gibraltar and there is no better way to see this town with mythological roots than by having Sevillanos show you around.
There's nothing like making new friends, living like a local and seeing the city through the eyes of someone who lives there, and Homestay made this possible for me. It's a great way to make travel memories by creating deeper connections and enriching your time. I had so much fun in Seville, and getting to know my Homestay host, Juan was a big part of it. We had the chance to see a lot of the city together and I also had the time to explore parts on my own–for which Juan gave me tons of tips. It was the perfect combination.
I felt so pampered with my Homestay experience, getting fresh squeezed orange juice each morning and a delicious breakfast. You can't beat Spanish hospitality!
The neighborhood where Juan lived was immediately welcoming. The neighbors were all so friendly, curious to meet the new American guest and happy to show me around the area, pointing out the best ice cream shop, where to buy groceries and the local tapas bar.
We were in a wonderful location, in walking distance to the best spots of Seville. The apartment was a typical Sevillian house, with an open air patio in the center of the first floor, giving space for warm spring light to shine into the house and a spot for us to sit and relax. I felt so pampered with my Homestay experience, getting fresh squeezed orange juice each morning and a delicious breakfast. You can't beat Spanish hospitality!
Homestay Action
Seville is vibrant, full of sights and sounds that will motivate you to keep moving and uncover more. Flamenco is a traditional Andalusian dance combined with Spanish folk music that is embedded into the culture and history of Seville. You can find flamenco everywhere, people performing on street corners, small authentic bars or larger more touristy renditions. Be sure to see a show or at least visit the Flamenco Museum to get a better idea of this famous art form.
Bullfighting like Flamenco has long been featured as entertainment in the region and has helped shape the culture of Seville. We had dinner and drinks with Juan's friend earlier in the week and she suggested we stop by where she works, at the Plaza de Toros. We had the opportunity to take a tour of the stadium and learn more of the history of the sport. Juan has an uncle who was a bullfighter so it was really fun to hear some of his memories about his family's involvement when he was younger. The sport is controversial but that is also what makes it intriguing. Seeing the stadium and learning more without having to witness the actual fight was a good way to ease into the bullfighting tradition.
Religion
Religion plays a big role in Spanish life and culture. According to locals, Semana Santa (holy week) is one of the best times to explore Seville. The churches in town are old, beautiful representations of Baroque-style religious architecture. I encourage you to take some time to explore some of the smaller chapels in addition to the famous Cathedral. You'll be able to see how even in the tiny churches there are some fabulous statues, art and hidden secrets. For example, there is a church in town with a famous painting on the façade. If you can find the little bird in the painting, you will be ensured a happy marriage. Half of the fun is sitting by the chapel and watching passersby squint and stretch out their necks to put their faces close to the art to try to find the bird.
Juan took an afternoon to show me one of his favorite examples of Baroque religious artwork. I was lucky to have a host with a background in history and art. I felt like I had a private tour guide the whole week. The Hospital de la Caridad would have been a building that, if on my own, I would have walked right by, especially since I assumed it was still a hospital. Once a charity hospital in the seventeenth century, it has serene courtyards and some of the more intriguing Baroque artwork I've encountered.
Art & Architecture
UNESCO chooses their sites based on several criteria and they usually don't disappoint. Here in Seville, there are several UNESCO world heritage sites that are well worth a visit.
Alcazar is the royal palace in Seville that was originally designed by Muslims in Moorish-style architecture. Much like the famous Alhambra in Granada, the architecture is spectacular. The royal family still calls this one of their residences. But when they are not visiting the grounds, most of the building is open to the public. The gardens are beautiful, and you can spend hours enjoying the landscape. Don't forget to find the Hydraulic Organ (water organ) that is the oldest working one of its kind and periodically plays a tune. They have seen a huge influx in visitors since Game of Thrones was filmed there so be sure to order your tickets in advance or to take a tour in order to skip the line.
Seville Cathedral is a monstrous Gothic church, the third largest in Europe. The Giralda Tower is the crowning jewel of the cathedral complex, reaching towards the sky far above the rest of the buildings in town. It's also significant as it is the burial place of Christopher Columbus. The cathedral has fifteen doors. All with a different story, so you can spend a lot of time just investigating the outside before entering or learning about its intriguing history.
Visiting Seville with Homestay gave me a unique travel experience that I wouldn't have had as a solo traveler exploring the city on my own. I know that if I were to return to Seville and stay with a different Homestay host, I would see a whole other side of Seville, making each trip one-of-a-kind.