Fire, Flamenco, and Fiestas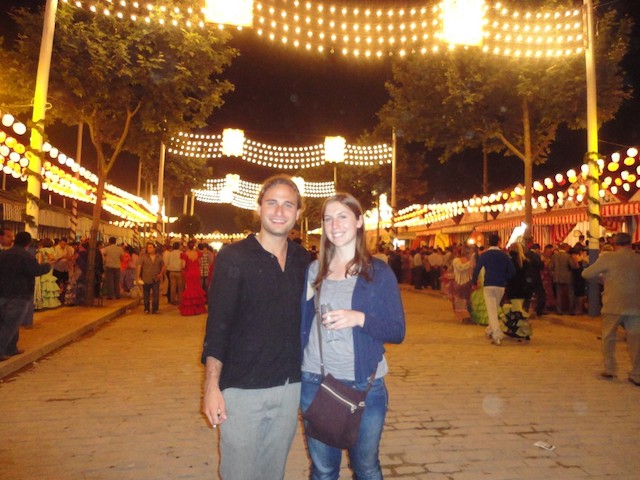 One thing that I've learned while living in Spain is that this country always finds an excuse to celebrate something, and most of the spectacular celebrations here somehow involve wine and lighting things on fire. Las Fallas de Valencia, which I was able to witness this March is just one example of the many events that take place year round throughout Spain. Valencians spend months building giant dolls or "fallas." After a five-day party, fireworks are attached to the dolls and the giant figures depicting cartoon characters or popular political or cultural personalities become four-story bonfires in the streets of the city.
The strange spectacle, which began as a tribute to St. Joseph, draws thousands of people from all over Spain and the world. Americans like myself, whose mothers were reluctant to let them play with sparklers on the fourth of July may be shocked to see that during the Las Fallas festivities, it's not uncommon for kids to be given fireworks to toss on the street, or wear spark shooting dragon costumes in the annual parade.
A few weekends ago, I was able to experience another great Spanish fiesta involving pyrotechnics that may seem dangerous to foreigners called, "Fiesta Mayor." A Fiesta Mayor is usually celebrated in the spring and summer months by both small villages and big cities alike to commemorate their patron saint. The Fiesta Mayor that I attended was in the picture perfect small town of Vilassar–just a short bus ride outside of Barcelona.
Fire, Flamenco, and Spanish Fiestas.
For me, the highlight of the Fiesta Mayor de Villassar was what seemed to be the world's largest paella, being stirred by men using wooden rowing oars. The entire town, and whoever was willing to pay two Euros could get a plate from the massive paella, along with bread, wine, and dessert to enjoy for a sunny afternoon picnic. The Fiesta Mayor celebration also included a carnival, traditional circle dancing, and the big event: the "correfuc." Correfuc is Catalan for "fire-run," and out of fear of accidentally setting my hair ablaze, I decided to take the bus back before the men wearing traditional hooded devil outfits ran through the streets shooting sparks from metal forks.
Of all the town-wide parties I've seen in Spain, perhaps the most impressive –-although, no fire was involved –was La Feria de abril de Seville, or "Seville's April Fair." Feria takes place two weeks after Easter in the Southern capital of Seville. Rows upon rows of striped tents called "casetas" are set up by groups of families and businesses for feria week. Inside, the tents are adorned with lace, lamps, and small tables and chairs. The tables are pushed aside at night so that Sevillans can flamenco dance and enjoy tapas while continually filling their glasses with "rebujito," a mix of sherry wine and lemon-lime soda.
Flamenco is a part of the culture of Southern Spain.
Despite the common Spanish stereotype, women don't walk down the streets where I live in Barcelona wearing flamenco dresses and flowers in their hair. Flamenco is actually a part of the culture of Southern Spain. While flamenco dresses aren't the daily attire in Seville either, the women are proud to show off their beautiful traditional dresses and put a flower in their hair for feria week. The men also dress up, usually wearing a nice suit and tie if not the traditional short jacket and boots.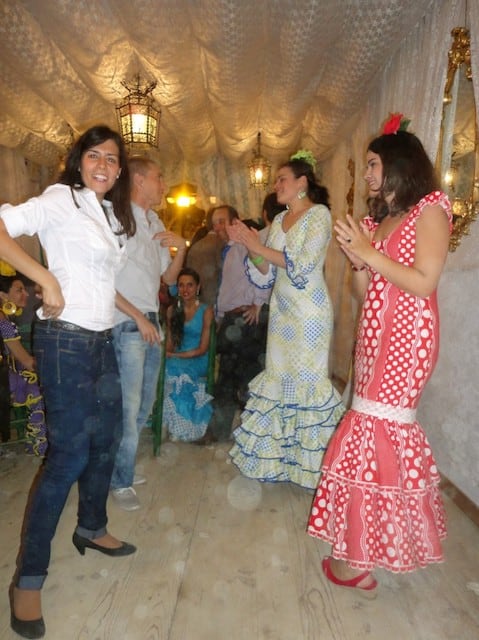 At feria, everyone travels from caseta (tent) to caseta (tent), sometimes by horse drawn carriage, with a glass of rebujito to mingle with friends and family.
I was lucky enough to enter some of the casetas because my cousin Stuart who has been living in Seville for a year now, has made some Southern Spanish friends. Although it was hard for me to understand their Andaluz accents, the Sevillans I met didn't mind repeating themselves for an American Spanish speaker, were extremely friendly, and offered me a glass of rebujito. By the end of the night they were giving me flamenco lessons. It was an unforgettable experience that was truly unique to Spain.
No matter what time of year you visit, there's bound to be some sort of celebration in Spain. As the Spanish say, "aprovecha!" – "make the most of" -because you won't regret taking part.