An Outdoor Lover's Guide To Ireland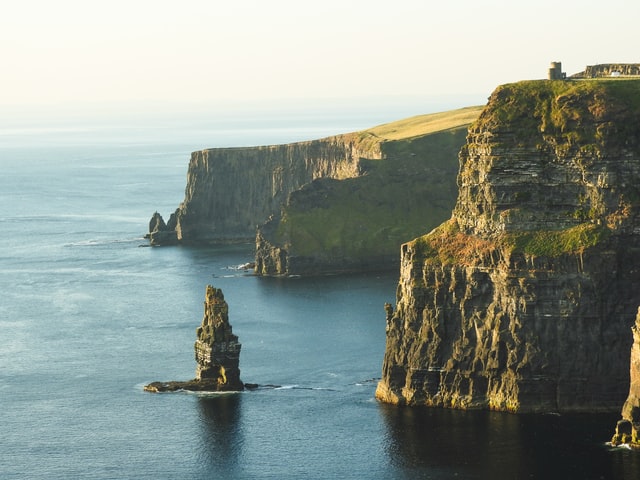 For a semester, I studied abroad in Ireland, a dream that I've had since I first heard about getting a global education. As a hiker and nature lover, I wanted to experience not only a different culture, but also to explore a country that's known for its beauty. Mossy woods, magnificent cliff sides, wild coast lines: all things that made the adventurer in me explode with excitement. After several months, I saw much of what Ireland and Northern Ireland had to offer. I decided to then create a helpful guide to Ireland for nature lover's.
So, if you, too, love to explore the outdoors and want to visit the island, here are my top five places to visit in Ireland and Northern Ireland.
An Outdoor Lover's Guide To Ireland
The Cliffs of Moher
This is, by far, my favorite place that I visited in Ireland. These huge cliffs, which are in County Clare, are about 700 feet tall and stretch along the Atlantic coast for 5 miles. Like most of the country's sites, there isn't much security, such as gates that surround the edge of the cliffs. An adrenaline junkies dream, right!? You're free to be as daring as you want to be. Also, at O'Brien's Tower, which is at the highest peak, you can get an even better look at some of the distant views such as the Aran Islands, Galway Bay, and the Maum Turk mountains.
The Cliffs of Moher absolutely stole my heart. I think they would steal anyone's who is a fan of exploring. It was the first time I saw nature be so powerful and so wild. When I took my first step onto the very edge, I couldn't help but ask myself, "Is this real life?" It truly feels like standing on the edge of the Earth.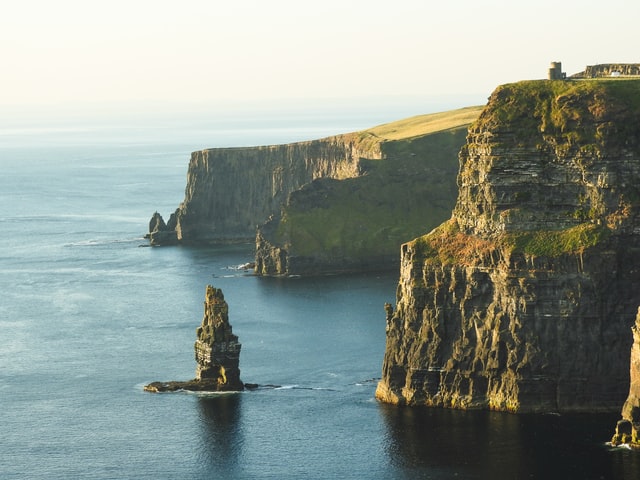 Because the ferry to the islands leaves from Galway and that's the town my apartment was in, I've visited these islands a few times. I have to say, they never got old! Just a little heads up, the Atlantic waters can be extremely choppy! So if you get sea sick, like myself, you might want to take something before the ferry ride.
There are three islands: Inis Meáin, Inis Oírr, and the main island of Inis Mór. There's plenty of coast line to explore, Celtic churches to see, and even cliff diving sessions offered during certain months. However, my favorite part of the experience was the biking. Bikes are available to rent for the day which makes it very easy to get around. One minute I was biking past horses in a pasture, the next I was right next to the shore line, which of course I had to creep down to so that I could find some sea shells.
Eventually, I reached Dun Aonghasa, an ancient fort right next to the Cliffs of Aran. There's a very small population of locals who live on the islands and many speak both English and Irish Gaelic. They're very friendly and full of interesting stories so don't be afraid to start up some conversations!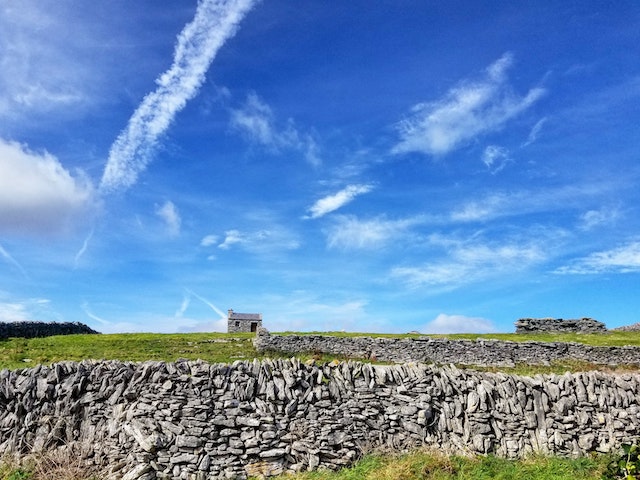 Crag Caves
The Crag Caves are, in my opinion, a hidden gem in Ireland. These caves are estimated to be a million years old and are composed of limestone rock, stalagmites, and stalactites. The attraction is in Castleisland in County Kerry. It's a little off the beaten path so check out the link above for good directions!
Now I'm not a huge fan of guided tours, however, the staff is fantastic and gives you plenty of time to look around. The crew I was with when I visited, a bunch of other study abroad students, and I weren't expecting much. But one step inside the cave revealed tunnels winding around enormous rock structures and valleys full of underground pools and streams. Needless to say, we were blown away. It is a nice change of pace from the rolling green pastures, almost like walking into a different world.
An Outdoor Lover's Guide To Ireland
Carrick-a-Rede Bridge
Connecting Ballintoy in Country Antrim, Northern Ireland to the small island of Carrickarede, is the Carrick-a-Rede Rope Bridge. The 65-foot long bridge is 100 feet above the ocean. Once you reach Carrickarede Island, or Rocky Island as it's often called, you can see Rathlin Island, Causeway Coast, and even some of Scotland!
I was thrilled when I found out that only one or two people can cross at a time. It's an empowering feeling, taking each step by yourself while the waves crash on the rocks underneath you. Also, take some time to explore the mainland. There are trails and lookouts scattered around that offer a great view of the bridge from a distance.
Giant's Causeway
The first words I said when I saw Giant's Causeway was, "This is freakin' awesome."
The coast of the Atlantic Ocean in Nothern Ireland's County Antrim is scattered with columns composed of basalt. It's both perplexing and beautiful and the best part is you're free to climb all over them. It almost looks like someone put hexagonal stepping stones everywhere!
You can take a bus down to the shore from the visiting center, however, I suggest taking the trail starting at the center that goes along the cliff side and then down Shepherd's Steps. Something important to keep in mind, the steps, which are steep, handmade, and have no railing, as well as the basalt columns, are very slick. So wear sneakers or boots that have good grip!
Photos by Unsplash.