Galway, Ireland Travel Tips: Monique's Take on Health, Safety and Romance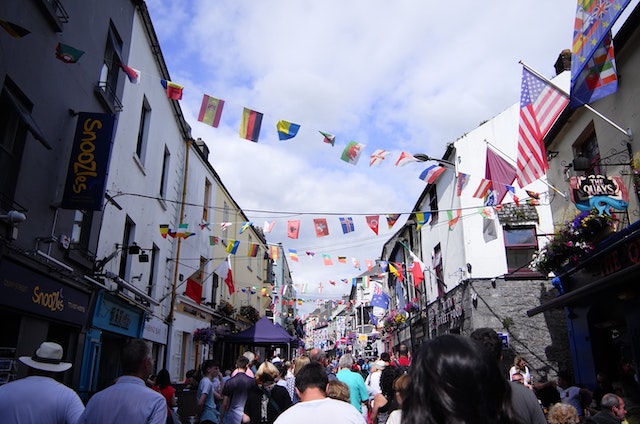 Traveling to Galway, Ireland? Monique presents her travel tips about health, romance, women's rights and safety:
Galway, Ireland Travel Tips: Health Information
Feminine Hygienic Products in Galway: What's available/what's legal/where to buy them?
In Galway, you're good to go on feminine hygiene products. Everything is available and it's all legal. Tampons and pads can be found at pharmacies and grocery stores.
Birth Control in Galway: What's available/what's legal/where to buy them?
I am unable to speak as to what is available and where to buy birth control but I know that it is legal. Condoms can be found in pharmacies and grocery stores.
Galway, Ireland Travel Tips: Romance
Dating Locals in Galway: What are the norms and traditions? What should women look out for?
Though I didn't date locals while in Galway, I knew lots of people who did. If you're American, there is an expectation that you'll be easier to sleep with than an Irish girl. Go to pubs and clubs if you want to meet a lot of guys.
Irish Men: Describe a few "typical" types of men.
I didn't date any men while in Galway but I observed how guys would act towards women and I also talked to some girls about how Irish guys treated them. There are guys who are just looking to sleep with girls. There are guys who are genuinely nice and kind. The vast majority of men are very friendly; I did not meet any who were not.
Is Galway LGBTQ-friendly?
I believe that Galway is LGBTQ friendly. When my gay friend came to visit me, I don't believe he experienced any aggression or at least he didn't tell me of any. I also did not witness any situations that would make me feel like Galway isn't accepting of the LGBTQ community. The Irish are very accepting people and the city itself has a lot of college students so Galway seems to be predisposed towards being accepting and open to everyone.
Galway, Ireland Travel Tips: Women's Place in Society
Women's Rights in Galway: Do women have the same position in society as men? How can you tell?
Women do have the same place in society as men. I never felt that men were condescending, rude, discriminatory, aggressive, etc. to me while I was in Galway. Women are permitted to go where they want, when they want, and dress how they want. I felt that my rights were completely intact while I was in Galway.
Local Irish Women: What are some clear cultural differences between you and them?
I'm pretty much a tomboy. I don't focus much on clothing or makeup though I will get dressed up to go out for the night. I noticed that Irish women were always dressed nice and use makeup. Coming from the suburbs of the US, I felt that the women in Galway were fashion forward all the time. They're always well dressed.
Women-Specific Environments in Galway: Are there places where only women are or are not allowed?
Women are allowed anywhere and everywhere.
Perception of Foreign Women in Galway: How do local Irish men/women react to you when you say where you're from?
The Irish are very friendly and kind. When I told them that I was from the US, they happily talked to me and asked me questions about home. Both men and women reacted in that way. Irish men do think that American women are easier than Irish women.
Galway, Ireland Travel Tips: Safety
Transportation in Galway: Any that are safer/less safe for women to take?
I mainly walked around Galway though I did use a taxi occasionally and I also used buses to get around the country. I did not feel unsafe on any of those modes of transportation. In fact, I felt safer than I did back in the US.
Dangerous area/s in Galway: Any specifically for women?
I didn't feel like there were any areas that were dangerous for women in Galway. Of course I'm sure there are some areas in the city that are less safe but I never discovered them. Be aware of your surroundings no matter where you are.
Clothing in Galway: What to wear/what not to wear?
You really can wear anything in Galway. The majority of women dress fashionably in Galway so if you want to fit in you should wear makeup and make sure that your clothes fit with the trends.
Top photo by Unsplash.