5 Japanese Food Experiences You Won't Want to Miss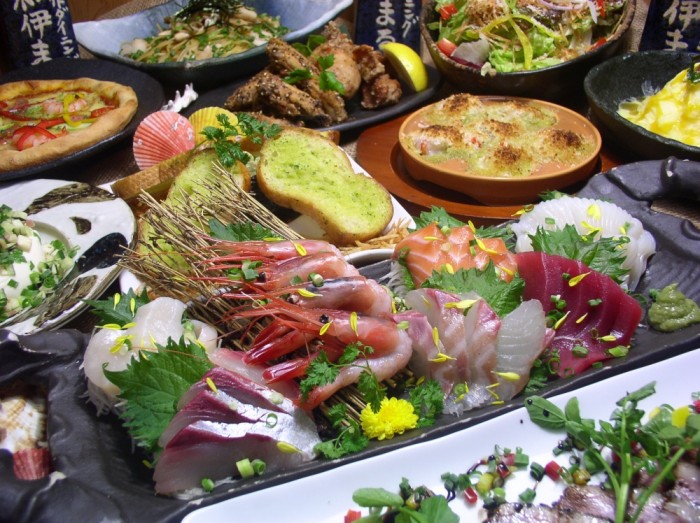 Tokyo is home to the most Michelin-starred restaurants of any city in the world, and it is food, along with the notion of family, that envelopes the country of Japan. Here are five quintessential food experiences that combine Japanese food and culture to create both delicious and entertaining memories.
5 Japanese Food Experiences You Won't Want to Miss
1. Visiting a Maid Café
If you are really interested in state-of-the-art electronics, video games, manga, Japanese comic books, or anime, Japanese animation, and you're in Tokyo, you probably listed Candyland of Akihabara as a must-visit neighborhood. I'm actually into none of the above but I did venture to Akihabara with a Finnish friend with one thing in mind: to visit a Japanese maid café. Here, young Japanese women, yep, you guessed it, dress up in maid costumes and serve primarily Japanese males cute café drinks and Japanese character-themed entrees. Full disclosure: I was the only female in the café upon visiting.
The various waitresses flit around in full maid attire and play games, such as mini-Connect 4, with patrons willing to pay an extra 500 Yen, or $5 USD. Want a picture with your maid waitress? Just pony up a few hundred yen and you're able to take one in front of an uber-cutesy and colorful professional background as a keepsake. These cafes appear to serve Japanese males who seem unable to have enough confidence to engage with women normally. Between the customers and the staff, people-watching doesn't get any better. Order yourself a Rilakkuma curry and rice and take in the atmosphere.
5 Japanese Food Experiences You Won't Want to Miss
2. Japanese Fast Food Restaurants
Although Japan is home to McDonalds, KFC, and now Taco Bell in Tokyo, it bears noting that it also boasts its own handful of tasty fast food restaurants where travelers can soak in "the salaryman dining experience" while getting a cheap, filling meal. In almost every corner of Japan, you can find a Yoshinoya, Matsuya, or Sukiya fast food restaurant. All three have narrow counters and stools for sitting along the bar though some may have regular tables for dining. All three also boast a plethora of gyudon bowls, bowls of rice topped with flavored beef and whatever toppings you opt for.
These only cost 300-400 Yen, $3-4 USD, and are the meal of choice for Japanese salarymen working late and hoping to get a quick meal on the way home. My personal favorites are the kimchi gyudon at Yoshinoya, which is the meat rice bowl topped with the Korean staple, and the cheese gyudon at Sukiya. Stay in Japan long enough and these become near-guilty pleasures before or after a night out on the town.
3. Tsukiji Fish Market Breakfast
Tsukiji Breakfast
Waking up at the crack of dawn, taking a taxi at 4am to get in line, and catching the 5:30-6am world-famous Tsukiji Fish Market auction is on most Tokyo tourists' to-do lists. And I can't argue with this. Where else can you watch Bluefin tuna worth thousands of dollars be sold in a matter of seconds? Post-auction and in the early morning hours as the sun rises, visitors usually rush to get in line at the sushi shops near the market boasting fresh sushi breakfast sets.
The catch? These sets will set you back about 3-4,000 Yen, or $30-40 USD, and require you to stand in line for a few hours as these restaurants only have a few seats. But here's where you can show your solo girl savvy. Skip the sushi lines and head for the shops advertising sashimi breakfast sets in the windows. These cost only 1,200-1,500 Yen, $12-15 USD, and there are far shorter lines. To top it off, you get to indulge in melt-in-your-mouth sashimi that is still straight-from-the-market next door.
4. Convenience Store Meals
Convenience stores are king in Japan and you can typically find them even in the smallest towns intertwined with rice fields. Take your pick from the conbini, or convenience store, giants of 7-Eleven, Lawson, and Family Mart. With all three within a 10 minute walk of my downtown apartment, I was spoiled for choice for a good five years. To create your very own convenience store meal, I suggest a combination of any of the following: any onigiri, or rice ball, in the refrigerated section, a pizza-man bun from the plastic set-up next to the cash register, a package of instant ramen from the center aisle, or a small bento you can have warmed up behind the counter.
To drink, you could be adventurous and try the Calpis drink or ball out and grab a couple tall cans of Asahi beer to enjoy in the nearby park. For dessert, go for a Coolish ice cream from the freezer section, Koala-no-machi cookies, or fruit-flavored Hi-Chew taffy candy. For more of an authentic experience, feel free to go with all of the above.
5 Japanese Food Experiences You Won't Want to Miss
5. Izakaya-ing
Izakaya-ing
An izakaya, or casual Japanese bar, serves the Japanese version of tapas. These are great places to go whether you live in Japan and are hosting visitors or are visiting for the first time. At these popular Japanese bar-restaurants, customers can taste a range of common Japanese foods from edamame to okonomiyaki, the Japanese pancake made up of noodles, meat, and veggies, to koroke, Japanese croquettes, to fried cheese sticks. You might even be able to try a mini-Japanese pizza with mayo, corn, and tuna, ubiquitous in Japan.
How do you know whether you've found an izakaya? There are staff members usually advertising all-you-can-drink deals for 1-2,000 Yen, $10-20 USD, outside.If you opt for one of these slightly dangerous nomihoudai deals, just know that you'll need to order at least two tapas-style dishes per person in your group. It is normal to spend 2,500-3,000 Yen, $25-30 USD, at izakayas but they are a great way to experience a variety of Japanese foods all in one place. Plus, there are touch screen menus at each table to facilitate ordering without a server! What's not to love?
If you manage to experience any of these culinary delights, you'll have peered through a window into Japanese cuisine and social culture and been entertained in the process!
5 Japanese Food Experiences You Won't Want to Miss top photo credit by Amelia Hagen.