Explore New Zealand: 48 Hours in Auckland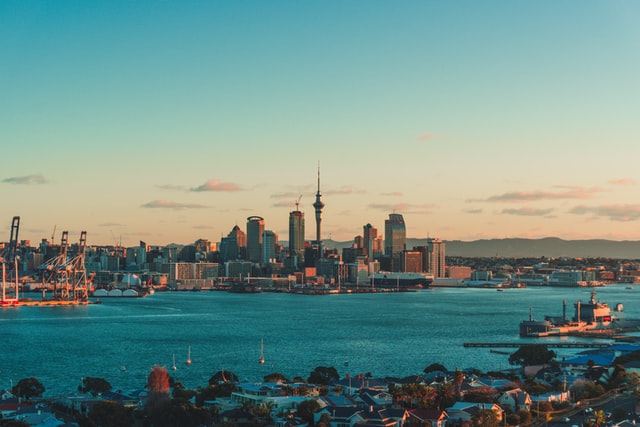 While I was in Sydney visiting my dad, we took a trip to New Zealand for about three days. Though our time was limited there, we did have time to visit Auckland. My dad's coworker, who resides in Auckland, showed us around the local attractions: Devenport, Mount Eden, and Sky City. We walked to nearby places from our hotel and used a rental car to reach distant places. If you enjoy outdoor activities and shopping, I would recommend a trip to Auckland. By the way, New Zealand accents are similar to American accents, so it was not hard for me to understand the locals.
Here are my recommendations for a short trip to explore New Zealand through Auckland:
Explore New Zealand: 48 Hours in Auckland
Devenport
Devenport is a small town that has gift shops, restaurants, cafés, and beautiful old buildings. Devenport is about a 12-minute ferry ride from Auckland. Once there, tourists can take a Segway tour, relax at the beach, and visit either Mt. Victoria or North Head. When we were there, we walked around, shopped, took some photos of the Auckland skyline, and stopped by one of the coffee houses.
Sky City
Sky City is the tallest building in New Zealand. There, you can visit the observation deck, go bungee jumping, and gamble at the casino. We rode the elevator to the observation deck, and admired Auckland's downtown, the Auckland war museum, the old town hall, the boats, and the other nearby islands. The level below the observation deck is a rotating 360-degree restaurant. Admission to the observation deck costs $28.
Mount Eden
Another way to see great panoramic views of Auckland is to drive or walk up to the top of Mount Eden, which is an extinct volcano. Mount Eden is about five minutes away from shops and cafés, and offers a beautiful view of Auckland's lush vegetation. Visitors can join a tour group to see Mount Eden.
Piha Beach
Piha is a remote and small town about 45 minutes away from Auckland west of the island. Piha Beach is a beautiful black sand beach made from a mixture of volcanic ash. Be sure to check out Lion Rock, a large rock formation on the beach. Piha Beach is peaceful and well worth to commute.
Shopping
New Zealand has beautiful glasswork, jade, artwork, and jewelry. It is common to find Koru décor and souvenirs that feature a Kiwi (native New Zealand bird).
There are some gift shops located in downtown Auckland. Ponsonby, Westgate, and Vulcan lane are some notable shopping areas. I spent most of my shopping time at CraftWorld, which offers a huge variety of New Zealand-made items. Craftworld is located at Westgate shopping center about 17-minutes away from Auckland.
I would recommend visiting Auckland during the spring or summer. If you, like me, can only make it during the winter, be sure to pack a heavy jacket. Auckland is hilly with steep roads so also pack good walking shoes.
Have you traveled to Auckland, New Zealand? How was your trip? Email us at [email protected] for information about sharing your experience and advice with the Pink Pangea community. We can't wait to hear from you.
Explore New Zealand: 48 Hours in Auckland photo credits by Unsplash.