Travel Auckland: Your Guide to a Summer Weekend in Auckland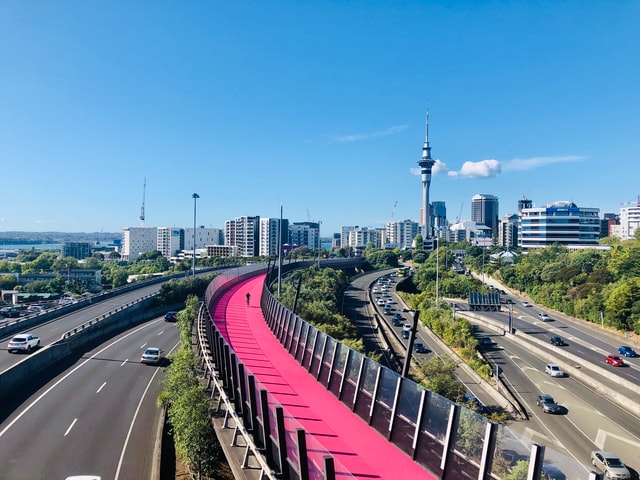 As satisfying as it is to check landmarks off the sightseeing list, I prefer to immerse myself in local culture. Although it's officially autumn here in New Zealand, we still have plenty of sunshine left. Here's a 48-hour itinerary for enjoying your summertime weekend in Auckland. Travel Auckland*
Friday Night
Movie and picnic in the park
Every summer, the Auckland City Council puts together a "Movies in the Parks" series. From January to March, Auckland parks will offer evening showings of 24 movies entertaining for both children and adults. Grab some takeaways or prepackaged groceries for a picnic and arrive early to ensure a good seat. Movies tend to alternate between Friday and Saturday nights.
Saturday
Visit a Saturday market
The Otara Flea Market in South Auckland is known for its Polynesian music and crafts, multi-cultural food trucks, and vendors selling everything from produce to clothing. Stalls are set up by 6 a.m. and stay open until noon. Whether you're an early bird or want to sleep in, you should have plenty of time to enjoy the market on Saturday morning.
Take a dip
If it's a bright and sunny day in Auckland, cool off by heading to a local pool. Pt. Erin is my top recommendation. This outdoor community pool has water slides, a hot tub/spa pool big enough to fit 20 people or more, a café, and plenty of lawn space for sunbathing or picnic tables for lounging. If you go later in the day, there's a lap swim lane or two, so you can workout and tan at the same time. At $6 per person aged 17 and up (16 and under are free to swim in the main pool area), this place is a steal.
Music in the park or the CBD
Another Auckland City Council summertime program is "Music in the Parks". Whatever your musical tastes, from jazz to country to reggae and everything in between, there's a concert for you. Just double-check the schedule, as concerts can happen on Saturday evening or Sunday afternoon. If you're looking for more of a night out on the town, check the events schedule for Auckland's Central Business District.
Sunday
Brunch
Aucklanders take brunch quite seriously. Check out The Urban List's roundup of 15 must-try Auckland breakfasts, or choose between two of my favorites: Okra and Cereal Killa.
Do something artsy

You could watch a cultural performance and eat a tasty lunch at the Pacifica Festival, see local art at venues around the city at the Auckland Arts Festival, or learn swing dancing at the Art Deco Day Out. Go to AucklandNZ.com for an updated calendar on what annual events, festivals, concerts, sports games will be happening the weekend you're in town.
Head to the harbour
Visit the Viaduct Harbour in Central Auckland, complete with shops, pubs, cafés, and parks. They usually have something going on down there, or you can walk across the bridge and visit the touristy New Zealand Maritime Museum. Continue on the wharf theme by heading to Swashbucklers on the Westhaven Marina for dinner, where you can enjoy some delicious seafood, take in the view of the City of Sails, and watch out for Steve and Irwin, the two massive stingrays (local celebrities! RIP Steve Irwin) that live beneath the pier.
Are you about to travel Auckland? We want to hear about your adventures! Email [email protected] for details. Photo by Unsplash.