The Art of Non-Attachment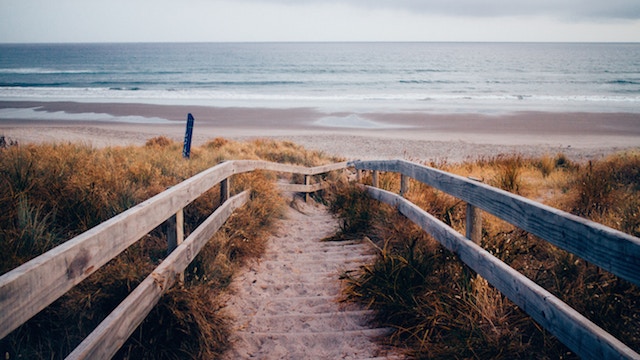 Since arriving in New Zealand seven months ago I've learned the reality of losing precious and expensive items. I've also learned a few things about the necessity of non-attachment. I packed high-quality goods to withstand a year of hard use. My suitcase consisted of merino wool tees, quick-drying underwear and special jewelry. Regardless of what our suitcases hold, we have a tendency to build relationships with the items we have, especially when traveling alone.
But these items don't reflect the greatness that we embody. The maddening reality of gaining and losing, forgetting and remembering, and stopping and going are part of the traveler's life. These events entice us to explore, to embrace the unknown and unexpected. It's also why travelers must live with non-attachment.
We need to be able to separate material goods from happiness. Although clothes, accessories and technology provide comfort, we are our own forces of truth and self-identity.
I write this for closure, to mourn and let go of the things I've lost.
One Icebreaker Sock & a Pair of Gold Earrings
Location: Tairua, Coromandel, North Island
These were my second favorite socks. I brought them because they were purple, a good weight and rose to mid-shin. They also looked good with my Birkenstocks. I still have the one sock and have imagined uses for it – a puppet?
The earrings were a funky pair I found in Copenhagen, when I was traveling with my sister before this solo adventure. They were inexpensive but had attitude. Earrings are my weakness, so I've lost many and purchased many throughout my life.
Lesson Learned:
When reaching for socks, I deflate at the sight of the purple loner. This pair is worthy of repurchasing. There have been several moments that I wanted to slip my cold toes into the warm merino. The earrings confirmed my belief that gold suits me better than silver.
Travelers must live with non-attachment. We need to be able to separate material goods from happiness.
Rode Lavalier Microphone
Location: Unknown
This is one of the most upsetting items I've lost, mostly because of the functionality of the lavalier. I purchased it with the intention of interviewing subjects along the way and producing mini videos to complement my blog.
Lesson Learned:
For nearly six months, I gave up on the idea of producing any videos during my time in New Zealand. I let this one unfortunate event feed me with distress and upsetting thoughts of irresponsibility and self-doubt. I used the loss of the microphone as an excuse to be lazy rather than finding a solution. That is, until I began producing videos for an orchard and used the RODE app to record audio. Hurray.
Silver Fern Earrings
Location: Great Barrier Island
The shop next to the Currach Irish Pub, where I was WWOOFing, was meant for tourists. Postcards, bug spray, shot glasses decorated with kiwis, key chains with kiwis, aprons with kiwis and maps and reading glasses. I purchased a pair of silver fern earrings and silver hoops to replace an old, well-loved pair. Within a week I had lost the pair, either from aggressive sleeping, or aggressive hair flipping.
Lesson Learned:
This was totally meant to happen. Gold looks way better on my half-Japanese, olive skin tone.
Probiotics
Location: Unknown
Not sure what happened here. Sometimes I'm not careful about bungee cording everything down before I embark on the windy New Zealand roads, and when I slide my door open I'm welcomed with dry foodstuffs that have scattered. My suspicion is that, during a pit stop, the bottle slipped out unnoticed and rolled under the van.
Lesson Learned:
With probiotics hitting the 70-dollar mark, I'm now extra cautious about where I put my capsules. Supporting a healthy gut is important when traveling and eating suspiciously marked-down foods from PAK'nSAVE.
Two Rings
Location: Cherry Orchard, South Island
I have a hard time talking about losing these rings, both special pieces of unique art that probably now only exist in small pieces due to heavy machinery. One ring was a matching set with my sister and mom, purchased in Port Townsend, a dulled silver branch with a gold ball inset. Classic. The other I purchased in Goodwill and had lost once before in Ghana. This was going to be the ring that my daughters would fight over.
Lesson Learned:
Thankfully, I didn't lose my third ring, a wedding gift that my mom and her husband gave my sister and me when they married in New Zealand this July. The wedding was a surprise until three days before. Losing the other rings now gives me a specific goal when entering all thrift stores. Bling my fingers, baby.
Stone Necklace
Location: Lower Manorburn Dam, Alexandra, South Island
Funny story. I stole this necklace (with the intention of returning it) from a friend in Auckland. He told me to keep it because his dad, who made the necklace, wanted him to gift it to a friend. I was in love with this necklace. It set perfectly between my breasts and I felt magical when the cold stone was against my warm skin.
The exact moment I lost this was when a friend and I jumped ten meters into the Lower Manorburn Dam after we'd taken acid and had downed a few beers. Eager to return back to mother nature, the black rope slipped off my neck and sank into the murky water.
Lesson Learned:
Don't do drugs.
Photo by Unsplash.