The Lake District: England's Little Known Gem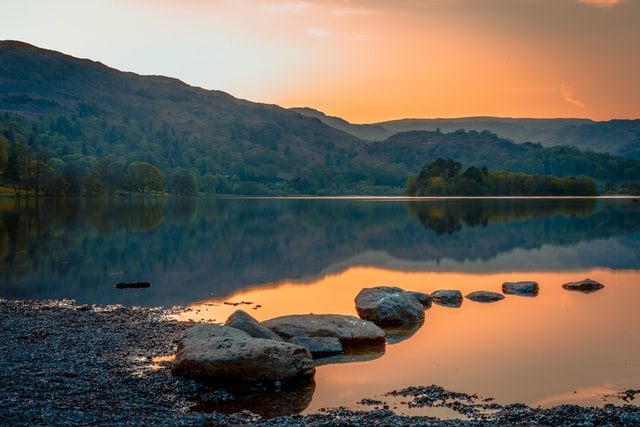 My home is The Lake District. The beautiful English Lake District. Instantly recognised as the place to visit in the UK. Or so I think. I am always surprised, when I am far away, that people know of London but not this exquisite corner of our diminutive isle.
A landscape where hills draped with mist provide images of sombre beauty and dappled spring sunshine turns heads of daffodils and people alike. It has been the muse of English poets and painters since long before this century.
The UK's first National Park, 885 m2 / 2292 km2 may not be as large as others around the world but with its core of jagged volcanic rock, thrill seekers climb and scramble along precipitous edges and stretch themselves over steps and walls.
Other routes give access to the heights with relative ease. Hikers ticking off over 200 peaks, from gentle rolling moors to the highest, Scafell Pike at 3210ft
Radiating wheel like, valleys divide the mass. Many filled with long deep lakes, the largest Windermere, and a few others dotted with sails. Water running from the hills is rarely warm but 'Wild Swimming' now attracts another breed of adventure and each June hundreds take the plunge into Windermere for the Great North Swim. But with over 16 lakes and many more tarns scattered in hidden valleys or high on the hills, there will always be a quiet place to swim.
I am always surprised, when I am far away, that people know of London but not this exquisite corner of our diminutive isle.
With an island climate and the prevailing westerlies, there is a lot of rain, which keeps it so green and beautiful, fills the lakes and splashes the hills with torrents of white falling water. In summer skylarks hover on hazy thermals, and the vista is unbroken as far as the coast, usually. Some summers are so wet it can be hard to believe they actually happen. Snow can cover the hills from October to March. There are clear blue skies and ice where crampons accompany your every climb. Or maybe not.
At times, a tepid mist tips over the hills and down the valleys. November greyness lingers on. Like an unpredictable chameleon, the colours and vistas change daily, hourly or even minute by minute when a playful breeze pulls a curtain of cloud away.
If thrill is not your style, join the more sedate and ride the steamers on Windermere, Ullswater or Coniston. Arts House Cinema, Zeffirellis brings a full and varied program to the evenings. Theatre by the Lake in Keswick and at The Laundry in Bowness attract artists of world not to mention talks from mountaineers and adventurers. And there's an annual visit from London's Globe performing Shakespeare outside in an awesome setting.
Chefs come and flash their Michelin Stars with the help of local Herdwick Lamb, fungi and herbs nourished by clean Cumbrian air. You will not go hungry.
The Lake District: England's Little Known Gem.
Much as I would like to keep it all to myself, word is spreading. Renée Zellweger popularised Beatrix Potter, one of the first protectors of the landscape and author of children's books. Her tales have rabbits and foxes leaping from child sized pages. Discovered by the Japanese, they now come by the bus load to see paces washed by her delicate water colours. European and Asian languages occasionally interrupt the patter on and off the hills.
So it is with mixed feelings that I tell you about this very special place. I'm not really sure I want you to step off that London to Edinburgh train.
Photo by Unsplash.