Cooking in Costa Rica with the Costa Rica Chica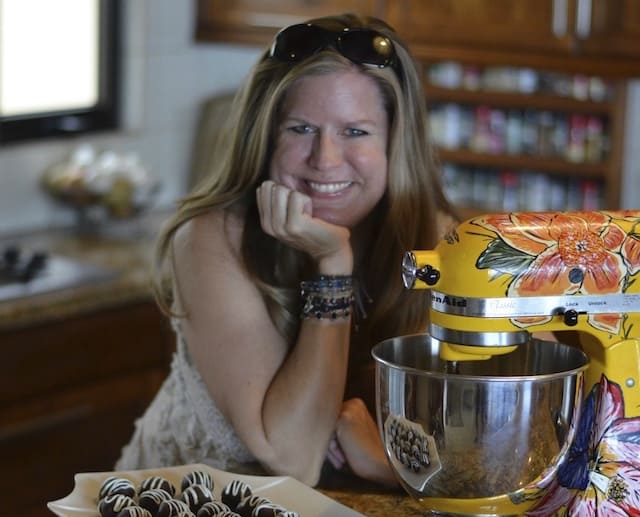 Once upon a time, a long, long time ago, my husband and I did this crazy thing. We quit our jobs in the good ole USA in our early 40s, sold virtually everything we owned, and moved to Costa Rica to live a more simple life with no stress and no regrets. Okay, so it wasn't that long ago – 2 years and 3 months to be exact. But it has been the best adventure of my life so far… .
Little did I know that Costa Rica would set my creative juices on fire. Among other new hobbies, like writing and making arm candy (bracelets and anklets), I soon began to spend more and more time experimenting in the kitchen.
Once we got settled in Costa Rica, I found it difficult to find certain things I was used to in the States. Like a good loaf of artisan bread. Or store-bought pie crusts. Or cinnamon rolls or crescent rolls – all nice and packaged in a little rolled-up tube and ready to pop in the oven. Frozen pizzas can sometimes be found, but are very expensive. The bakeries here make beautifully decorated cakes, but pies? Not so much. A package of ranch or taco seasoning is nowhere to be found. Furthermore, for the first time in my life – I had time on my hands.
Little did I know that Costa Rica would set my creative juices on fire. Among other new hobbies, like writing and making arm candy (bracelets and anklets), I soon began to spend more and more time experimenting in the kitchen.
So I got busy testing recipes in the kitchen, and surprisingly found it to be so much fun. I never made items from scratch before moving here. But now, making my own pie crusts, rustic bread, pizza crusts, tomato sauce – all from scratch – is so empowering to me! My husband paid me the highest compliment the other day when we learned of a pizza delivery place down the road. He, who lived for ordering pizza delivery in the States, after thinking about it for a second, said, "Nah, I wouldn't want to get pizza delivery here. Your homemade pizza is the best!"
There are some ingredients that I used in the USA that you either cannot get here, that are slightly different, or that go by a different name completely. For example – it is virtually impossible to find sour cream or half and half cream in the Costa Rican grocery stores; however, there are some "pretty close" alternatives that I have discovered. I soon found myself revamping all of my favorite recipes I brought with me from the States. Just little changes here and there – substitutions, certain brands, or even simply the Spanish name of what the items were called in Costa Rica.
Before moving to Costa Rica, I never would have thought I would come to enjoy cooking so much. I love researching different methods for the same dish, and then mixing and matching different ingredients or measurements to make it my own. The more I did this, the more confidence I had in myself and my abilities – especially when the final product was such a hit!
Check out my newest book Costa Rica Chica Cookbook, where I share some of my favorite recipes from North America, and more specifically, how to make them in Costa Rica (I also include the U.S. equivalents, so you can make these incredibly delicious dishes at home, too). With easy-to-follow instructions and gorgeous color pictures for each and every recipe, you can't go wrong!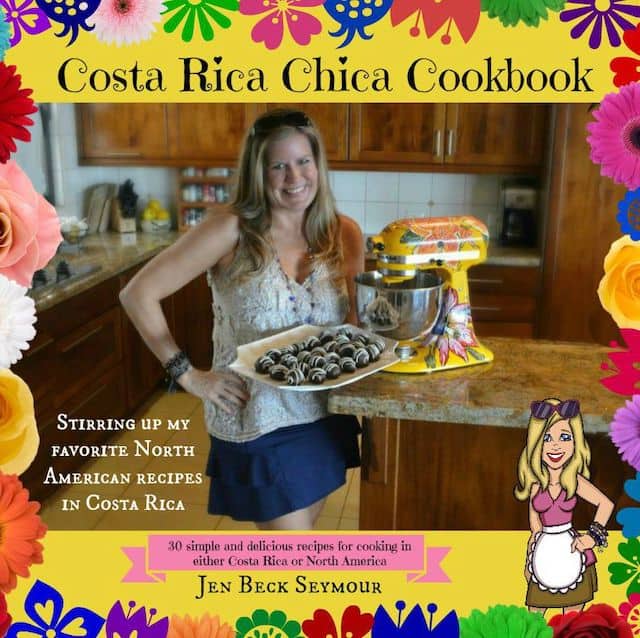 Here's an example of a recipe you'll find in my cookbook:
Tomato Basil Soup
INGREDIENTS
8-10 medium/large sized tomatoes – blanched*, peeled and cored
1 tablespoon minced garlic
1 small can of Maggi's Pasta de Tomate (USA substitution = 1 small can tomato paste)
4 cups water
14 large basil leaves, plus more for garnish (substitute: 2.5 – 3 tablespoons dried basil)
1 small box crema dulce stored at room temperature (USA substitution = 1 cup of refrigerated heavy whipping cream)
1/4 – 1/2 cup cream cheese (optional – this makes it even more creamy)
1 stick unsalted butter (I have used ½ stick before, still good)
2 teaspoons cracked black pepper
1 teaspoon salt (to taste)
to serve: parmesan cheese, basil leaves, pepper and rustic bread for dipping
INSTRUCTIONS
Combine the tomatoes, garlic, Maggi's, water and basil leaves in a large saucepan.
Bring to a boil, then cover and simmer on low heat for 30 minutes.
After 30 minutes, add the crema dulce, cream cheese (if using), butter, pepper and salt. Cover and heat for 10 minutes.
Remove from heat, puree with a hand-held immersion blender. (If you do not have one, cool soup slightly and puree in batches in a blender.)
Garnish with grated parmesan, basil leaves, and pepper and enjoy with a hot loaf of my rustic bread.
NOTE: This soup freezes well.
* Blanching tomatoes: Cut out top stems and cut a cross pattern on the bottoms of each tomato. Drop into a large pot of boiling water for 10-20 seconds, scoop out and put in ice bath for 10 seconds or so. Use a knife to peel the skin off – it will come off very easily.
Enjoy and Pura Vida! Photos by Jen Beck Seymour.