Your Guide to Oaxaca and Puebla, Mexico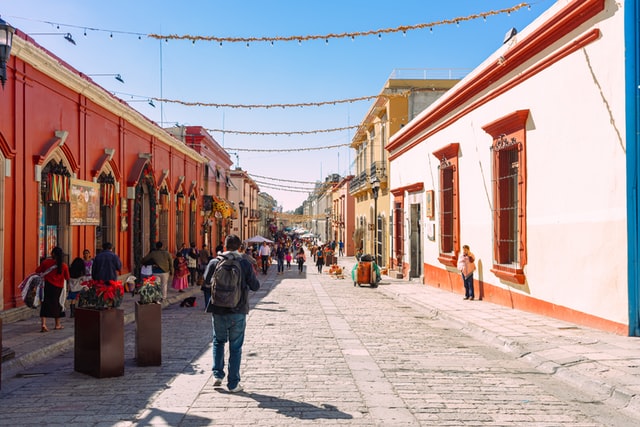 This past summer, I lived in Tehuacan, Puebla, which is a small city located in what I like to call the 'elbow of Mexico.' The Mexican state of Puebla is wedged between the coastal states of Oaxaca and Veracruz. While Tehuacan did offer an authentic small town experience, I generally tried to escape to check out new places when I could. Two places I got the chance to visit were the states Puebla and Oaxaca.
Your Guide to Oaxaca and Puebla, Mexico
Puebla, Mexico
In Puebla I checked out two cities: Puebla City and Cholula. Puebla City is the capital city of the state and is often just referred to as Puebla. Puebla has just enough hustle and bustle to make you forget you're inland in Mexico, but it's not too large to overwhelm you. I stayed mostly in the historic center and artisan quarter of Puebla and found it easy to wander about.
The zocalo, the main city square, is worth checking out and the main cathedral, Catedral de Puebla, is a sight to see while sipping coffee on a nearby bench. Also, just north of the zocalo is a tourism office with useful maps and suggestions for places to check out.
I stayed in Hostal Santo Domingo and would recommend it to anyone. The rooms were clean, the showers were hot and the free breakfast was filling. The front desk clerk was not always accurate in his directions so I would suggest doing a bit of your own research. Otherwise, in terms of hostel cleanliness and quirkiness, I would consider Hostal Santo Domingo a palace.
Cholula, Mexico
I traveled to Cholula on a day trip from Puebla to see its ruins, cathedral and its many artisan shops. There are lodging options in Cholula but I opted for a day trip and felt satisfied with all of the sites I got to see. The Great Pyramid of Cholula, or in Nahuatl, Tlachihualtepetl meaning 'handmade hill,' and its surrounding ruins were great to explore. I was able to walk through an interior tunnel in the base of the pyramid, in addition to the ruins surrounding the base of the pyramid. This was the only ruin I was able to actually walk through during my time in Mexico and it was well worth the 50 peso entrance fee. The entire pyramid is not intact but you can get a good feel for how gigantic it was when the city was in its prime.
After walking through the tunnels, continue to the top of the mountain to not only see the views but also to see the Santuario de Nuestra Señora de los Remedio. The church was built on top of the original site of the pyramid, as was common during the Spanish Conquest, and is beautiful to walk through to see its 24k gold foil interior and ornate paintings.
Oaxaca, Mexico
While traveling around the state of Oaxaca, I visited Oaxaca City and Puerto Escondido. Both cities were filled with culture and an upbeat atmosphere.
Oaxaca City
Oaxaca City was great to explore for its mezcalerias, local chocolate, cafes and markets. Just walking around the zocalo to grab coffee and see some of the historical churches provided a wonderful way to spend an afternoon. The markets have numerous handcrafts from jewelry to blouses to ceramics. I found a mezcaleria called Mezcal EL Cortijo to sample some of the many kinds of mezcal, which is the similar-to-but-easier-to-sip cousin of tequila. The service was great and the bartender was very knowledgeable about the production process of mezcal.
Monte Alban is a UNESCO World Heritage Site a few hours from Oaxaca City. The ruins are rather large so I would suggest going in the early morning. You'll want to be able to walk around the grounds before it becomes too hot.
Puerto Escondido
Puerto Escondido is known for its surfing and beach lifestyle and is located on the southern coast of the Oaxaca state. The main beaches mostly attract surfers, which were really fun to watch, but I spent most of my time at Playa Carrizalillo. This beach was a walk away from the main beaches and city center, as well as some hostels and restaurants. I stayed at Hostel Shalom and could walk to and from the beach easily. Hostel Shalom was pretty basic–cheap and a great location.
Both Oaxaca and Puebla are reasonably affordable and simple to reach by bus. Each is filled with tons of history and culture to keep you busy as you wander.
Photo Your Guide to Oaxaca and Puebla, Mexico by Unsplash.