Exploring the Art Scene in Oaxaca, Mexico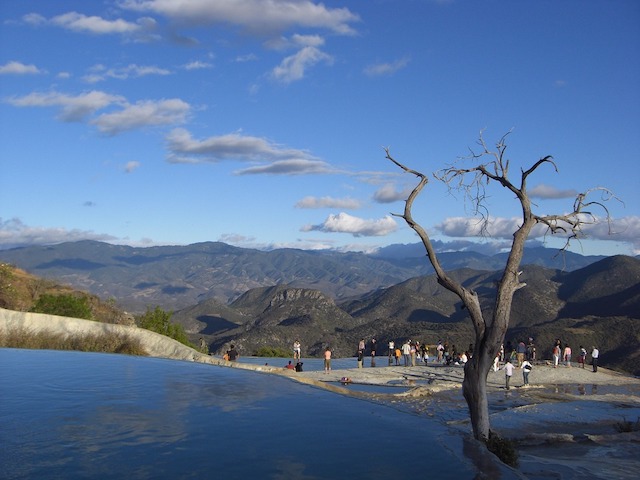 Oaxaca, Mexico is a city famous for its vibrant art community. While the archeological, historical, and nature sites are a huge pull as well, the rich art scene in Oaxaca is perhaps the main reason that many visit. I spent two weeks this past January there with a faculty member from my university, along with several students. I anticipated the art community, and the opportunities to speak Spanish and work with children at schools, but I never realized how deeply art is embedded into the heart and soul of many Oaxaqueños (citizens of Oaxaca).
To get an idea of what art in Oaxaca is like, a glance into any museum will set the scene. Oaxaca has many well-known museums that serve as popular attractions to view art from all over the region and country. Museums allow you to learn about the history of a place: Oaxaca offers museums that showcase ancient art, art from before the arrival of the Spanish, Spanish art, modern art, and more.
I suggest visiting El Museo de las Culturas de Oaxaca (Museum of Oaxaca Cultures) and El Museo de Arte Contemporáneo de Oaxaca (The Museum of Contemporary Art). Both of these museums are easy to find, affordable, and display a wide variety of different artistic mediums.
Oaxaca Mexico: Exploring the Art Scene
The Museum of Contemporary Art
At the time I visited, the museum featured a few exhibits that showcased works on narcotraficantes, the narcotraffickers or drug cartels that transport and sell drugs. These gangs are known for their ruthless violence, spilling the blood of civilians, rival groups, and police alike.
The piece that affected me the most was this one shown below. It features a young girl clouded by a sea of colorful swirls. The museum guide explained that this painting represents what it is like for a young person to get involved in the drug trade: their lives become tainted and tarnished, their innocence is stripped away and their lives are caught in a whirlwind of violence and uncertainty. This hit hard after my experiences working with children.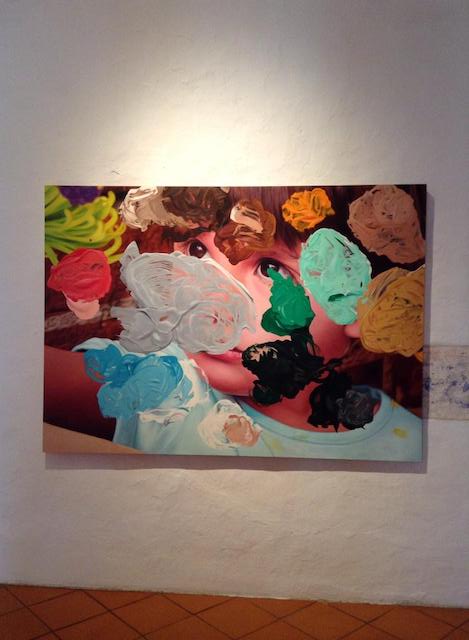 Oaxaca's Local Artists
While museums showcase ancient art and modern pieces that can't be purchased, there are many talented local artisans who sell their art for a living and deserve support. A fairly large percentage of Oaxaqueños are indigenous Zapotec, or make up one of the many other native groups in Mexico. Some speak Spanish, others their indigenous language, and some speak both. Many native families have been living in the same area for generations.
I had the opportunity to meet with several Oaxaqueños of Zapotec and other descent, often visiting their homes, and learned that artistic skills are passed from generation to generation. On the outskirts of Oaxaca in smaller villages, a whole community may be composed of artists.
Some of the most famous pieces of art that come from Oaxaca are barro negro (black pottery) and alebrijes. Black pottery has a shiny black color after it has been fired, and its popularity continues to grow and be appreciated. Alebrijes, on the other hand, are colorful, painted wooden animals and may take the form of insects, mammals, or even dragons and hybrid animals.
I met with potters, weavers, and many other artists during my time in Oaxaca.
I met with potters, weavers, and many other artists during my time in Oaxaca. Most fondly, I recall one women I met in a village on the outskirts of Oaxaca. Her name is Irma Blanco, and she introduced us to her pottery, and we tried our hand at crafting pieces as well. The Blanco family is gaining some fame throughout Mexico (and increasingly in the US, too) for their skill in crafting highly detailed works of pottery.
Irma explained to us (in Spanish) that the clay she uses is harvested locally in the mountains. The clay originally had to be excavated by hand, requiring humans to dig with basic tools underground to find the material. The rainy season would hinder clay extraction as it was too dangerous to be underground. In modern day, clay is dug out by machines year round. Irma is able to take clay from the earth and form the clay into minute, detailed flowers. Her pottery utilizes local symbols as the subject, such as women in long dresses, sugar skulls (a reminder of our mortality), and crosses.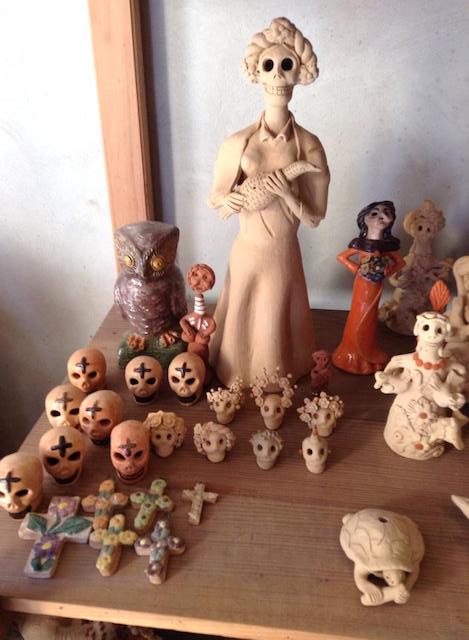 Art from Oaxaca can be purchased in the city from stores and various street vendors. However, it can't compare to meeting the artist in person, seeing their studios and homes, and catching a glimpse into their lives and their passion. If you can, meet the artists and support them. Much of the time, their prices are reasonable, and you are buying a memory at that moment in addition to an art piece. I strongly support indigenous artists, and hope that you will, too!
Oaxaca Mexico: Exploring the Art Scene
Related Reading
The Surprise of Culture Shock in Mexico
Mexico Travel Tips: Jill's Take on Health, Safety and Romance Mexico Travel: 5 Tips for Ensuring Your Safety
Travel Mexico: A Conversation with Hana LaRock
Transportation in Mexico: The Good, The Bad, and The Ugly
Have you traveled to Oaxaca Mexico? How was your trip? Email us at [email protected] to share your experience and advice with the Pink Pangea community. We can't wait to hear from you.