Travel the Balkans and Budapest: The Real Deal with Cassie Kifer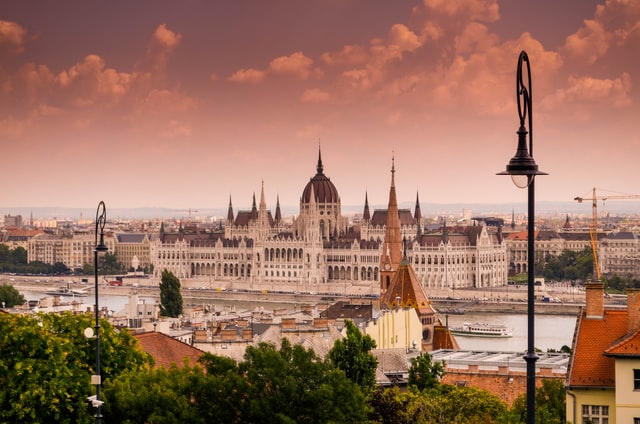 Ready to travel the Balkans? Here are the sites, restaurants and accommodations that Cassie Kifer recommends for your trip.
Tell us about yourself! What do you do when you're not traveling the world? Where do you live? What made you decide to go to your most recent destination?
I live in San Jose, in Northern California. I moved up here from Los Angeles several years ago to be closer to my (now) husband, who is a software developer here in Silicon Valley. I really like living on the nerdy (and warm!) side of the San Francisco Bay.
I came late to travel, taking my first international trip toward the end of college. Since then I've been making up for it by traveling as much as I can in the US and abroad. About four years ago, I started a travel and food blog, Ever In Transit, where I share travel stories, photos, and recipes I find along the way.
My husband's cousin, Christine, planned this trip. Because I'm usually the travel planner in our family, I happily let her pick the destination and make plans and we tagged along for the ride.
She and her husband were towing three small kids under ten and two of their 20-somethings, so they had a large group. My husband and I traveled with her crew for the first few days, and then went off on our own for a about a week, before reconvening at the end in Budapest.
Honestly, we chose Croatia as the base for the bulk of the trip because we wanted a beach destination for the kids and a country that none of us had ever visited. I didn't have any expectations going into the trip, and the Balkans blew me away with the interesting cultures, complex history, and rustic food.
How long did you go for? How did you spend your time?
We traveled for about two and a half weeks. We spent almost two weeks in Croatia (Cavtat, Dubrovnik, and Split), with short visits to the countries of Montenegro and the city of Mostar, Bosnia and Herzegovina. We spent three nights at the end of our trip in Budapest, Hungary.
What were your most memorable experiences? What were the biggest disappointments?
There were so many, but here are some that stand out:
The lovely coastal town of Cavtat, Croatia makes a great base for visiting Southern Croatia. We enjoyed our stay in that small town much more than the nights we spent in Dubrovnik's Old Town. The city is beautiful, but the Old Town is very crowded, and it doesn't let up until the wee hours of the morning.
The Roman ruins in Split, Croatia, were amazingly well-preserved and it was wonderful to step back in time. Diocletian's Palace in the heart of the Old Town is on every history lover's radar, but there's a hidden gem just a 20-minute bus ride outside of town. The ancient city of Salona predates the Palace as the former Roman capital of the region, Dalmatia. Even though it was the height of tourist season, we had ruins of this Roman city all to ourselves!
The old walled city of Kotor, Montenegro probably had the most stunning views. We climbed the trail to a fortress at the top of the hills and looked out over the emerald bay surrounded by towering mountains. I don't think it's technically a fjord, but that's what it reminded me of.
Because it was a family trip at the front and end meant that another highlight was just getting to know our little cousins better. We spent hours one afternoon hanging out with soaking wet kids as they played in a fountain at a neighborhood park in Budapest. Those are some memories we'll cherish!
Obviously not having enough time to visit the smaller towns across the region was a disappointment. I would have liked to spend more time in Bosnia and Herzegovina learning about the region's history and cultures. Hungary makes some wonderful wine, and I would have loved to get out of Budapest and into one of the country's famous wine regions.
One sight that really disappointed me was the famous Szechenyi hot spring baths in Budapest. It's on the grounds of a beautiful palace, but it was very crowded, the indoor spas are dated, and the water was dirty (after thousands of bathing summer tourists), making our "spa day" a little less than relaxing. There are fifteen hot springs bathhouses in the city of Budapest, but only two or three that tourists visit. The smaller ones that we sought out (Rudas and Veli Bej) were much less crowded than Szechenyi and much more pleasant. My husband and I even had the ancient Ottoman bath at Veli Bej all to ourselves one weekday morning!
What do you wish you knew before you went?
I really wish I'd studied up on the history of the region and especially the Yugoslav war that destroyed the region in the 1990s.
Everyone you meet over the age of 25 lived through this difficult time. Everyone over 30 remembers it. It's the elephant in the room in any conversation about local history—it's always there but difficult to talk about. When it does come up, people's voices change. They get softer, their expressions more serious.
Coastal Croatia brings in a lot of money from tourism and they've done a lot to rebuild. You don't see many visual reminders of war there, but Bosnia was a different story. Many buildings in the city of Mostar still bear the scars of the war—there are bombed out shells of buildings standing right next to new, luxe construction. Most of the buildings downtown are pockmarked from bullets and grenades. I saw an apartment building where a portion of one wall had been blown out and then hastily patched up. Can you imagine living there, and reliving that trauma every single day?
I wish I'd read more about the intricacies of the war, the back and forth, the changing alliances. It wasn't just a Catholic vs. Muslim vs. Orthodox thing. It was very complicated.
The European refugee crisis made global news with the migrants' struggles to pass through Hungary, just after we left Budapest. We came into the city via Keleti Train Station and they famously closed it down to block migrants from heading to Western Europe the day after we left. When I was there, we heard murmuring from locals about the issue and the controversial border fence, but never got into it enough. I wish we had been there just a few more days to greet the refugees and show our support.
Any favorite restaurants/hotels/hostels/sites you'd like to recommend? Tell us what made them great!
We hired a local guide (Sajna Zivkovic) in Cavtat, Croatia to take us around the Konavle wine region. This area is full of lovely family-owned farms, wineries, and restaurants. We met a local silkworm farmer and silk spinner (Izletiste Kamena Himna) who taught us about the traditional, silk-embroidered folk dress. We tried home-infused fruit brandies and a delicious selection of homemade foods and wines at a local agritourism tavern, Kameni Dvori. Almost everything was grown and raised on site. The Mujo family's ancestors have lived and worked on this property since the 16th Century.
In Mostar, Bosnia, we loved Hotel Kriva Kuprija–it was right in the old town, just a five minute walk from the Old Bridge, with recently renovated, bright modern and spacious rooms. It was a great value at something like $65 USD night! And right next door is Black Dog Pub, a great little bar that stocks beer from across the region, including two different Bosnian craft beers!
In Budapest, the Taste Hungary culinary walking tour was excellent. It included a diverse mix of culinary experiences from a tour of the city's Central Market, to wine and spirit tasting, restaurant dining, street food, and a visit to an historic café for cakes and coffee. Even if you can't do one of their tours, they run a lovely wine shop and tasting room (called the Tasting Table) where they do walk-in wine tasting without an appointment. Be sure to try Hungary's famous Tokaji wines!
Is there anything that women specifically should know before they travel to your destination?
All the places we visited felt safe; we didn't go anywhere I would have felt uncomfortable walking alone at night.
Bosnia and Herzegovina has large Muslim and Orthodox populations, gets fewer tourists and felt a bit more conservative, though they are fairly secular and accepting of tourists. Still, I'd dress more conservatively there and in rural places across the region. The coastal destinations are full of beachgoers, so they are much more casual.
All travelers should know there are still a few land mines in the outlying border areas of Bosnia and Herzegovina, so I wouldn't go off and do any rural hiking without an experienced guide.
Photo by Unsplash.