Learning the Real Meaning of Thank You in American Samoa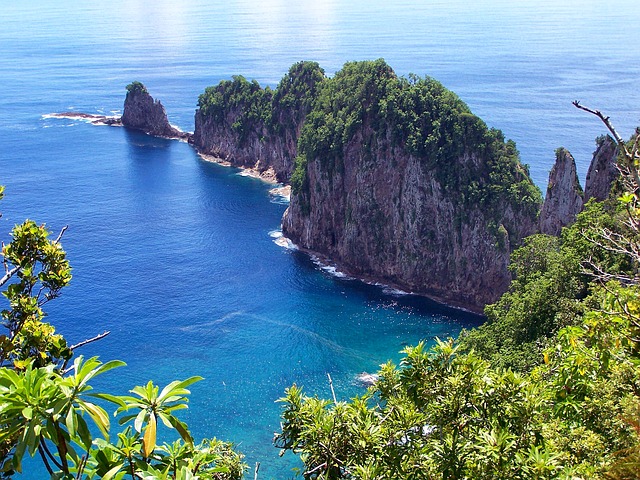 I volunteered to teach on an island I had never heard of. I traveled from St. Louis to LA to Hawaii to the South Pacific, landing on a tiny strip of runway that disappears into the ocean.
American Samoa is an 18-mile long, 6-mile wide island 2,000 miles from Hawaii and 2,000 miles from New Zealand. For much of the time I was there, my granny's church ladies thought I was amidst the civil war happening in Somolia. Little did they know I was instead in paradise, a place where police officers didn't even carry firearms until 2013.
Maybe I bought into the idea that I was young and free, so why not go?
When I applied to teach there for a year, I only knew the program was fully-funded. Therefore, I could utilize my teaching degree in a country that desperately needed teachers with a college degree while gaining the experience of living abroad. Maybe I wanted to be needed. Maybe I wanted to serve the under-served. Maybe I wanted to explore the world. Maybe I bought into the idea that I was young and free, so why not go? And maybe it was a little bit of each of those.
For the first two weeks on the island, the 22 WorldTeach volunteers selected for the 2010-2011 school year inhabited an un-air-conditioned high school. There, we slept on foam mattresses, attempted to use the kitchen to make whatever food we could find at the village store, and attended orientation and Samoan language classes before dispersing to our placements across the country.
Fa'afetai was the first Samoan word I taught myself prior to arriving. "Thank you" had to be useful, right? After a week on the island, some of us girls decided it was time to do laundry. A laundromat was within walking distance, so we grabbed our bags and set out. We arrived, dripping in sweat–something which would soon become the norm for daily life on the rock.
By the time the laundry finished washing and drying, we had 30 minutes until class reconvened. Desperately hoping for a ride, we flung out our thumbs at a passing truck. The driver pulled over and graciously took us the rest of the way in the bed of her truck, a primary mode of transportation. "Fa'afetai," I uttered at least once. When we arrived, the driver asked if we were hungry because she wanted to feed us real Samoan food.
After class, she returned and took us to her home, which was still in repair from the 2009 tsunami. There, we were welcomed by her husband and granddaughter along with a warm, delicious, home-cooked Samoan meal.
After we finished eating, we got to know one another. It was an opportune time to ask her to participate in a questionnaire for our Samoan language class. At the end, I asked this lovely woman to spell out her name. As I wrote, I assumed she had misunderstood me. I rephrased the question, and she continued again with the same letters, so I tried saying 'name' in Samoan. When that failed, I said, "Thank you? Is that your name?"
She smiled and nodded, and we all laughed out loud. Her name was Fa'afetai, thank you. She explained that her parents named her that as a way of saying, "Thank you, God." We felt the same gratitude due to her incredible hospitality.
On the way home, she was already planning our future dates. She wanted to arrange to steal us away and spend time with us throughout the year. We returned home with Tai's phone number, necklaces around our necks, buns drizzled with coconut milk to share, and the mutual acknowledgement that we would meet again.
Learning to say fa'afetai in any language helps instill the sense of gratitude and humility vital to appreciating every experience.
She became Mama Tai to us that year. We ate meals together, rode in her truck after getting groceries in town, and attended the Tsunami Remembrance Ceremony by her side. She even took us to buy fabric and get fitted for our first Samoan outfits. She cared for us well and kept her promises to us.
It's a gift to get to travel, meet new people, and see different ways of living. Learning to say fa'afetai in any language helps instill the sense of gratitude and humility vital to appreciating every experience. I'm thankful I was introduced to the WorldTeach program by my university's career counseling department. I'm thankful I was selected to serve in American Samoa. And I'm thankful for Mama Tai.
Photo by Pixabay.