Travel Bali: In Conversation with Lauren Jarman
This month we're interviewing women from all over the world and asking them about their experiences traveling to Bali. We had the privilege of speaking with Lauren Jarman about her experience traveling to Indonesia. Here's a glimpse into our conversation.
Tell us about yourself! What do you do when you're not traveling the world? Where do you live? What made you decide to go to Bali?
I am a 30-something South African who gave up a career in graphic design to move all the way across the world to South Korea to teach English. When I'm not fueling my wanderlust addiction with travel adventures, I'm teaching English in an all-girls high school in the very fun city of Daegu. I have been here for two years and may be making a move in the near future…destination unknown!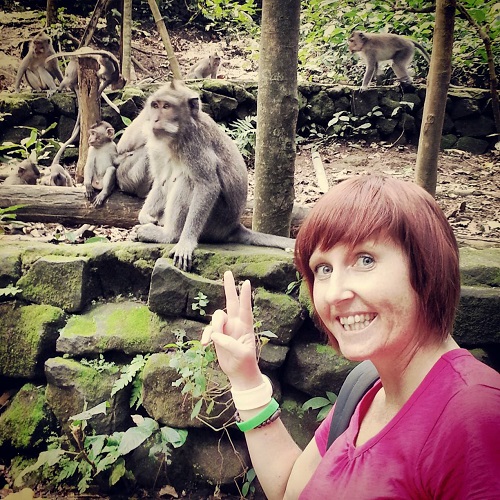 How long did you go for? How did you spend your time?
I went to Bali for a week and based myself in Kuta. I hadn't done much research so a lot of my vacation was based on decisions once I landed. I spent the first day exploring Kuta and spending time at Waterbom re-living my childhood. Waterbom is a water park that's perfect for families and a lot of fun for adults too.
I also hired a driver for the day and went to do some sightseeing. Bali is relatively small and easy to get around so you can see a lot. Also, drivers are cheap to hire (mine cost 20 USD for the entire day). I saw the traditional Barong dance at Batubulan, which was beautiful. I also visited the small village of Celuk, famous for its innovation in gold and silver crafting. I went to the village of Mas and watched locals do hand-made wood carvings. The art in Bali is incredible and worth a look!
I spent time in Ubud and went to the Monkey Forest. They're rather cute but can be very cheeky! After Ubud we went to Mengwi to see the Taman Ayun Temple which is the Royal Temple of the Mengwi Empire. It's rather impressive with it's perfectly manicured lawns and beautiful gardens. Last stop was Tanah Lot to watch the sunset. It us just as amazing as the brochure but very crowded!
On another day, I went white water rafting and thoroughly enjoyed it. The scenery itself is worth the trip – terraced rice fields, a lush gorge with stunning cliff faces and waterfalls. Jimbaran Bay is also worth a visit for the freshest, most delicious seafood right on the beach! The rest of my time was spent having spa treatments at my hotel, eating delicious food and lying on Kuta beach.
What were your most memorable experiences? What were the biggest disappointments?
The most memorable experience was the white water rafting. I found it really exciting and beautiful! I also loved setting the baby sea turtles back into the ocean at Kuta Beach. I have never seen a turtle before and being able to help with conservation was rather special. Dinner at Jimbaran Bay was also really memorable. Nothing beats a sunset on a perfect beach with a cocktail and good food.
Biggest disappointment was Ubud. I realise I only saw the town part of it. Everyone said it was quieter than Kuta and not touristy at all, but I found the streets too crowded and the stores and markets all had the same things that Kuta did. Next time I would go see more of the country side.
What do you wish you knew before you went?
I wish I had known about Gilli Islands. I would have loved to have spent some time on the islands because I heard they are beautiful!
Any favorite restaurants/hotels/hostels/sites you'd like to recommend?
I stayed in a great hotel in Kuta called Ramayana. It's good value for money and only a block away from the beach. The hotel itself is really sheltered though and a little paradise in the middle of Kuta's 'chaos'. Definitely go to Jimbaran Bay, Tanah Lot (even though it's packed with tourists) and for the adrenalin junkies, do white water rafting!
What's next on your travel list?
I will be going to Taiwan for a quick 5 day trip.
Travel Bali: A Conversation with Lauren Jarman
Related Reading
48 Hours in Bali for Every Type of Traveler
Travel Bali: A Conversation with Elen Turner
4 Bali Scams You'll Want to Avoid
Bali Travel: A Conversation with Kaytia King
Living in Indonesia: Beyond the 'Eat Pray Love' Destination
Have you traveled to Bali? Email us at [email protected]pinkpangea.com to share your tips and advice with the Pink Pangea community. We can't wait to hear from you!