Living in Vancouver: The Real Deal with Jessica Dailey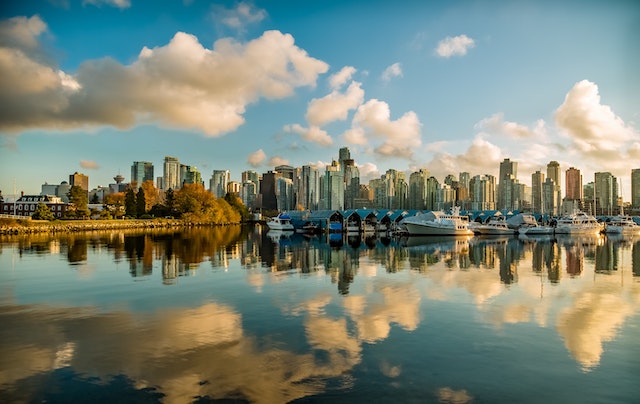 Interested in living in Vancouver? Here, Jessica Dailey shares the highlights and challenges, as well as her tips for an amazing experience abroad.
Tell us about yourself! What do you do when you're not traveling the world? Where are you from? Where do you currently live?
I grew up outside of Austin, Texas. I competed for the University of Arkansas in track and field and moved to Barcelona to go to graduate school after college. In late 2003, my husband and I started a sports travel and hospitality business that we had for 11 years. This led us to travel around the world and to live in various countries including Spain, Greece, Germany, Italy and Canada. We did 2 long extensive trips–each 2 months long–to South and Central America and to Australia in late 2006-early 2007 where I got pregnant and we started our family.
Fast forward almost 8 years later and we have 4 children ages 2-7, and we just completed a 1 year trip around the world. We finished the trip in August and moved to San Diego, California.
What made you decide to move abroad? How long did you live there for? Tell us about how you spent your time in your new destination — whether you worked, studied, traveled, or did something else.
I moved to Vancouver, British Columbia in early 2008 with my infant daughter and my husband. My husband and I had started a travel business together at the end of 2003 that focused on large sporting and cultural events such as the Olympics, World Cup Soccer, the Pamplona San Fermin Festival, Oktoberfest in Munich, Germany, and more. We had been moving to various places in Europe since many of the events took place there between 2004-2006.
Once our daughter was born in Barcelona in November 2007, we moved to Vancouver, BC, in order to get a head start on the 2010 Winter Olympics while spending most of our time working on the Beijing 2008 Olympics. We ended up living in Vancouver for almost 3 years. We bought a historical house there, renovated it, imported a car from the U.S. to Canada and we had our second child, our son, there in October 2009. In fact, we worked in Canada by obtaining a NAFTA Visa.
What were some of the biggest challenges you experienced while living abroad? What were some of the greatest highlights?
Overall, our time in Vancouver, BC, was amazing and we look back on it as one of our best times. Our daughter lived there for most of her first 3 years of her life and our son was born there. It was pretty great paying $100 Canadian per month for our family medical coverage. When we left the hospital after giving birth to our son, we didn't owe them a dime! That was pretty great compared to the outrageous health insurance bills and hospital bills that we pay in the States. Maybe it was the stage that we were in in our lives with the business and 1-2 children, but life seemed less like the competitive rat race that seems to be present in the U.S.
Vancouver is such a cosmopolitan city. It is so culturally diverse so the food options are endless, the culinary scene is top notch but even more, it's a dense, urban city where you can ride a bike almost anywhere (for exercise or for transportation), and where the people are very active even though it's wet or rainy most of the year. It's like Seattle so it doesn't get that cold, it rarely freezes but it does stay wet and rainy most of the year. That doesn't stop anyone from being outside; you just wear rain boots and a rain jacket most of the time!
The parks, the playgrounds, the recreational centers, the farmers' markets and the public parks like Stanley Park and Kitsilano Beach make Vancouver such an attractive city to live in. Also, you can take a very short drive to North or West Vancouver and be in the mountains where you can ski or hike. Or you can drive 2 hours to Whistler for even better skiing and hiking.
Living in Vancouver: The Real Deal with Jessica Dailey.
The biggest challenges:
The things that took patience were obtaining a work visa. We hired a lawyer to assist with the process so that helped. We ended up bringing a car from the U.S. into Canada so it took a lot of time and money to export the car from the U.S. and to import the car into Canada. There was a large tax to bring the car into Canada. We bought the car for much cheaper in Texas so it was okay, but it was a big hassle and we ended up just selling the car in Canada when we moved back to the States.
It costs a lot of money to live in Vancouver. The real estate market is very expensive and it makes it hard to live there. People from all over the world are buying property in Vancouver, and the prices aren't going down. The city is wedged between the mountains and the sea so there's no room for growth. The city is pretty dense but that is what makes it such a fun, urban city to live in.
There are a lot of taxes like GST and PST added to restaurant bills and for alcohol. Eating out and buying beer and wine were significantly more expensive compared to the U.S. The gas prices were very high as well so it just costs more to live there. We loved the city so much but after almost 3 years of the wet and rainy weather, we decided to move to Southern California (San Diego) for more sun and it was cheaper than Vancouver.
What do you wish you knew before you moved?
I think it would have been beneficial to know more about the neighborhoods before we moved there. We had one infant when we arrived so we decided to sublease a high rise apartment in Downtown Coal Harbor. That allowed us to get a feel for the city and to explore a bit before we decided where to live long-term.
We ended up doing a few vacation rentals in 2 other neighborhoods to try those areas out and then we decided to buy a historical house that was in a more laid back, bohemian neighborhood that has since turned hipster. So it turned out okay and we ended up getting a feel for the different areas because we were flexible and stored most of our belongings until we found our long-term place.
Any favorite restaurants/events/sites that you'd like to recommend? Tell us what made them great!
My husband has really gotten into craft beers and when we visited Vancouver last fall, we found a great neighborhood brewery called Parallel 49 where you can buy beer, growlers and snacks.
My favorite restaurant in Vancouver is Blue Water Cafe. It is downtown in Yaletown and it's a little expensive but it is worth the splurge! The fish and sushi are so fresh, so creative and just refreshing. One time we saw Jason Priestly eating there next to us, which made us giggle since we were 90210 fans in the 90s and because we heard that he lived in Vancouver, along with Brian Adams and Sarah McLachlan!
The best street in Vancouver can be found on Commercial Drive. We used to live 3 blocks off the street. It goes on for about 10-12 blocks and has some of the best coffee shops, bakeries, Italian pizzerias/cafes and restaurants, neighborhood grocery stores and markets, and cool shops. You can walk there anytime of the day and find something for each person in your group. With kids, it has a great program called Family Place where you take babies and toddlers, as well as a great playground and a recreational center with a pool and classes for everyone in the family.
Are there any tips you'd give someone else considering a similar move?
I would recommend doing some research prior to moving there. It is a very expensive city so you'll more than likely have less space than you are used to in the States. The social programs are amazing including health care coverage, medical walk in clinics in every neighborhood, top-notch recreational centers and the best parks, bike paths and playgrounds. It helps to know what your interests are, what stage you are in your life and what you'd like to be close to.
Vancouver is a very popular place to visit, especially in the summer when the weather is ideal and the cruise ships dock there, so it is difficult to find affordable housing upon arrival. I would recommend just taking your time and booking a short-term place for 2 weeks to 1 month so you can get a feel for the city and the neighborhoods before deciding on longer-term housing.
If you feel homesick for the U.S., you can drive to the border nearby (40-minute drive) and then wait 7 minutes to 1 hour at the border. You can check the wait time on the website.
Bellingham, Washington is a 15-minute drive from the U.S.- Canada Border. It has a great, quaint downtown area to have breakfast/lunch and to do some shopping. We had a PO Box there so we could ship things there and get magazine subscriptions, yet we didn't go there frequently enough. The Canadian Border was very strict when returning to Canada. You have $0 allowance if you are visiting the U.S. for the day! But just getting a few things at Trader Joe's and Target made the trip worthwhile.
Is there anything that women specifically should know before they move to your destination?
Vancouver is one of the best places for fitness. Lululemon is from Vancouver. Yoga studios can be found all over the city. You can buy or rent a bike and ride all over the city and in the city's parks. In the summer, the climate is cool, sunny and ideal. It is a very safe and cosmopolitan city, and the people are very friendly.
You wouldn't need a car if you live in the city because there are buses, a Skytrain to the airport, a metro, and your bike! There is even a Sea Bus (ferry) to get between North Van and Downtown. You would need to rent a car to visit Whistler and to go skiing as it is a 2-hour drive from Vancouver and there isn't a train.
Photo credit for Living in Vancouver: The Real Deal with Jessica Dailey by unsplash.