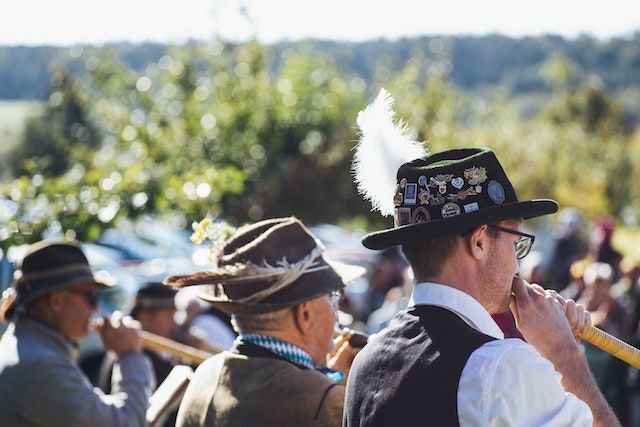 Oktoberfest was definitely a "bucket list" trip for me and luckily, I was able to go this past fall with my friends and boyfriend. We spent about three days in Munich during Oktoberfest and I learned a lot from my own research and experience. While it's guaranteed to be a great time, it could be even better if you're prepared to maximize your fun! Get started with my 10 Oktoberfest tips:
Top 10 Oktoberfest Tips
1. Dress the part.
Why go to Oktoberfest in Germany if you aren't going to look the part? I would definitely not recommend buying any Halloween costumes unless you want to scream "TOURIST." But you can easily pick up an authentic lederhosen or dirndl before you go (in German stores or online), or you can buy an affordable outfit while you're in Munich (60-70 euro).
2. The early bird gets the worm.
Each of Oktoberfest's 14 tents can hold thousands of people, but it's still not enough space to handle all of the crowds. Things are busiest on weekends and weeknights so it's important to get there early to make sure you get a table. You can also reserve a spot in the tents in advance. Since the tents open around 10am, be sure to arrive by 11am on weekdays and by 9am on weekends so that you get a seat. If you are not a morning person don't fret–you can also try to make new friends and share a table!
3. It's a marathon, not a sprint.
Some may find this sacrilegious, but all tents offer a "radler" of beer, which is half beer and half lemonade. It sounds like an odd combination, but it's surprisingly refreshing – and will help you make sure you don't peak too early at Oktoberfest.
4. Go for six!
There are six main breweries in Munich, which means there are only six beers allowed at Oktoberfest. Each brewery makes a special Oktoberfest brew that is served at the tents and since there are 14 tents, there is some overlap. Most people focus on picking where they go based on the tent, but I recommend trying to diversify and sampling all six beers!
5. Respect your elders.
Check out the Oide Wiesn (Old Oktoberfest) section – it costs 3 euro per person to get in but you can access tents that pay homage to the Oktoberfest of the good ol' days. Get ready for lots of traditional German music, dancing and games!
6. Fill up on carbs.
Aside from serving up tons of beer, the tents also have huge kitchens that crank out some of Bavaria's favorite dishes. Order food to help soak up all of the beer you're drinking. Don't forget to try all of the great food stands outside the tents, too (cough FRIES cough).
7. Don't be stingy!
Tips make the world go round…at least the Oktoberfest world. Make sure to tip (at least round up on the cost of your beer) so your server comes back and keeps the next rounds coming!
8. Better out than in!
Well, maybe the outside isn't better than inside the tents, but it sure is a great place to be! Each tent has a fairly large (and heated) beer garden, which has all of the same beer, food and even has speakers to play the music from inside! When the tables get crowded inside or the tents close their doors (which does happen), don't be afraid to enjoy a beer al fresco.
9. Sprechen Sie Deutsch?
Learn a few key words/phrases in German to help you order beer (a 1 liter beer is called a "mass" at Oktoberfest) and food, and to communicate with your fellow Germans. If nothing else, learn "prost!" ("cheers!") and get the Google translate app to help in a pinch.
10. Listen to your heart!
Right when you arrive you'll see many heart-shaped gingerbread cookie necklaces that have sayings on them. Traditionally these are bought for one's "crush" to wear so they mostly have fun, affectionate phrases. Of course, I bought one for myself with "Schatz" (translated to "darling" or "sweetheart") frosted on. But learn from my mistake–these cookies don't taste as good as they look!
I hope my tips inspire you to go to Oktoberfest. I can't wait to see you there!
Do you have other Oktoberfest tips?
Top photo credit by Unsplash.