Two Botswana Safaris: The Real Deal with Suzanne Wolko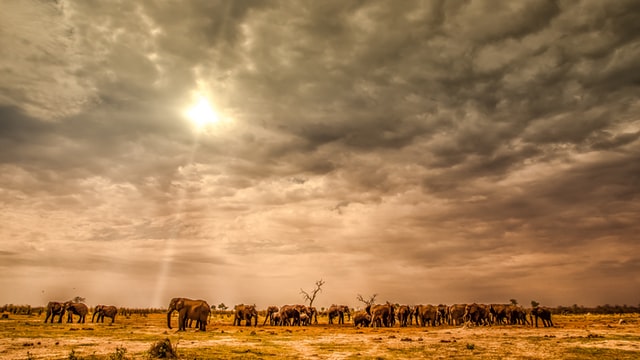 Interested in taking part in diverse Botswana safaris? Here are Suzanne Wolko's recommendations and tips based on her fantastic experiences.
Tell us about yourself! What do you do when you're not traveling the world? Where do you live? What made you decide to go to your most recent destination?
At the time, I was working for an International Investment Management firm as their business manager and was fortunate to be able to take a month off to travel as I earned six weeks of vacation due to years of service.
I live in Philadelphia and chose to go to Africa because I was able to find an award airline ticket in business class from the East Coast. Saving money on the airfare allowed me to spend more on the safari experience in Botswana. Prior to the trip, I attended the "How to Plan Your Safari" sessions at the New York Times Travel Show and met many vendors, guides and my South African travel advisor.
How long did you go for? How did you spend your time?
I was in Africa for 27 days and in Botswana for five days/four nights. I started the journey in the Okavango Delta before flying to Chobe. Flying into Oddballs Camp in the Okavango Delta, I was on a six-passenger bush plane, and flying out to Chobe, I was on a four-passenger plane. At Oddballs Camp, each tent (for two) is assigned its own private guide and mokoro boat. Because I was traveling solo, I had my own local guide. In Chobe, I stayed in a hotel.
At Oddballs, I took part in four safari walks during my three-day/two-night stay that began with a mokoro boat ride in order to find land to walk on with my unarmed guide. I was alone with my guide and rarely saw the other guests. Watching an elephant walk by me or baboons run down the trees past an unfazed warthog was an incredible experience.
In Chobe, I did a boat safari and two game drives in the park. There were so many elephants! On the game drive, there were other Jeeps that joined me for the sightings.
What were your most memorable experiences? What were the biggest disappointments?
Seeing the stunning African sunrises and sunsets. Going to sleep with the sounds of hippos in the night air. At sunset, gliding on the water in my mokoro boat. During all of these moments, I realized how incredible it was to be there! As a girl growing up in Philly, I never imagined that I would be on safari in Botswana or in Africa. The plethora of elephants was definitely a highlight and also a source of sadness given the state of poachers.
Disappointments? I was so afraid of the tent that I booked only two nights in the Okavango Delta. It was a mistake and a disappointment that I didn't stay longer.
Two Botswana Safaris: The Real Deal with Suzanne Wolko
What do you wish you knew before you went?
Actually, I preferred not knowing much as it was a joy to discover the country. There is a point of researching too much and setting expectations that are sure to disappoint.
Any favorite restaurants/hotels/hostels/sites you'd like to recommend? Tell us what made them great!
Both the camp and hotel came with all-inclusive packages.
Oddballs was a mid-priced safari, and a fantastic experience with the staff and mokoro boats. Chobe Safari Lodge offered an amazing buffet (although I wasn't able to eat the game after having seen it alive on the game drives) and a peaceful atmosphere.
Both are uniquely different experiences. Chobe provided an easier and cheaper way to experience Botswana whereas the Okavango Delta was more expensive because of the bush planes, but also incredible.
Is there anything that women specifically should know before they travel to your destination?
Because I was traveling solo in Africa, I worked with a local South African travel agent at Rhino Africa to arrange all transport between camps, airports and hotels. The vendors work quite well with group transit to ensure safety in transit.
Read more about Suzanne's travels on Philatravelgirl.
Photo for Two Botswana Safaris: The Real Deal with Suzanne Wolko by Unsplash.