Safari in the Okavango Delta: The Real Deal with Elizabeth Avery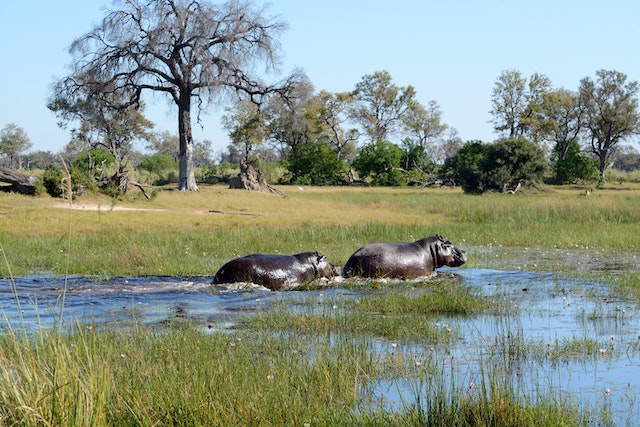 Interested in going on safari in the Okavango Delta? Here are the activities and sites that Elizabeth Avery recommends for your trip.
Tell us about yourself! What do you do when you're not traveling the world? Where do you live? What made you decide to go to your most recent destination?
When not traveling the world, I head up SoloTrekker4U.com, connecting individual travelers with well-priced 4-5 star travel services.
Why Botswana? I had always wanted to see sub-Sahara Africa especially away from the more crowded tourist areas. The Okavango Delta, although very popular, is an immense grassland, which makes it possible to view wildlife in areas not accessible by automobiles thereby making it possible to avoid large crowds.
How long did you go for? How did you spend your time?
Botswana was my first sub-Saharan trip and it was magical. It was focused on a five-star safari in the Okavango Delta. I added on a few days to explore Victoria Falls and to do a little shopping in Zambia. (You guessed it: My Washington home is now graced by a six-foot-tall wooden giraffe!)
What were your most memorable experiences? What were the biggest disappointments?
There were no real disappointments. There were many great experiences, including:
1. Flying as "co-pilot" in a tiny single engine plane overlooking teeming herds below.
2. Landing on the grass in the bush with no runway and no other tourists in sight!
3. Diving off an elephant's back to land in a cool swimming hole below.
4. Seeing the hippos up close lounging in their pool. (Do be careful as they can be quite deadly!)
5. Watching four small elephants follow us single file through the savannah.
6. Having lunch under a canopy right out of a movie set like Out of Africa.
7. Going out after dark in an open Jeep to spot animals in the dark and catching the site of unknown pairs of eyes looking at us from all directions.
8. Heading out at sunrise to capture the big five at watering holes.
9. Seeing Victoria Falls.
10. Seeing baboons scurrying alone the roadside and on the runway, perching on walls overlooking a swimming pool, and hanging out anywhere else they wanted to be.
What do you wish you knew before you went?
I would have planned for a longer stay since the connections in some cases were only every other day. As a result, it takes real planning.
Any favorite restaurants/hotels/hostels/sites you'd like to recommend? Tell us what made them great!
Beyond the Okavango, I recommend visiting Victoria Falls. More recently, tourists have often visited via the Zambian side although Zimbabwe has been a popular past route. In any case, I found flying in a small plane over the Falls breathtaking.
Is there anything that women specifically should know before they travel to your destination?
I did not have any specific safety concerns as part of a small 6-8 person safari. However, in traveling alone to Harare, Zimbabwe for a business trip afterwards, I was very conscious of avoiding deserted, remote areas. Tourists worldwide are always a potential target since travelers are likely to be carrying large amounts of cash/valuable items and may be unfamiliar/unaware of their surroundings. Although I had no problems, I would recommend that solo women travelers in urban areas in the region use reasonable caution.
Photo credit by unsplash.