5 Off-The-Beaten-Path Destinations in Vilnius, Lithuania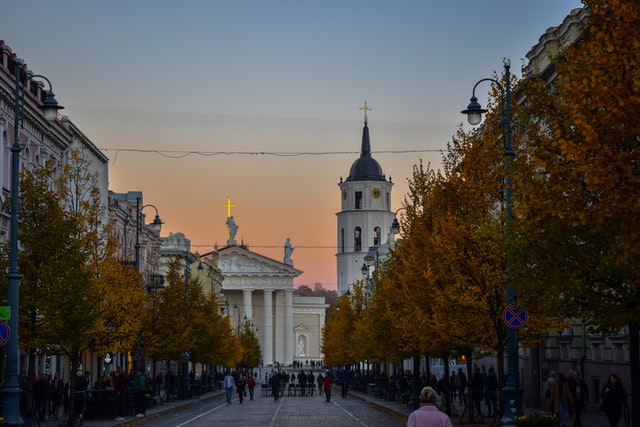 Vilnius, Lithuania is a great budget destination, and a quirky little city. I've been living in Vilnius for over two years now and have been trying to get acquainted with the creative aspects of the city. During my wanders, I've found some awesome, off-beat areas that aren't included in many travel guides or tourist itineraries.
If you are looking to get off the beaten path during your next visit to Vilnius, don't miss out on these five areas:
5 Off-The-Beaten-Path Destinations in Vilnius, Lithuania
Hales Market
The Hales Market (Hales Turgis on Pylimo Gatve 58) is a local market housed in the old bus station. In the market, you can find everything from vegetables, to cured meats, smoked fish, fruit, cheese, baked goods, shoes, and cheap clothes. The market itself is worth a visit, and the area around the market is an up-and-coming hipster hub.
Standing at the top of the stairs to enter the Hales Market lends the best view of a bold piece of street art from Millo. Head around the corner to grab lunch at the awesome Keule Ruke for the best pulled pork sandwich in town. At Keule Ruke (Pylimo gatve 66), you'll also be treated to views of the awesome piece of street art by Osgemeos, which was created as part of the 2015 Vilnius Street Art Festival.
For some kitschy souvenirs, head to the little grassy park near Hales Market where you'll find all of the vintage tea sets you could ever want at Lazdynu Peledos Skveras.
Bernardine Cemetery
The Republic of Uzupis is the original artist district in Vilnius, so you'll find it in all of the guidebooks. Head a bit further into Uzupis and you'll also find the Bernardine Cemetery. This cemetery is unlike any cemetery I've seen in the US, as it is built on a hill, with graves scattered about.
Be careful not to trip on bones that have come unearthed over the years! Then, take a load off at the Snekutis Bar, and keep your eyes open for the famous owner–he's the guy with the beard!
St. Peter and Paul's Church
Located in the Antakalnis neighborhood, the St. Peter and Paul's Church is worth the walk from the Old Town. Though the exterior of the church is not significantly different from any other Catholic church in Vilnius, the completely stark white interior is what stands out. St. Peter and Paul's Church was built in the 1600s and contains about 2,000 stucco statues of historical and religious figures.
Egg Statue
Though I've known of and visited the Egg Statue (yes, it is literally a statue of a brightly colored egg), I've never really wandered the surrounding neighborhood. I'm so glad that an excursion to a new cafe led me over there, because this is another emerging area of the city that is packed with creatives.
Take a wander through the dilapidated sidewalks of Sv. Stepono Street (locally known as StoHo) to find several stores owned by small local designers. I'm a huge fan of the clothes made by Kitokie Daiktai (Sv. Stepono g. 7). Head there if you want perfectly fit dresses with mismatched buttons and colorful pockets. Get your caffeine fix at the cute Pipkin's Cafe or order a beer at another outpost of Snekutis Bar nearby.
Ciurlionio Street
Easily one of my favorite areas of the city, Ciurlionio Street is where to go if you are interested in seeing several of Vilnius University's science buildings. Ciurlionio Street is also home to one of my favorite cafes in Vilnius, Taste Map Coffee (Ciurlionio g. 7), which serves incredible cappuccinos and delicious beer cake. Next to Taste Map is a great little art gallery. If you are looking for some lunch or health food items, head across the street to Maisto Krautuve for soup, gyribai (Lithuanian mushroom shaped gingerbread cookies), or black bread.
Walking further down the tree-lined Ciurlionio Street, you'll eventually come to Vingis Park, which is one of the largest parks in Vilnius. In the summer, Vingis Park holds numerous concerts and cultural events, which makes it the perfect city escape.
Have you traveled to to Vilnius, Lithuania? Email us at [email protected] to share your experience with the Pink Pangea community. We can't wait to hear from you.
Photo for 5 Off-The-Beaten-Path Destinations in Vilnius, Lithuania by Unsplash.