Hampi, India: The Country's Hidden Gem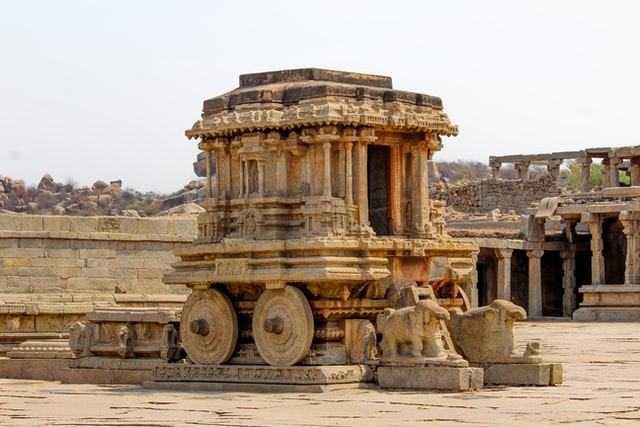 India, a country so rich with history, colour and culture, had always featured high on my 'to-see' list. So in 2009, when I announced my plans to travel there, a colleague was quick to recommended Hampi if I wanted a 'proper' Indian experience. She spoke of the ruins of an ancient empire, a deeply religious centre and a landscape that evoked a feeling of biblical times. Needless to say, it went to the top of my itinerary.
After two nights in Anjuna, North Goa, the only part of my trip that I pre-booked, I relied on the advice of my guest house owner on how to reach Hampi. Having read of its historic temples, old ruins, spice bazaars, elephant stables, Queen's Bath in the Royal Centre, and music ceremonies at sunset, I couldn't wait to see it for myself.
Hampi, India: The Country's Hidden Gem
Getting to Hampi
An auto-rickshaw took me an hour's drive north of Anjuna to Mapusa where I found a bustling town square and bus station congested with mopeds, buses and locals with sacks of bananas, spices and even goats balanced on their heads. My one way ticket to Hampi cost R400 from a local ticket stand in Mapusa…it certainly didn't break the bank coming in at just under £5.
The bus was basic with narrow iron bunks, luggage thrown on the roof and no toilet. But I soon learned, when you needed to go, you'd simply have to sign to the driver to stop and go do your 'business' road side. It was a bus filled with locals as well as tourists and the first journey I'd ever shared with a flock of goats (though it wouldn't be my last.) I couldn't sleep a wink–not just because of the discomfort of the tiny metal bunk combined with no tyre suspension across miles of rocky and pot-hole roads, but because I couldn't stop revelling at the size and beauty of the stars above me against the deep night sky and the anticipation of arriving in Hampi…it felt magical and I wasn't even there yet.
Accommodations in Hampi
All tourists need to sign in at the local police station on arrival, and it's as simple and quick as a hotel check-in. They take note of your passport details in a giant log book, and then you're on your way. Hampi is known to be a safe place for travelers but there had been some reports of late night violence and muggings in its recent history so police introduced a mandatory 'check-in' process for all tourists coming in and out of the village.
There was no shortage of auto-rickshaw drivers offering to be my guides and recommending accommodation. In fact, every bus dropping people off in Hampi was surrounded by local men competing for work. I chose a friendly young man who became my guide and driver for my four-day stay. He drove me immediately to his family home, which had adjoing rooms for travellers called Sudha Guest House. I paid an extra R50 per night for the luxury of a bathroom. It was a very basic room with two single beds, but was perfectly clean and cool. It cost R200 per night, and was a short walk from Hampi's Bazaar (Sacred Centre) and small dusty lanes of local shops. I wasted no time getting henna done by the matriarch of the Sudha family once I'd had a chance to freshen up and say hello to the family.
Food in Hampi
Most guest houses include a colourful rooftop cafe offering continental style breakfasts and lunches at cheap price, which I grew to love sharing with the local monkeys! But the place that allowed me, an avid food lover, to get a real taste of Hampi was the magnificent Mango Tree Restaurant, a serene set up of floor seating, tables and hammocks under the mango trees overlooking the banks of the Tungabhadra River. I hadn't read about this place in my travel guide but simply came across a sign for it while taking in the sites of locals cooling off and washing in the water.
It was a good 15 minute walk through paddy fields and banana trees but well worth the effort. Platters served in giant banana leaves were filled with roti breads, rices, pickles, vegetarian curry pots, dahls, saag and potato aloos. This was the place I kept going back to–there was a beautiful calm and authenticity about the place and the food was quite simply, to die for with a view to match overlooking the banks of the Tungabhadra River.
Hampi, India: The Country's Hidden Gem.
Hampi's History
Vijayanagar was once one of the largest and richest cities in the world, and on first glance alone, it was easy to see why the capital of this Hindu Empire is classed as a UNESCO World Heritage Site. Hampi's landscape is boulder-strewn and dotted with ruins and magical temples. The bazaars were once the centre of commerce for the trading of spices, cotton and precious jewels, something which is still apparent now, with an abundance of spice stools and gem shops freckled among the ruins.
There is an overwhelming number of monuments in Hampi, and I was glad that I had four days to take my time and soak up the majesty of this place. It remains a popular destination for travelers and yet, what I loved was its serenity and air of solitude. It's a place of exploration, oozing centuries of history and religion with a very shared sense of respect and reflection amongst the locals and tourists alike.
Hampi was everything I'd hoped it would be.
Photo for Hampi, India: The Country's Hidden Gem by Unsplash.